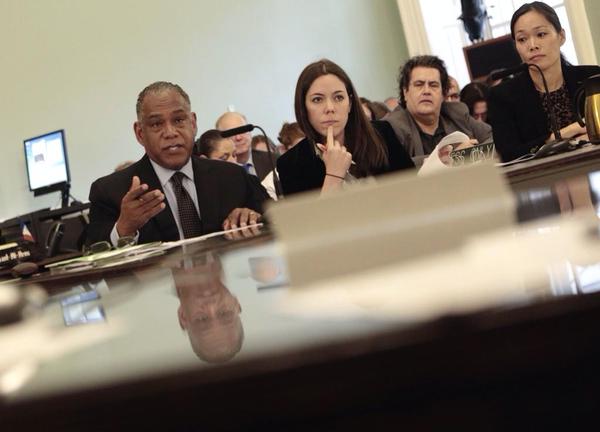 Parks Commissioner Silver at a City Council hearing (photo: William Alatriste)
---
As New York City Parks Commissioner Mitchell Silver approaches his first anniversary on the job, advocates and officials are still getting to know the new steward of the city's green spaces. One of Silver's more common mantras may help provide a better understanding of his mission, if we can decode it.
"My goal as commissioner is to make sure our agency culture shifts from one of just maintaining our parks to truly caring for our parks, which will reflect an even greater degree of emotional attachment and dedication to the work that we do," Silver said at a City Council preliminary budget hearing on March 9.
The first duty of the Department of Parks and Recreation (DPR) according to the City Charter is indeed to "manage and care for all parks," but the definition of "caring" versus "maintaining" is still unclear. Gotham Gazette asked Commissioner Silver's office for clarification.
"Practically speaking, that translates to seeking more community input in park development, identifying new ways to engage with our 1,800 community partnerships, increasing our focus on neighborhood parks, and giving staff the tools they need to nurture relationships with community stewards and care for parks across the city," Silver said in a statement.
This definition reflects Silver's background as an urban planner who thinks about the larger role that parks play in their neighborhoods. Silver was originally in the running to become chairman of the City Planning Commission, as reported by Crain's New York in January, but became the parks commissioner instead.
At his introductory press conference last year, Silver said that parks are more than just green spaces because they mean different things to different people by offering "spiritual, physical, social, and economic benefits." He followed up on this idea in an interview with The Guardian and said that parks serve as a "living room" for many people.
By this logic, basic maintenance alone - mowing the grass, trimming the trees, emptying trash cans - isn't enough to make a park successful. Local residents must feel an attachment and want to get involved. Developing this connection with community groups will require the more "caring" approach that Silver talks about.
Yet some advocates say that caring community support, even in large helpings, can't make up for low city funding.
"Our park system is in desperate need of reform and greater funds," said Geoffrey Croft, president of watchdog group New York City Park Advocates. "Parks do not look like Central Park."
Croft, who said he has visited every park in the city, believes that the DPR budget is about one-third of what would actually be required to restore and maintain the city's 29,000 acres of parkland to good condition.
Maintaining that baseline of quality would require many more workers, possibly thousands, than are currently employed. The preliminary budget for Fiscal Year 2016 (FY16) actually reduces the headcount of park enforcement patrol officers, gardeners, urban park rangers, and maintenance workers.
As outlined in Mayor Bill de Blasio's preliminary FY16 budget, DPR's proposed budget of $428 million is up overall, though the amount contributed by the City is down. City funds account for $336 million of the agency's preliminary budget number, a $12 million decrease from the City's contribution during the current fiscal year. Parks expenditures amount to about .4 percent of the City's total budget being spent to maintain 14 percent of its land.
Advocates, such as Croft, say that this continues a trend of underfunding for DPR and an increased reliance on park conservancies. These conservancies often benefit from wealthier residents who can donate the large sums required to maintain their green spaces in top condition.
This type of community involvement may constitute "caring," but it often favors a small group of parks in high-end neighborhoods. In 2012, the Central Park Conservancy received a $100 million gift from one person. Barry Diller and Diane von Furstenberg recently announced a $113 million commitment to build a deluxe green pier in Hudson River Park - with an additional $17 million coming from the City.
On the other end of the spectrum, Mayor de Blasio's Community Park Initiative will renovate 35 small parks in underfunded areas at a proposed cost of $130 million - some of which is already being spent in the current fiscal year. Silver and de Blasio have touted this as a start toward funding equity. Another 100 sites were also identified as needing capital investment, though this would require more money in the future.
Tupper Thomas, executive director of New Yorkers for Parks, agrees that additional funding will be necessary. Her organization - which is listed as a "partner" on the DPR website - has published reports on the challenges of mid-sized or "neighborhood" parks in particular, green spaces that are often too small to attract high-level donations and too big to be fixed by City Council funding or other allocations.
"You can't have every park out trying to raise money for itself, that's not going to be the ideal way," she said.
Mark Levine, chair of the City Council's parks committee, has called for $500,000 to fund a master planning process for these mid-sized parks and upwards of $200 million in capital funds to renovate them. As for what "caring" means in terms of the overall DPR budget, Levine is also confused.
"If it means more loving care, emphasis on the care, I'm all for it," Levine said in an interview with Gotham Gazette. "That's why City Council funded additional gardeners and maintenance workers [last year] and I would hope that they would not be cut in the final version of the budget," he added, referring to the mayor's Executive Budget, due in April, and the adopted budget deal that must be reached by July 1.
Levine also said that the idea of "caring" could mean an increased role from community volunteer groups.
Both Levine and Silver will be participating in the upcoming 2015 Partnerships for Parks Conference on Saturday, April 11, where residents can learn about volunteering and fundraising strategies.
The program is part of the City Parks Foundation, a nonprofit that partners with DPR to organize recreation programs and help train volunteers. This involves coaching on how to work with elected officials, apply for grants, and recruit residents. Heather Lubov, the foundation's executive director, agreed that more city money would be helpful but emphasized the importance of volunteers regardless.
"I think you always want community support for your park, no matter how well-funded the maintenance for those parks," she said. "If you have an interested community, you have a well-cared for park."
A recent $5 million grant from American Express, in partnership with the Department of Interior, will also help increase volunteer participation in the city. The money will be distributed in 50 cities throughout the country, starting in New York. Silver was part of the announcement at Castle Clinton, but it's unclear how much of a difference this will make in the city's parks.
With interest in volunteerism and conservancy management on the rise as City funding for maintenance declines, Silver's mantra of "caring" over "maintaining" may just be an attempt to embrace the new direction in which New York's parks system is headed.
***
by Cole Rosengren, Gotham Gazette
@ColeRosengrenNY