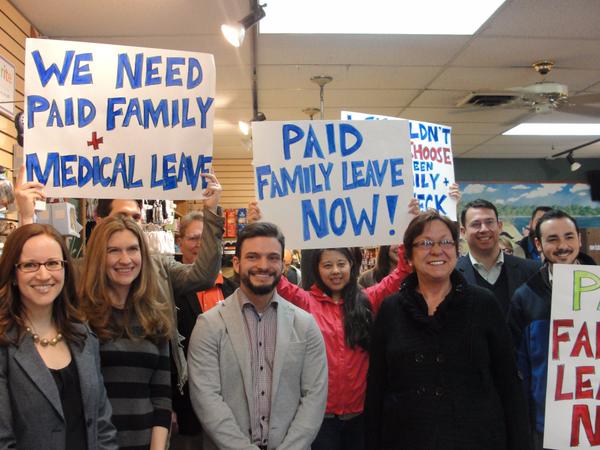 Advocates for paid family leave (photo: @CTWFP)
---
Upheaval in the capital due to another high-profile corruption scandal is not stopping advocates from heading to Albany to push for legislative action.
With just six weeks left in the legislative session set to expire mid-June, on Wednesday activists will rally at the Legislative Office Building and lobby lawmakers to pass paid family leave in New York State.
An 11:30 a.m. press conference will be led by Democratic State Senators, including bill sponsor Joseph Addabbo, calling for passage of the Paid Family Leave Insurance Act in the Republican-controlled Senate. The companion bill, sponsored by Assembly Member Cathy Nolan, passed in the Democrat-controlled Assembly in March. Addabbo's bill failed a Senate vote two weeks later, just before a fiscal year 2016 budget deal was reached.
Though a new cloud hangs over the Legislature after federal corruption charges were brought against Republican Senate Majority Leader Dean Skelos on Monday, it does not appear that substantive policy work in the capital will completely halt. There is reason to be skeptical that legislation will be approved by both houses to ensure New Yorkers are able to take paid leave to care for a sick family member or spend time with a new child, but the issue has captured the attention of many, and has gained new momentum at the city, state, and federal levels.
Negotiations over the paremeters of any paid family leave bill could be among the highest profile in Albany and legislative action on this issue could again make New York a national policy-making leader - perhaps garnering the type of positive attention the state could use given its growing reputation for corruption in its elected ranks. New York could become just the fourth state to pass a paid family leave law.
A representative of the Obama administration met recently with New York leaders on the subject as the president looks to pass legislation creating a fund to help states support family leave and a representative from Hillary Clinton's campaign listed it as a priority for the presidential hopeful. New York Senator Kirsten Gillibrand, who is sponsoring federal paid family leave legislation, recently lamented that "The United States is the only industrialized nation in the world without any form of paid family and medical leave." She promised "to continue the fight in Washington to pass the FAMILY Act to finally set a federal paid leave program." (The 1993 American Family and Medical Leave Act ensures 12 weeks of unpaid leave)
Gillibrand's comments came during a video message that was played last Thursday at an event in New York City - and livecast to sister events in cities across the state - organized by the Paid Family Leave Insurance Campaign, which is at the heart of the Albany lobbying set for Wednesday. The campaign is made up of advocacy groups, unions, and elected officials; members include 1199 SEIU, 32BJ SEIU, Citizen Action of New York, Community Service Society, New York Civil Liberties Union, New York Paid Leave Coalition, and the NYS AFL-CIO. On Friday, Gillibrand expressed optimism about paid family leave, and said she is working both with leaders in New York state government and also pushing her bill on the federal level.
Representing the Obama administration, U.S. Secretary of Labor Thomas Perez also recorded a message that was played to those in attendance last week. Perez and White House senior adviser Valerie Jarrett have been traveling the country promoting paid leave in what the administration is calling "Lead on Leave." It was Jarrett who previously met with New York officials.
At this point, however, movement on paid family is most likely to occur at the state level of government, at least between now and the summer. Looking to Albany, the New York City Council passed a resolution last week recommending that the state pass the Paid Family Leave Act. In her remarks at Thursday's event, New York City Public Advocate Letitia James said that her office's report on the subject indicates that Albany is the best place for legislation to occur.
While there is support for the general principle of paid family leave in both houses of the Legislature and from Governor Andrew Cuomo, there is no clear path forward in terms of policy specifics. A key sticking point, of course, is where the funding will come from to pay for the employee leave involved.
At last Thursday's rally, State Senator Addabbo said, "As the Senate sponsor of this legislation, I am delighted that the State Assembly has approved this bill, and I hope my legislative chamber will follow suit."
"In the absence of action by Congress," he added, "we need to change...one state at a time – and New York should be next, following the lead of New Jersey, California and Rhode Island."
If some version of paid family leave is to pass both houses of the New York State Legislature and head to Governor Cuomo's desk, it is unlikely it will be the Addabbo-Nolan version. A different paid family leave proposal in the Senate, sponsored by Independent Democratic Conference Leader Jeff Klein, differs from the Addabbo-Nolan bill on the source of funding. Klein's version was included in the Senate's one-house budget, but no compromise was reached in order to include paid family leave in the final state budget deal at the end of March, pushing the issue into legislative session.
Klein has reiterated that paid family leave is a top priority for him this session. In a statement to Gotham Gazette, Klein said, "At the Senate's Paid Family Leave hearing [in March], we heard from advocates, the business community and organized labor – and we are actively weighing their concerns and working towards a plan that's both fair and balanced. In the coming weeks and months, I will continue to collaborate with my Senate colleagues to pass Paid Family Leave in New York State and put our hard-working families first."
Governor Cuomo has expressed support for the issue, but he seemed to be caught off guard by the momentum behind it after he had declared there to be little appetite for paid family leave while he worked to pass his ten-plank women's equality agenda, which is now moving through the Legislature in pieces.
Cuomo's office recently indicated that leaders of the majorities from each house do not seem close on a paid family leave deal. It was unclear if his administration is doing anything to facilitate compromise.
In summarizing last Thursday's rally, a press release from the New York Paid Family Leave Insurance Campaign says that significant lobbying efforts are set to begin: "In each region, labor and community leaders identified local actions and events to mobilize citizens between now and the end of the legislative session." Wednesday's event in Albany will be a major part of these efforts, but it remains to be seen how much attention any issue can get with Albany in further disarray.
The conversation around paid family leave has gained traction nationally since President Obama mentioned it in his State of the Union address earlier this year. The President is attempting to pass the Healthy Families Act to create a $2 billion fund to help states implement paid family leave. Senator Gillibrand has introduced the federal Family and Medical Insurance Leave (FAMILY) Act, which has 12 Democrat co-sponsors.
While federal aid could provide a significant push, New York does already have the mechanisms to implement paid family leave. But, reticence among business leaders about what they see as another possible regulation and potentially unfunded mandate is shared by Republicans (and some Democrats) who staunchly refuse to lay the burden for paid leave on employers.
The concerns about the law raised by the business community seem unsubstantiated when the experiences of other states with paid family leave are taken into account. Meanwhile, the Nolan-Addabbo version of paid leave actually bases it on employee contributions rather than state funding. The Klein version, which appears to at least have some support from Senate Republicans, calls for the state to pay at least $125 million in the first year of implementation with the following years supplemented by employee payroll fees.
The paid leave campaign backing the Addabbo-Nolan bill stresses that "the paid family leave insurance benefit is entirely employee-paid," and that "the law does not create a new administrative requirement, but rather expands New York's existing Temporary Disability Insurance program (TDI) through a small increase in premiums that would continue to be shared by employers and employees, as they are now."
In California, a paid family leave (PFL) law was passed in 2002 and went into effect in July 2004. In the years since, the fears that businesses had about the effect of PFL on their productivity and the local economy turned out to be unfounded. According to a 2011 report by the Center for Economic and Policy Research (CEPR), 89 percent of employers said that PFL had a "positive effect" or "no noticeable effect" on productivity and 91 percent said the same about profitability and performance. (The report was based on a survey of 253 employers and 500 individuals conducted in 2009 and 2010).
"California serves as a model for other states and the national level," said Greta Twombly, campaigns manager, American Sustainable Business Council. "It's considered a success. Businesses were worried about it hurting their bottom line. Data year after year shows that's not the case."
Twombly insists that paid family leave helps businesses avoid the costs of hiring and training new employees and evens the playing field for businesses that already provide certain benefits to their employees.
In New York, she said, "There's direct competition between companies that provide it and those that don't. There are companies that want to provide it but can't because there are no logistics for it or their competitors don't so they can't afford to either."
In 2009, New Jersey became the second state to establish paid family leave through the state Family Leave Insurance (FLI) program. Again, most employers felt that the program didn't affect profitability according to a report released by CEPR last year. CEPR surveyed 18 employers ranging from 26 to 36,000 employees and none of these businesses said it affected productivity or turnover. Only two employers said it had a negative effect on their bottom line. Even in New Jersey, Twombly said, "There have been no terrible, dramatic, scary effects that opponents touted. Quite the opposite."
Rhode Island only created its paid leave program in 2013. It is funded through employee contributions and so has minimal impact on employers. "In Rhode Island, a lot of employers were already doing this in one way or another," said Erik Rettig, North-East outreach manager, Small Business Majority. "People getting sick is not new."
Citing a poll conducted in 2013, Rettig said business owners are in favor of policies based in shared contributions or employee payroll deductions. But the challenge for New York is clarity in policy. "A lot of times these policies are piecemeal," Rettig said. "They're cobbled together. Businesses don't look forward to that." Although he conceded that it would be tough to expand temporary disability insurance to pay for paid family leave, a cost that would fall on employers, he argues "It makes business sense at the end of the day. There's no evidence to support the fact that it isn't working for businesses. There is evidence to the contrary. Business owners get this. They just want to make sure it happens in the right way," Rettig said.
Senator Klein has been trying to champion his version of paid family leave through the Senate, albeit by separating it from TDI. "Including Paid Family Leave in the Senate's one-house budget was a major step forward for New Yorkers," Klein said in a statement to Gotham Gazette. Where it goes now is unclear.
At the event Thursday, Public Advocate James said, "We are here for one simple reason: No one should have to choose between taking care of their family and losing their job."
James added: "Paid family leave is a basic protection guaranteed to working families in 185 countries around the world, but our city, our state, and our country are lagging severely behind."
***
by Samar Khurshid and Ben Max, Gotham Gazette
@samarkhurshid @tweetBenMax @GothamGazette