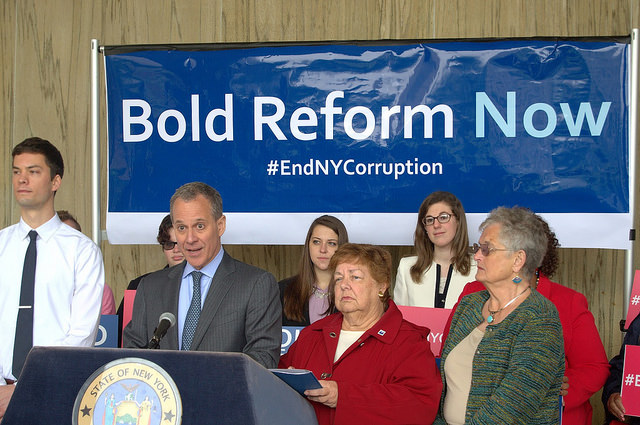 AG Schneiderman (photo via AG's flickr account)
---
Scandal fatigue hit Attorney General Eric Schneiderman differently than it hit Governor Andrew Cuomo and leaders of the state legislature.
Conventional wisdom is that the arrest and indictment of former Assembly Speaker Sheldon Silver earlier this year sent shockwaves through Albany. And yet as far as ethics reforms go, the result of the indictment of the man many saw as the most powerful man in "the room," a man who controlled the Assembly for over two decades, was actually quite routine. Albany went to its fallback, responding to ethical crisis by tinkering around the edges, haggling over small pieces of a larger puzzle, lauding incremental ethics reform as "the toughest in the nation."
After passing a fiscal year 2016 budget containing new reforms state lawmakers were ready to move on, but US Attorney Preet Bharara's office was not. Senate Majority Leader Dean Skelos was arrested on federal corruption charges in early May - about a month after the legislature passed the budget. Cuomo and legislators had no next play, no answer to the critics, no appetite for major reform.
"Sadly, every time incremental reforms have been called "sweeping" or groundbreaking" - billed as a solution to the problem - those words have been proven false," Attorney General Eric Schneiderman said during a speech on March 16, even before the Skelos arrest. "In fact, the primary impact of many highly touted, marginal reforms has been to allow business as usual to continue."
Removed from the fear and despair that gripped certain parts of the capital after the arrests of Silver and Skelos, Schneiderman proposed an unprecedented overhaul of the fundamental ways Albany operates and has since made appearances across the state touting the plan - one he unveiled as a set of proposals after Silver's arrest and turned into a legislative package after Skelos'.
Schneiderman's evolution on ethics appears to mirror that of many good government groups who say recent indictments have forced them to the realization that Albany's corruption problem won't be cured with small fixes. The time for incremental reform, the attorney general and others say, is over.
In response, some have accused Schneiderman of prescribing fixes from an ivory tower. Others, like Cuomo, have said that Schneiderman moved too "late in the day," to have the legislature address such a massive overhaul before its session ends in mid-June. When announcing his legislative package on the steps of the Tweed Courthouse on May 27, Schneiderman noted that there's nothing written in the Bible that says legislators must leave the capital on June 17, when session is due to end.
And, legislators and good government advocates say there may be no one more familiar with the challenges associated with moving ethics reform through the legislature, as Schneiderman was a prodigious and prominent sponsor of ethics bills during his time representing Manhattan in the state Senate.
As part of the Senate minority, Schneiderman struggled for sweeping ethics reforms and in his brief time in the majority, he fell into Albany's routine ethics triage by responding to the latest scandal with bandaids.
It's a cycle he now says he has sworn off. "I stood at those press conferences with you, extolling the transformational effect of incremental reforms. Well, I am through with that, and you should be, too," Schneiderman said during his speech in March at an event hosted by good government group Citizens Union.
Schneiderman is now advocating wholesale reform in Albany. He wants a public matching system for small campaign contributions, a full-time legislature with a ban on outside income, elimination of per diem reimbursements, drastically reduced campaign contribution limits, and the AG's office empowered to investigate the legislature.
Schneiderman was the primary sponsor of 11 ethics related bills during his 10 years in the Senate and cosponsor on 11 more. They include a variety of topics including campaign finance reform, public financing of campaigns, and empowering local district attorneys to prosecute corruption and ethics noncompliance. A number of the bills were one-house bills or reintroductions of previously introduced legislation. Many of the bills would have implemented drastic change but none of them came close to the sweeping nature of his recent proposal.
"For more than three decades, Attorney General Schneiderman has fought to combat public corruption and champion a range of reforms—from his sponsorship of dozens of anti-corruption bills as a State Senator, and as Attorney General, where he's prosecuted more than 70 officials and their cronies for abusing the public trust. But as he's made clear this year, there are now only two paths forward—continued prosecutions and further erosion of the public trust, or comprehensive ethics reform that gets to the root of the problem," said Matt Mittenthal, spokesman for Schneiderman, in a statement to Gotham Gazette.
Schneiderman's last hurrah on ethics as a legislator wasn't particularly pretty. The future AG was the frontman for an ethics package negotiated by then-Assembly Speaker Silver and then-Senate Majority Leader John Sampson during the Senate Democrats' brief time in the majority.
The issues motivating the legislature and the public's attention to reform were not the same as they are today. It was 2010, Gov. David Paterson was attempting to govern while tripping from scandal to scandal and his administration falling apart around him. He was still publicly planning to run to remain governor. Former Gov. Eliot Spitzer's resignation after being caught soliciting prostitutes was fresh in voters minds, as was the Troopergate scandal where the governor's aides were accused of using the state ethics commission to leak information damaging to their enemies.
As a result, the 2010 ethics package undid the ethics commission created under Spitzer, breaking it up into three distinct agencies - legislative, executive, and lobbying. It called for the creation of an enforcement counsel at the Board of Elections. New disclosure rules would have made elected officials' outside earnings public and required businesses to disclose any relationships they had with public servants. Good government groups and legislators were split on whether the legislation actually went far enough.
"He never argued at times like the governor does that this was some kind of historic fix all," said Blair Horner, of the New York Public Interest Research Group, about Schneiderman. NYPIRG supported the legislation at the time. "He was dealing with a difficult negotiation with the leaders of both houses and he got what he could," said Horner, who added Schneiderman was presumably the face of the bill because of his long-term commitment to reform.
"I am very proud of the fact that, in our first weeks back in session, we've passed the most sweeping ethics reform in a generation," Schneiderman said in a statement after the bill was passed. "This is monumental. For decades, the problem has not been what's illegal in Albany, but what's legal. That's all about to change. These reforms will restore public confidence in our government through stricter campaign finance rules, increased transparency and meaningful ethics oversight of lawmakers. The message to all the well-connected lobbyists and legislators who have benefited from Albany's pay-to-play culture is clear: the party is over."
In the end, Paterson, who had been left out of negotiations, made good on a promise to veto the bill and the legislature made no effort to override it. Paterson slammed the legislation for allowing the legislature to police itself. "The only way to bring fairness and openness to government is to fundamentally reform the way Albany operates," Paterson said at the time. "We must bring fundamental change to the culture of Planet Albany, and finally put the interests of the people of New York ahead of lobbyists and special interests."
In some ways the legislation was ahead of its time.
Public disclosure of electeds' outside income wasn't enacted until Cuomo's first ethics package in 2011. The state's ethics commission was revamped in the same package and instead of separating the agency into three separate oversight bodies, The Joint Commission On Public Ethics now allows oversight over the legislature, governor, and lobbying, but without much independence. A BOE enforcement mechanism wasn't adopted until 2014 in an ethics package Cuomo reached with the legislature after he agreed to kill The Moreland Commission on Public Corruption.
"The legislature was reacting to Troopergate and the sense that there had been interference from the Spitzer administration in the ethics commission and they needed to start over," said Rachael Fauss, director of public policy for Citizens Union. "They had yet to get to the core of the problems Albany really faces," Fauss added, referring to the campaign finance system, legislators earning outside income, and more.
Of the ethics-related bills Schneiderman sponsored as a senator, the one with the most impact is one that he is able to put to use today in his role as Attorney General.
In 2010 Schneiderman sponsored a bill strengthening the state's False Claims Act that allows the AG, local officials, or whistleblowers to bring suit against any party that commits perjury while securing government funds. Schneiderman's amendment allowed for triple penalties in civil cases for tax fraud and established tough protections for whistleblowers. The legislation has allowed Schneiderman, as AG, to go after corrupt contractors and politicians while bringing home massive damages. Its also augmented the AG's ability to prosecute government corruption despite the fact that the office is handcuffed in many ways despite calls for Cuomo to give the AG carte blanche to investigate the legislature. Schneiderman has partnered with Comptroller Thomas DiNapoli to use the False Claims Act to root out corruption in state contracts and abuse of legislative per diems.
Good government professionals Horner and Fauss note that Schneiderman finds himself in a unique position: with the governor and legislature largely unwilling to discuss major reforms he now has a platform to diagnose ills and prescribe a solution that otherwise might not get any play. While it is a great opportunity for Schneiderman to use the bully pulpit provided him by his position, he is not actually in the driver's seat despite his decision to fill the void where ethics debate has been.
Horner says that ethics in Albany has traditionally been moved by the governor and there was an increased burden on Cuomo to do so because he ran pledging to clean up Albany. But the situation has changed drastically thanks to US Attorney Bharara.
"What makes this situation different is that the outside source putting tremendous pressure on the legislature to act on reform efforts is really being quarterbacked out of the US Attorney's Office," said Horner. "Whatever happens in Albany will occur in the wake of what the US Attorney is doing on the core issues of corruption in Albany like [legislators serving] two masters and personal enrichment."
This time around the governor and legislature can't ignore the conflicts that rule Albany because Bharara has made them front and center. Schneiderman has simply seized on that, aware that as long as the indictments keep coming no one can pretend that tinkering might fix things.
"It should be telling for the people of the state that the Manhattan-based US Attorney, who is used to dealing with the mob and terrorism, is dedicating important resources to Albany," said Horner. "That can't be reassuring for the governor."
***
by David King, Albany editor, Gotham Gazette
@DavidHowardKing
Note: Gotham Gazette is an independent publication of Citizens Union Foundation, sister organization of Citizens Union