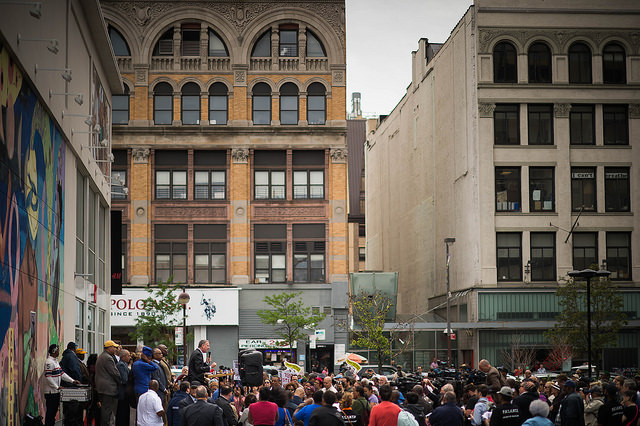 Mayor de Blasio addresses a tenants rally in Harlem (photo: Rob Bennett/Mayor's Office)
---
On Saturday, Gov. Andrew Cuomo attempted to reset his position on the state's rent laws. Facing pressure from tenant advocates and electeds Cuomo took a new position on strengthening rent regulations, saying in a Daily News op-ed that he wants to eliminate the process, known as vacancy decontrol, by which landlords increase rents until apartments are taken off the rent control rolls. In the article, Cuomo touted measures taken in 2011 to limit "vacancy bonuses" and "make sure landlords played by the rules."
Cuomo cited the 2011 creation of a new entity designed to prevent tenant harassment and illegal rent hikes. "[A]rguably our most important innovation," Cuomo writes, "was the creation of the first ever Tenant Protection Unit empowered with the authority to investigate, audit and bring legal action against landlords who gamed unsuspecting tenants."
Now, four years later and as an intense sense of urgency around renewing and strengthening expiring rent regulations has gripped tenant advocates, many are lukewarm on the program that Cuomo created as a stopgap to mollify legislators who were livid about the 2011 rent deal.
With a staff of about 25, the Tenant Protection Unit, or TPU, is charged with auditing, inspecting, and number-crunching in the effort to verify that landlords are making the repairs they claim to have made before raising tenants' rent. The TPU budget is unclear as Cuomo funds the agency through executive appropriations, though a number of advocates and legislative staffers who follow the issue closely estimate the unit operates on about $5 million a year.
The Cuomo administration touts the TPU, which is overseen by New York State Homes and Community, as revolutionary and credits it with putting 40,000 apartments back on the affordable housing rolls. Advocates say it is something that should have been in place a long time ago and worry it is currently understaffed and only funded at Cuomo's whim, as it was not created by legislation. They also point out that the agency was staffed by shifting employees from other departments.
The real estate industry and Senate Republicans appear to feel the unit is effective enough at protecting tenants as they both have made efforts to squash the TPU. Landlords and three landlord groups filed suit against the state in 2014 claiming that the TPU violates state law and its efforts "represent an agency's dramatic intrusion into the legislative and judicial areas, usurping powers specifically enumerated to the legislative and judiciary branches of government."
Senate Republicans tried to defund the program during budget negotiations this year. A number of Senate Republicans, including housing chair Catharine Young, have characterized the TPU as "executive overreach."
Frank Ricci of the Rent Stabilization Association, a landlord group, said his coalition is involved in the lawsuit because the TPU is treating landlords unfairly and is unwilling to provide them with basic information that would help communication and compliance.
The TPU asks landlords for detailed information regarding agreements with contractors to verify claimed renovations and repairs have indeed been done. "We've asked them to give us standards and they've refused," said Ricci. "Some of our landlords might get very detailed contracts while some of of the smaller owners don't deal with contractors that provide sophisticated contracts. So we've had some members get their rents rolled back because the TPU isn't satisfied with the documentation. It would be better for us all if we knew what the standard was."
A state judge dismissed the Cuomo administration's request to dismiss the suit in November of last year and the case is currently in discovery. A spokesperson for the Cuomo administration declined to comment because the lawsuit is pending.
The real estate community's frustration with the TPU is evidence to some that it is extremely effective. "They are doing such good work that the Republicans are trying to kill it and the real estate industry is opposing it in court" said state Sen. Adriano Espaillat, a Manhattan Democrat who added that he would like to see dedicated budget funding created for the agency.
Michael McKee of Tenants PAC isn't so convinced. He says the TPU has refused to assist tenants whose apartments were already taken off of the rent control rolls due to vacancy decontrol. He worries that the complaint-based nature of the TPU means that tenants who don't know to complain are just out of luck. "It is a good thing in principle and it is fair to say they've done good things, but it's not a substitute for strengthening the laws, or doing away with vacancy decontrol, or regulating the [units] that we've lost."
Members of the Cuomo administration say that the TPU's scope is not as narrow as McKee might think, as a single complaint allows them to investigate all of a particular landlord's housing stock. They also employ data-mining along with audits to make sure rent increases actually add up to the heightened rent.
Landlords are currently allowed to remove apartments from rent regulation when they reach a rent of $2,500 per month, able to increase rent along the way when repairs are made. Landlords can also raise rent on a regulated apartment by 20 percent after a tenant leaves without making repairs. Advocates say these rules provides landlords an incentive to push tenants out.
Cuomo administration officials also note that the TPU has expanded its reach by partnering with the Attorney General's Office and city agencies to form The Tenant Harassment Protection Taskforce to investigate deregulation, destruction of apartments, and tenant harassment.
The TPU has also been involved in large settlements with major landlords who were caught receiving tax abatements for making improvements to affordable housing stock when no actual improvements had taken place, and who received tax breaks for providing affordable housing when they weren't actually meeting rent regulation guidelines.
Perhaps the most famous TPU achievement thus far was working with the Brooklyn district attorney's office in a case that saw the criminal indictments of Joel and Aaron Israel, landlords who were found to be destroying their apartments to drive tenants out in four Brooklyn apartment buildings. The TPU served a subpoena to the Israel's real estate firm last year for records on their practices regarding 10 apartment buildings in Brooklyn. The TPU's findings were so damning that they handed them over to the Brooklyn DA.
The TPU also assists the state Homes and Community Renewal office in vetting landlords and developers in their applications for tax breaks, state loans, and grants. Administration officials say the TPU helps identify predatory landlords by investigating their holdings, tenant turnover rates, and previous tenant complaints.
One legislator, who requested anonymity for fear of angering the Cuomo administration, said that the ease with which the TPU has been effective in only three years and on a small budget should be a tremendous warning to lawmakers that the current regulations aren't actually working. "They simply went and contacted landlords who had just taken themselves off the rolls because no one was paying attention and restored thousands of apartments," said the legislator of the TPU's work. "That is the kind of enforcement environment we were dealing with - no one was paying attention and now someone is, but it should never have gotten to that point in the first place and we have to make sure the law prevents that."
Tenant advocates see the TPU as being born out of Cuomo's failure to go to the mat to end vacancy decontrol in 2011. Negotiations over the rent laws spilled over the deadline and in the end Cuomo and the Legislature made minor tweaks to the laws that he touted as revolutionary. City-based legislators, stunned by the deal, met with Cuomo privately to express their anger and he promised the state would do more to enforce current laws. Thus the TPU was born.
With less than a week left in this legislative session Cuomo finds himself in an even tighter spot on rent laws than he faced in 2011.
US Attorney Preet Bharara's investigation into corruption in state government has been galvanized by cooperating witnesses connected to Glenwood Management, a real estate group that has given Cuomo over a million dollars; tenant groups have seized on the connection and with the help of activists, legislators, and New York City Council members staged headline-grabbing protests against the Governor on the issue - one such protest led to over 50 arrests on the 2nd floor of the capitol. Meanwhile, Senate Republicans are more loathe than ever to deliver any tweaks to the laws that govern rent control, in part because Bharara's probe has scared them away from making legislative trades.
Since March, Cuomo has been downplaying the ability of the Legislature to accomplish complicated negotiations on the rent laws this session, but in his op-ed he suddenly announced a new position: that he wants to see vacancy decontrol done away with altogether. At this point in the game many legislators doubt it is possible while advocates doubt Cuomo's sincerity. Cuomo does say in the piece that if it is not done away with, decontrol rules should be strengthened so that more units remain regulated.
In a speech this past weekend at First Corinthian Church Baptist Church in Harlem, Mayor Bill de Blasio warned what would happen if Albany failed to act. "In Albany, they will decide whether to continue or eliminate rent regulation for over 2 million New Yorkers," de Blasio said. "If you live in a rent-controlled or rent-stabilized apartment, I hope you feel the magnitude of this moment, because if Albany doesn't act, rent control and rent stabilization go away. All those protections go away. All those guarantees go away. The market takes over – and we have seen what the market has done to so many hardworking families, haven't we? We've seen people displaced too many times, haven't we? And Albany not only has a choice to keep rent regulation or to eliminate it, they could do the right thing and strengthen rent regulation so more and more people are protected."
McKee of Tenants PAC said his experience with Albany worries him. "We've been asking Albany to adopt proactive enforcement for 40 years," said McKee. "I had the conversation with Mario Cuomo. They can't wait that long to act on vacancy decontrol or their won't be any affordable housing left."
Espaillat said the timing this year is frightening despite the fact that Albany has a history of waiting until the last minute to move on renewing the rent laws. "They push it up against the cliff so there is no negotiating room. They wait until we are on the precipice and that is why we've lost so many units of affordable housing over the years."
***
by David King, Albany editor, Gotham Gazette
@DavidHowardKing