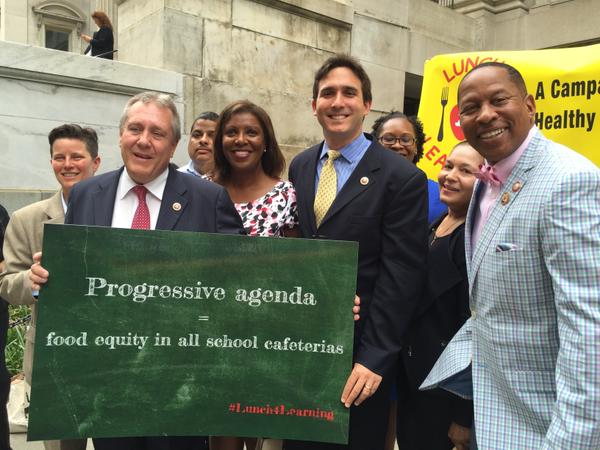 CMs Dromm, Kallos, & King, Public Advocate James, & advocates (photo: @Lunch4Learning)
---
"All I know is that when I would tell him that I'm hungry, he would say that he doesn't have money to buy me something to eat," says 17-year-old Althea of growing up with her father. She describes getting food at her house as a "gamble," adding, "Sometimes the school lunch was the only meal I would eat for the entire day."
For many young people in New York City, like Althea, the only meals they eat are the free breakfasts and lunches provided to them at their schools. "We're the richest city in the history of the world," says Joel Berg, executive director of New York City Coalition Against Hunger. "We have 53 billionaires and half a million children who cannot afford enough food."
While New York City schools provide free breakfast to all students and free lunch to middle school students and others who qualify financially, there is controversy over exactly when breakfast should be available and whether free lunch should be made universal. As negotiations lead to a final fiscal year 2016 city budget by the end of June, school meal policies and the funding of those meals are again key parts of the discussion.
Advocates and elected officials are asking for the City to do more – they want school lunches to be free for all students, no matter family income, and for students to be able to eat their breakfasts in the classroom, in what is known as "breakfast after the bell."
The need for free school meals is particularly urgent in New York City. About 20 percent of the children in the city go to food pantries and soup kitchens, according to Rachel Sabella, director of government relations of Food Bank for New York City. As Mayor Bill de Blasio often says, 46 percent of New Yorkers are living below or near the poverty line.
At the moment, students can register for a free lunch if their family income is below 130 percent of the poverty level or if they fall into other categories such as receiving food stamps, or being homeless or in foster care. About 75 percent of New York City's public school students qualify for free or reduced-price lunches. The US Department of Agriculture reimburses schools for each breakfast and lunch they serve that meet certain nutritional criteria.
Advocates say that universal free school meals would help the large number of students in the city whose family incomes are slightly higher than the qualifying threshold but still live paycheck to paycheck. "The eligibility threshold is uniform nationally but the cost of living is not," explains Janet Poppendieck, Policy Director of New York City Food Policy Center and author of Free for All: Fixing School Food in America.
Universal free school meals would also benefit families that do qualify for the free or reduced price program but do not fill out the required paperwork, either because they find it to be too complicated or because of a language barrier. In some cases, undocumented immigrants do not fill out the paperwork, fearing it might be used against them by immigration services.
In New York City, about a third of the students who qualify for free or reduced-price lunches don't eat those meals. Many students do not take them due to stigma, not wanting to be seen as poor. As students get older, the number of students opting for free meals decreases, according to Liz Accles of Lunch for Learning, a coalition-led campaign that includes community organizations, youth advocacy groups, and student groups and has allied with elected officials like Public Advocate Letitia James.
While about 80 percent of eligible elementary school students eat free lunches, the number drops to about 60 percent in middle school and 30 percent in high school. "A primary reason for that drop is the poverty stigma that is associated with the program," Accles explains.
Students are often teased or bullied for eating free lunches, advocates say. "A lot of the kids that are ashamed to get on line or afraid or anticipate that there will be problems just sit out and don't eat anything during the day," says Accles. Supporters of universal school meals say that this stigma would be eliminated if schools provide free meals to all students regardless of family income. This is the message that students from some of the Lunch for Learning coalition groups and Public Advocate James are delivering in a letter to the mayor on Tuesday afternoon, along with a photobook of over 300 pictures from the #lunch4learning selfie campaign.
Council Member Ben Kallos, who is among those in the City Council most involved in calling for the expansion of free school meals, talks personally about the free lunch stigma. Raised on the Upper East Side by his single mother, he was one of the few children in his neighborhood who qualified for free or reduced-price school lunches, Kallos says. "If you're bringing the styrofoam tray, you get made fun of," he said, recalling the tray that gave away that a student had received a free lunch. "I wish I could say differently but I did not make the smart decision. And rather than facing the stigma of having the school lunch, I just didn't eat."
According to an estimate by the Independent Budget Office, it would cost $20 million per year to provide free lunch to all of the city's public school students. The Department of Education's operating budget for 2015-2016 is $21.8 billion. Last year, under a pilot program, free lunches for all students were provided in New York City's standalone middle schools. Within months of the program's start, almost 10 percent more students were eating free lunches in these schools. Mayor de Blasio described the results of the pilot program as "mixed" in his presentation of his fiscal year 2016 Executive Budget, elaborating, "the additional number of children who are taking advantage of it has not been that large so far."
Calling the increase "phenomenal progress," Poppendieck disagrees. "I think maybe that they [the de Blasio administration] don't understand the whole structure of reimbursements well enough or the culture of the school cafeteria enough to really appreciate the gains that have been made," she told Gotham Gazette.
Many are surprised at the administration's reluctance to expand free school meals. "This is in stark contrast to the rest of the record on food issues," says Berg, of the Coalition Against Hunger, which he calls otherwise "stellar." Advocates for universal school meals feel the expansion of this program to all New York City public schools would be consistent with the mayor's efforts to reduce inequality, with Accles calling it "fundamental to any education or health equity agenda that the mayor has."
The Most Important Meal of the Day
While free lunches are currently only available to qualified and registered students, free breakfasts are available to all students in New York City public schools, regardless of income. Yet, New York consistently ranks among the bottom of big cities in terms of low-income students eating school breakfasts, leading some to call for reform of breakfast accessibility.
According to the latest annual report by the Food Research and Action Center, a nonprofit organization working to eliminate hunger and under-nutrition, in the 2013-2014 school year only about 35 percent of the city's low-income students were eating breakfast in school. The report shows that the number of students eating school breakfasts decreased last school year. "We're just so far below what the norms are," says City Council Member Stephen Levin, chair of the Council's general welfare committee.
Low participation numbers intensified the push for "breakfast after the bell." In most New York City schools, breakfast is served in the cafeteria before the first class of the day. Supporters of the after-the-bell program say that many students cannot arrive at school in time for breakfast in the cafeteria because school buses may not get to school that early or because parents have to drop off their children in different schools. And, like free lunches, there is also a poverty stigma attached to eating school breakfasts. While all students are entitled to the free breakfasts, the general perception in schools is that those who make the effort to arrive early, just to eat in the cafeteria, are those who cannot afford to eat at home. "Students feel shame. And it shouldn't be that way," says Sabella.
With 'breakfast after the bell,' students can eat their free breakfast after the start of morning classes instead of before the school day. "It's the best way to get as much food as possible to children that need it," says Council Member Levin.
At the moment, New York City public school principals can choose to opt in for 'breakfast after the bell.' Over 300 schools in the city have opted in so far, either serving breakfast in the classroom or providing "grab and go" carts for students to pick up food to take into class. "We've heard nothing but good things from those principals and teachers," says Megan Cryan, New York City Campaign Director of Share our Strength. "It levels the playing field," she adds, referring to research that children who eat breakfast after the bell are able to focus better, have fewer behavioral issues, and make fewer visits to the school nurse.
Advocates also point to the examples of other big cities that have successfully introduced 'breakfast after the bell.' Recently, Los Angeles completed a three-year rollout of the program in all of its public schools. The results include the number of children eating breakfast in schools surging from around 30 percent to over 80 percent. The city covered the costs of the program with $16 million in reimbursements from the USDA.
Some reluctance to implementing 'breakfast after the bell' in New York is due to concerns such as keeping classrooms clean and whether federal funding would cover the start-up costs of the program. There is also skepticism around students being able to concentrate on their studies while eating or nearby others who take food.
Supporters say that in New York City, 'breakfast after the bell' is likely to pay for itself as the more meals are served, the more is received in federal reimbursements. According to the Food Research and Action Center, New York City would receive more than $53 million in additional federal reimbursements if 70 percent of the students receiving school lunches would also eat breakfast at school. Berg estimates that the city would receive an additional $150 million if every child is served breakfast in school every day.
Although Mayor de Blasio supported 'breakfast after the bell' before becoming mayor, he has not remained on board since coming into office. This year's preliminary and executive budgets did not include 'breakfast after the bell' or an expansion of universal free lunch. This omission was noted by the City Council in its budget response and raised in a Council hearing on the education budget. Public Advocate James also expressed her disappointment in a press conference outside the Department of Education and in an op-ed for City & State urging the mayor to expand universal free meals beyond middle schools.
In a statement sent to Gotham Gazette, the Department of Education said, "The DOE is pleased to serve free lunch for all students in standalone middle schools. We are continuing to work through the operational issues involved with the free breakfast in the classroom program and will work closely with City Council, school leaders and advocates as this process continues."
"We don't know what the holdup is but we are hopeful," said Cryan of the possibility of school meals being expanded in the final budget for the fiscal year starting July 1. Kallos similarly expressed hope but also said he was "unsatisfied" with responses he has received from the City Schools Chancellor Carmen Fariña.
Kallos says it is time to act: "Folks seem to be pointing fingers. But at the end of the day, it's up to us to make it happen."
***
by Zehra Rehman, Gotham Gazette
@GothamGazette