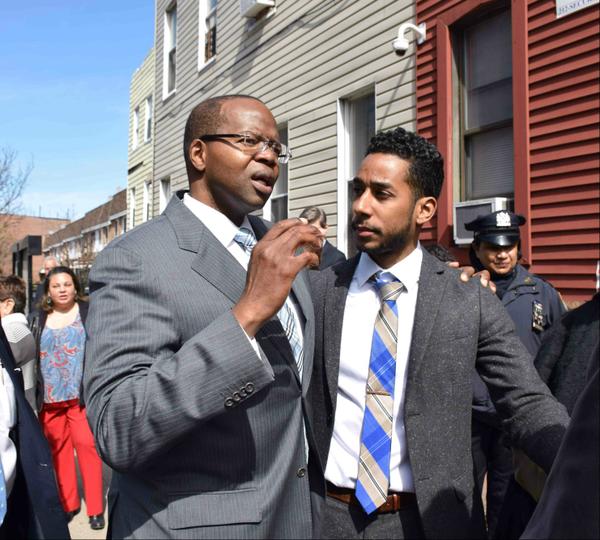 Brooklyn DA Thompson, left, & Council Member Reynoso (photo: @BrooklynDA)
---
What is the price of winning? For prosecutors in wrongful conviction cases, it can be a life.
Last year, there were a record 131 exonerations nationwide according to the National Registry of Exonerations. Of those exonerated, six were serving time on death row.
During that same time period, six new Conviction Integrity Units (CIUs) were established at district attorney offices across the country, increasing the total number of units by about one-third. CIUs conduct reviews of wrongful conviction claims and were responsible for 49 exonerations in 2014, more than for all previous years combined. But the structure and number of exonerations of each individual CIU varies markedly, leading to different systems by which the district attorneys who prosecute crimes are reviewed.
In New York City, where each borough has a corresponding DA, the Manhattan and Brooklyn District Attorney Offices have a CIU and Conviction Review Unit (CRU), respectively. The other boroughs do not currently have formal review units. Like other CIUs, the New York City-based units vary in both organization and outcomes.
Former Brooklyn District Attorney Charles Hynes formed a CIU in 2011 that resulted in two exonerations. But many, including current Brooklyn DA Kenneth Thompson, who defeated Hynes in 2013, felt that Hynes was incapable of adequately looking into convictions that were secured during his nearly quarter-century tenure.
"My predecessor called it the Conviction Integrity Unit, but I thought the process in place did not have integrity. And so, I changed the name and called it the Conviction Review Unit," Thompson said while speaking at a New York City Bar Association event last year.
Since Thompson established the CRU in 2014, he has allocated an annual budget of $1.1 million to the unit. "If you're serious about the idea that the job of a district attorney and a prosecutor is to do justice, not merely to secure convictions," says Mark Hale, Chief of the Brooklyn CRU, "then the books don't close on these cases. You should always be pursuing justice, even long after the jury has reached their verdict."
The Brooklyn CRU secured ten exonerations last year and has been touted by some as a model. Two of the ten exonerated individuals died while incarcerated and had their convictions vacated posthumously. These examples show how costly wrongful convictions - and delayed reviews when questions arise - can be. The other eight men whose convictions were overturned were facing maximum sentences of life in prison. The CRU has produced an additional three exonerations in 2015, including one involving a defendant who was facing possible deportation.
The Manhattan CIU, created by District Attorney Cyrus Vance in 2010, was the first of its kind within the five boroughs. Since its inception, the unit has reviewed more than 160 cases, reinvestigated 14 cases, and vacated five convictions, according to an office spokesperson who declined a request for an interview. As of January 2015, The National Registry of Exonerations lists four vacated convictions by the Manhattan CIU that meet the registry's criteria for exonerations. The vacated convictions include two robberies, one assault, and one sexual assault.
"To me, that office has zero credibility," says Jeffrey Deskovic, who was wrongfully convicted in Westchester County and exonerated after spending nearly 16 years in prison. Deskovic, who founded The Jeffrey Deskovic Foundation for Justice, cites the Jon-Adrian Velazquez case in which the Manhattan CIU upheld a murder conviction despite recanted eyewitness testimony and a lack of physical evidence linking Velazquez to the crime.
But Barry Scheck, co-founder of The Innocence Project, a national organization that works to reverse wrongful convictions on the basis of DNA evidence, stresses CIUs are evolving entities. While Scheck views comparisons between the two New York district attorney offices as unproductive, he also acknowledges there are certain factors that increase the effectiveness of a particular CIU over another.
"The successful CIUs have been ones where the person who has supervisory responsibility is a former defense lawyer," says Scheck, pointing to renowned defense attorney Ronald S. Sullivan, Jr.'s role as advisor to the Brooklyn CRU. "You really need from a cognitive point of view a completely different perspective because it's very hard to de-bias people who are working within offices, prosecutors particularly, for quite a number of years," says Scheck.
The latter point has been a criticism of CIUs. Essentially, a wrongful conviction is admission that the district attorney's office responsible for the case got the prosecution wrong in the first place. When those cases involve prosecutors and a district attorney who are still in office, the objectivity of the review process is called into question. As of January 2015, individual CIUs ranged in number of exonerations from zero to as many as 33.
In addition to Sullivan's role as advisor, the Brooklyn CRU employs the use of an independent review panel. The panel reviews and makes non-binding recommendations to the district attorney's office regarding wrongful conviction claims. The panel is comprised of three attorneys who are not employed by the Brooklyn District Attorney's Office.
The Manhattan CIU has a Conviction Integrity Policy Advisory Panel comprised of criminal justice experts, including Scheck, who advise "the Office on national best practices and evolving issues in the area of wrongful convictions" according to a Manhattan District Attorney press release. The panel does not review cases, which are handled internally by the Manhattan CIU.
The Brooklyn CRU's comparably high rate of exonerations can be traced to other factors as well. Four of the Brooklyn CRU's exonerations last year involved cases handled by former police detective Louis Scarcella, who has been accused of coercing witnesses and intimidating suspects into making false confessions.
"In doing the number of cases for the years that we did," says Hale, "those cases of violent crimes in the volume that we did, it would be foolhardy to believe mistakes weren't made in some of those." But Hale points to other factors in the unit's success, including a dedicated staff whose sole responsibility is to review wrongful conviction claims.
While the Brooklyn District Attorney's Office processed a high volume of cases during New York City's crime-ridden 1980s and '90s, a 2015 report issued by the National Registry of Exonerations asserts that the borough is not unique. The report refers to the number of exonerations in Brooklyn as "an impressive accomplishment" but maintains "there is no reason to believe that the problem it addresses is restricted to Brooklyn. The concentration of false murder convictions in Brooklyn in the 1980s and '90s," the report continues, "is often explained by a crisis in law enforcement: a murder rate about 5 times what it is now, and limited resources to investigate and prosecute those murders."
But the report argues that similar conditions existed throughout the five boroughs as well as in other urban areas nationwide. "If the same resources were devoted to similar cases from other cities," the report maintains, "many additional false murder convictions would no doubt be found."
The number of homicide and homicide-related arrests, such as criminally negligent homicide and manslaughter, disposed in Brooklyn during the '80s and '90s was one-and-a-half times the rate of homicide-related arrests disposed in Manhattan. However, the total number of felony arrest dispositions during the same time period was higher in Manhattan than in Brooklyn.
Currently, the Manhattan CIU reviews serious felony offenses including homicide, rape, burglary, and robbery. Earlier this year, the Brooklyn CRU expanded its review to include non-homicide felony offenses as well. Since that expansion, the Brooklyn CRU has secured two exonerations in non-homicide felony cases.
Acknowledging the lack of CIUs in many other localities, Hale concurs with the report's finding and notes, "There are other people who probably would find the same proportion or the same numbers of exonerations if, in fact, they were looking."
Brooklyn DA Thompson's fresh eyes have undoubtedly helped the office take a deeper look into the relatively old convictions that were obtained primarily during the Hynes administration. Will those eyes remain as sharp once convictions secured under Thompson's leadership are called into question?
"It comes down to the will of the D.A.," Thompson acknowledged during his speech last year. "I can't say that there will never be anyone wrongfully convicted under my tenure, but I can tell you that I'm going to take swift action."
***
Brooke L. Williams is a freelance multimedia journalist based in New York City. She reports on the criminal justice system with an emphasis on those wrongfully convicted. You can follow her on Twitter @williamslbrooke
@GothamGazette