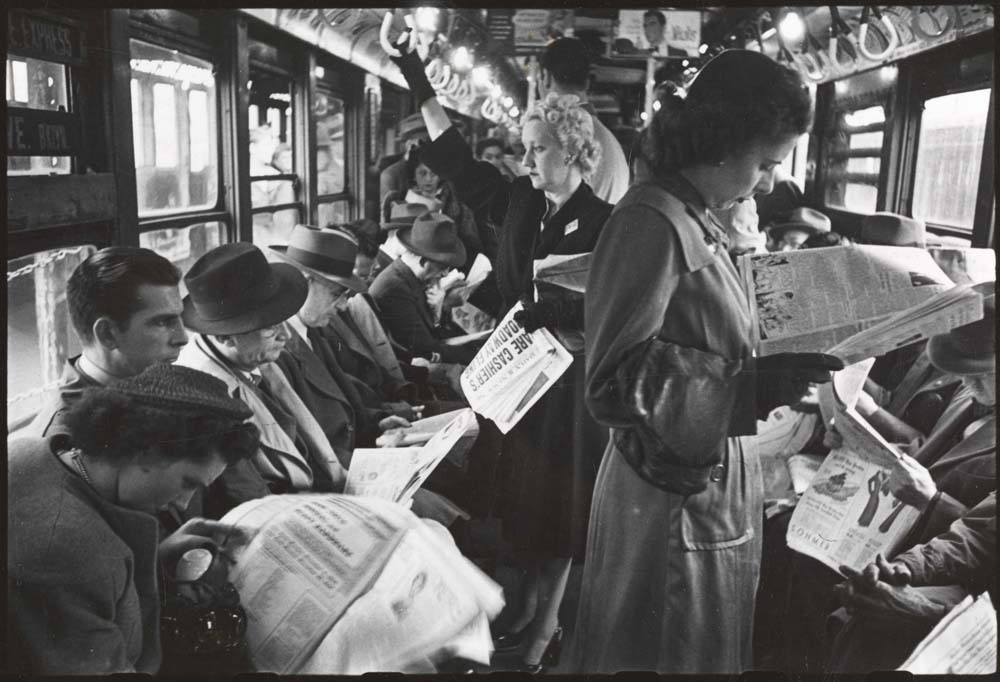 photo: Stanley Kubrick via Museum of the City of New York
---
Gotham Gazette's Week in Review, Friday July 10
PHOTOS OF THE WEEK: Governor Cuomo appoints AG Schneiderman as a special prosecutor in cases where police officers kill unarmed civilians, via the Governor's Office on flickr (top); mothers of individuals killed by police officers join hands after Cuomo's announcement, via John Taggart (middle); City Hall for the World-Cup-winning US Women's National Soccer Team celebration, via Deputy Mayor Alicia Glen (bottom)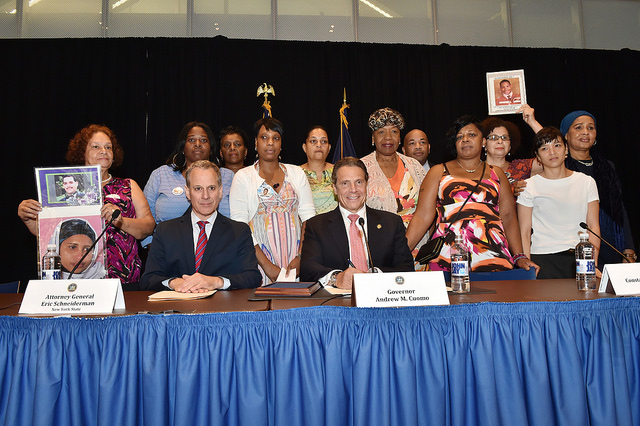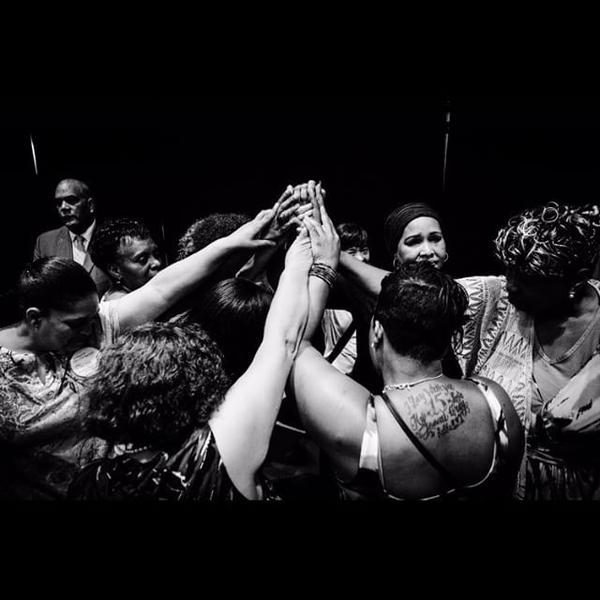 TOP FIVE STORIES OF THE WEEK:
1. De Blasio Announces Bail Reform, 'Supervised Release': On Wednesday the de Blasio administration announced that $17.8 million will be allocated to supervise "3,000 eligible defendants safely in the community" instead of detaining them in jail while waiting for trial. Low-level, non-violent offenders will not be asked to pay bail, no longer will those who cannot afford bail be sent to Rikers Island jail to await trial.
2. Attorney General Eric Schneiderman Named Special Prosecutor: On Wednesday evening Governor Cuomo signed an executive order designating Attorney General Schneiderman as a special prosecutor for cases where someone killed by police in instances where the victim is unarmed or if there's a question of whether or not the victim is armed and dangerous. By Thursday a new special investigations and prosecutions unit had been formed in Schneiderman's office.
3. Queens Library Corruption: An audit released on Wednesday by Comptroller Scott Stringer revealed that over $310,000 was spent by executives in the Queens Library system on "prohibited expenses." The Stringer audit includes many eye-popping abuses by Queens Library officials past and present.
4. Cuomo Signs 'Enough is Enough,' Comments on De Blasio: On Tuesday Governor Cuomo signed 'Enough is Enough' into law, "stepping up protections against sexual assault" at private and public college campuses. On NY1, he also responded to the comments Mayor de Blasio made last week about how disagreements with the Governor result in "some of kind of revenge or vendetta" by saying, "my way is the exact opposite and the proof is in the pudding." De Blasio responded on Thursday, saying "it had to be said." Then the governor declined to name anything he thought the mayor had done well.
5. NYC Parade for US Soccer Team: On Friday New York City held a ticker-tape parade for the World-Cup-winning United States Women's National Soccer Team. After winning the World Cup, Mayor de Blasio announced that the team would be saluted along the Canyon of Heroes, a first for a women's sports team.
THIS WEEK'S NUMBERS:
$332,500 will be paid out by New York City to six Occupy Wall Street protesters who say that the police "unjustly blasted them with pepper spray four years ago."
44,000 feet of scaffolding have been removed from New York City Housing Authority developments not undergoing construction, Mayor de Blasio announced Thursday.
$44 million, five-year contract will be awarded to Questar Assessment, to develop new state exams for the New York State Education Department.
THE GLORY AND THE GOAT:
It was a good week for political reporters with the return of Mayor de Blasio from vacation, the public sniping between de Blasio and Cuomo resumed, and the continued fallout of Donald Trump.
It was a bad week for Pearson, the education testing company at the center of quite a bit of controversy over the years lost out to Questar Assessment for the aforementioned testing contract with New York state.
THE FLASH:
Last year around this time, on July 9, 2014, Manhattan Borough President Gale Brewer and Council Member Dan Garodnick presented the representatives on the East Midtown Steering Committee. Now, the committee is set to present its recommendations to the mayor and city planning.

Thirty years ago, on July 10, 1985, then-Mayor Koch announced his candidacy for a third term. He called it "the best job in America." He would go on to win 74% of the vote.
GOTHAM GAZETTE HIGHLIGHTS OF THE WEEK:
MORE FOR THE WEEKEND:
"WNYC teamed up with public radio stations in St. Louis and Baltimore for a multi-city, many-voiced special program on race, community, and policing" hosted by Brian Lehrer.
The Economist looks at NYPD Commissioner Bratton's new/old plans.
***
NOTE TO READERS: we hope you enjoy this new Gotham Gazette weekly feature - please share it if you do; on Twitter, use our handle @GothamGazette.
If you have feedback on this feature for us, you can email editor Ben Max: This email address is being protected from spambots. You need JavaScript enabled to view it.
Watch Sunday evening for our latest Week Ahead in New York Politics, which gives you a preview of key issues and events to be aware of for the week about to start. In the meantime, catch up on the latest original reporting from Gotham Gazette here. And have a great weekend!
***
by Erika Wang and Ben Max