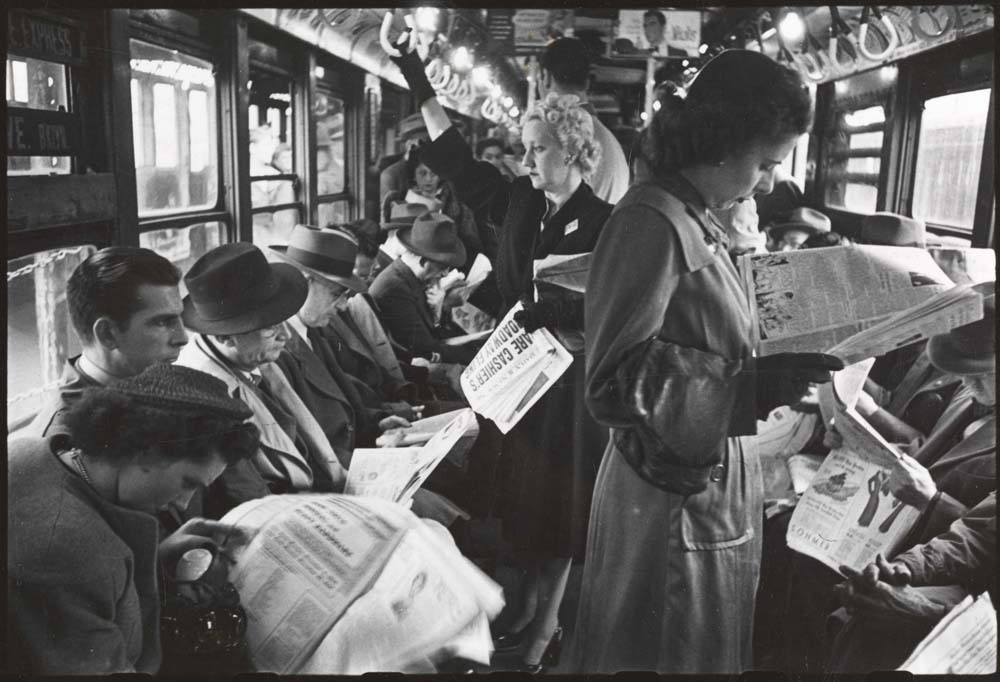 photo: Stanley Kubrick via Museum of the City of New York
---
Gotham Gazette's Week in Review, Friday July 17
PHOTO OF THE WEEK: Activist Russell Simmons in an electric car outside City Hall, where we was calling on Mayor de Blasio to make good on his promise to ban horse-drawn carriages via Nikita Stewart of the New York Times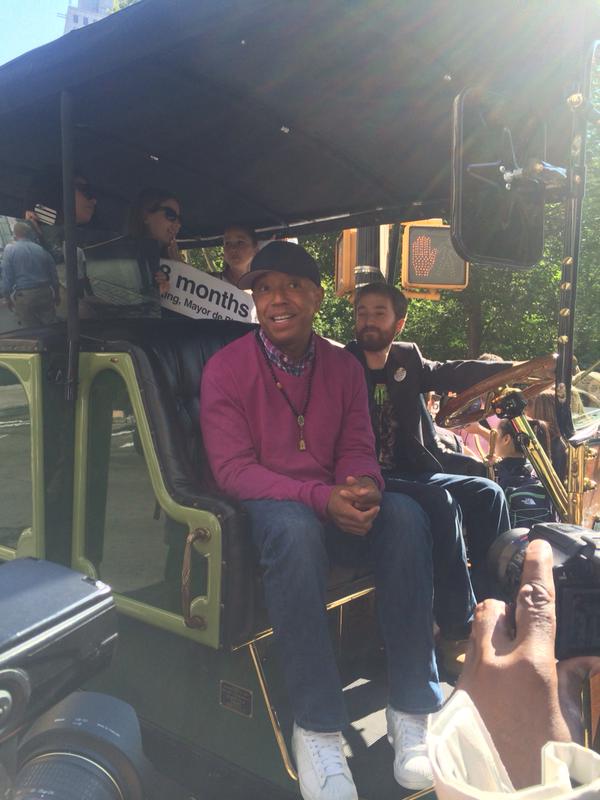 TOP FIVE STORIES OF THE WEEK:
1. Eric Garner Settlement; Commemoration: On Monday Comptroller Stringer announced that Eric Garner's family will receive a $5.9 million settlement. The following day, there was an interfaith prayer service for the one-year anniversary of Garner's death, which is actually July 17. De Blasio, other city officials, and religious leaders spoke. Other commemorations of Garner's life and death have been occurring this week and are planned for the weekend. Meanwhile, the Wall Street Journal reported that the NYPD has made 33 percent fewer arrests for selling untaxed cigarettes citywide since Eric Garner's death last July.
2. Legislative Issues Heat Up: Uber and City Hall are at odds as the City Council may pass a bill favored by Mayor de Blasio to cap the for-hire car service; more pressure is being put on the mayor to make good on his promise to ban horse carriages; and City Council Speaker Mark-Viverito is being sued by the firefighters union over proceedings related to pension policy and public information.
3. Cuomo Signs Nail Salon Bill; Announces Multi-Industry Task Force: On Thursday Governor Cuomo signed legislation to improve protections for nail salon workers and also announced a multi-agency task force to fight "worker exploitation" across a variety of industries, many of which are known to employ large numbers of immigrants.
4. De Blasio and Cuomo Keep Their Distance: The state's top Democrats continued a cooler stage in their feud this week. Mayor de Blasio didn't attend The New York County Democratic County Committee's Demmy Awards on Monday, where Governor Cuomo received an award, and the men missed each other's speech at the Bronx Democratic County Committee's event on Thursday. No verbal bombs were thrown this week, but both continue to be peppered with questions about their "feud."
5. Schneiderman Issues Guidelines Around New Powers: On Wednesday, Attorney General Eric Schneiderman set the guidelines for how prosecutors should manage investigations where police officers kill unarmed people. District attorneys can begin investigations, but they will be taken over by the AG's office, per his new powers provided by Governor Cuomo's recent executive order.
THIS WEEK'S NUMBERS:
THE GLORY AND THE GOAT:
THE FLASH:
GOTHAM GAZETTE HIGHLIGHTS OF THE WEEK:
MORE FOR THE WEEKEND
***
NOTE TO READERS: we hope you enjoy this new Gotham Gazette weekly feature - please share it if you do; on Twitter, use our handle @GothamGazette.
If you have feedback on this feature for us, you can email editor Ben Max: This email address is being protected from spambots. You need JavaScript enabled to view it.
Watch Sunday evening for our latest Week Ahead in New York Politics, which gives you a preview of key issues and events to be aware of for the week about to start. In the meantime, catch up on the latest original reporting from Gotham Gazette here. And have a great weekend!
***
by Erika Wang and Ben Max