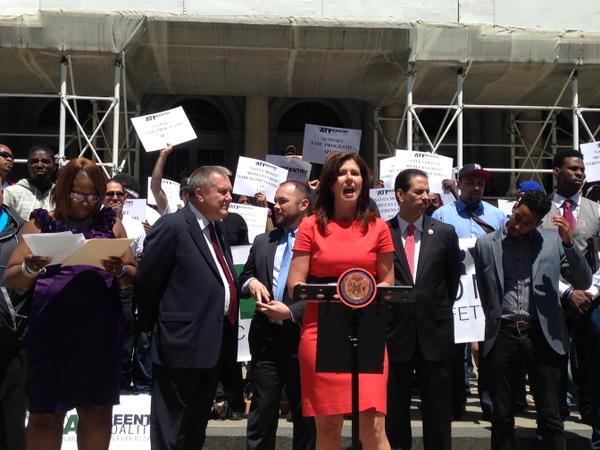 CM Crowley at a City Hall rally (photo: @magghayes)
---
On the heels of New York City Comptroller Scott Stringer's report on Queens library executives engaging in questionable practices, Queens Councilmember Elizabeth Crowley is renewing her push for greater oversight of officers of city-funded nonprofit organizations.
Crowley's bill, introduced to the Council's contracts committee and currently in preliminary stages, would require officers of nonprofit organizations— defined as chief executive, operating and finance officers— that receive 50 percent or more of their funding from the city to file conflict of interest disclosure forms to the city agencies that fund them.
"This [bill] just came from my frustration learning about this and understanding that this corruption was happening and the city had no idea," Crowley told Gotham Gazette, referencing former Queens Borough Public Library President Tom Galante.
Galante was fired in December after the library board of trustees reviewed his expense account and discovered lavish spending on pricey meals, alcohol, and furniture at the same time the library cut staff. Stringer's audit and investigative report into the library's finances— released in July— found a series of abuses: Galante failed to disclose his outside businesses on government filings and recorded "time spent performing part-time services for another public employer" that conflicted with his library schedule. Stringer's report also questioned the practices of the current interim library president Bridget Carey-Quinn, who served as chief operating officer under Galante.
"If we only had extended this law, that we extend to all elected officials, to those that are top management at nonprofits getting most of their money from the city, then we would know if there was a conflict and we would've known already that Tom Galante was abusing his privileges as CEO of the library," Crowley said.
Crowley introduced the bill in April 2014, a month after the Council convened a special oversight hearing on library executives' compensation following a series of articles scrutinizing Galante's salary. A hearing for the bill is expected in September or October in the contracts committee, which is chaired by Manhattan Councilmember Helen Rosenthal.
"Every time he answered another question, we were more and more horrified by what he had to say," Rosenthal told Gotham Gazette of Galante's 2014 testimony, "and what we unearthed is that there was very little oversight for the Queens library president."
Rosenthal indicated she is eager to have a hearing on it this fall. Questions exist, though, about the burdens the bill would place on nonprofits if enacted into law. These questions are likely to be raised at the planned hearing.
Lauren George, associate director of Common Cause New York, a good government group, said the bill will require nonprofits to do some additional work in order to prevent future malfeasance.
"It will pose an additional burden, on small nonprofits especially, which have very limited staff and resources," George said. "Though increased public disclosure can't be a bad thing, and could help deter bad actors abusing access to city funds in the future, with the appropriate oversight and watch-dogging."
To what extent the bill will prove burdensome for nonprofits is not yet clear. For Doug Sauer, the CEO of the New York Council of Nonprofits, the bill overreaches in trying to regulate private organizations like public employees.
"If you look at Boeing industries and see how much money they get from the federal government, does the federal government come in and control how Boeing operates at the officer level, who their CEO is, or require all this personal information?" Sauer asked rhetorically. "So the basic premise— and there's gray area—is that the vast majority of not-for-profit organizations are independent, private not-for-profit corporations with boards of directors that share responsibility for the organization."
Sauer predicted the bill, if passed, will have a chilling effect on nonprofits and their ability to attract and retain employees in leadership positions.
"A lot of the City Council contracts are for small organizations so this would be tremendously onerous already on a talent pool that's very limited, that they can't properly compensate to begin with," Sauer said. "People won't want to do that [file disclosures], they're applying for a job where they may make $35,000. If they're a public employee they're in the pension system, they get good healthcare, they get good benefits. That's not the case for the majority of nonprofits."
Sauer also took issue with the 50 percent threshold the bill uses to determine whether officers of nonprofits will have to file conflict of interest disclosure firms.
"If you're talking about 85 or 90 percent of government money, you're talking a little bit of a different story, is this really more of a quasi-governmental entity? And that's a different debate," Sauer said. "But this is a real low figure and most organizations are community, grassroots organizations, not institutions, the vast majority don't have adequate funding as it is."
Rosenthal said that once taxpayer money is involved, nonprofits open themselves up to public scrutiny. "Taxpayers have the right to know what [their money] is being spent for," Rosenthal said.
It is also unclear how many nonprofits would be compelled to file disclosures if the bill is passed— an issue Crowley said will be looked into at the hearing in the fall but doesn't foresee as providing a significant burden. Representatives of the nonprofits that received the most money from the Council's pot of discretionary funds, the Hispanic Federation and the Catholic Charities Community Services, Archdiocese of New York, were not available for comment.
"I think that we'll see a clear benefit by rooting out corruption, you know when I file [my conflict of interest form] every year, I file electronically. I don't know that it would be so burdensome," Crowley said.
The bill currently has nine sponsors, including Crowley (but not Rosenthal), many of whom are from Queens. Indicating her support, Rosenthal lamented the need for the bill, but says it is necessary to ensure ethical practices are occurring at these nonprofits.
"It's always the bad apples that ruin it for the rest of us," Rosenthal said. "And I think that we are often as lawmakers dragged down to the lowest common denominator and it's too bad that we should be in this situation, but given that what [Galante] was doing was so egregious, it raises the question, is this happening in other sectors as well— so you want to check that out."
**
Catie Edmondson, Gotham Gazette
@CatieEdmondson