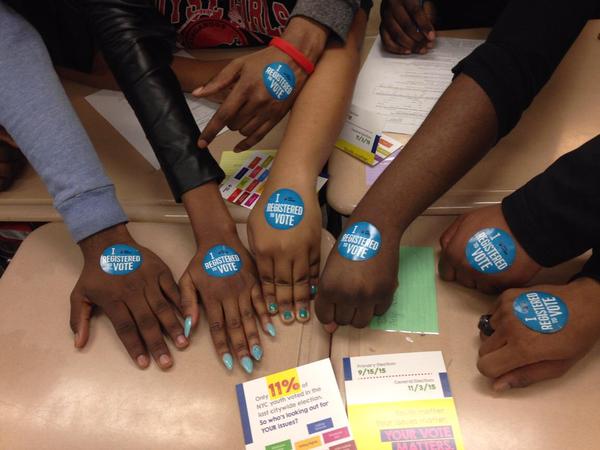 Newly registered NY voters (photo: @NYCVotes)
---
When New Yorkers vote for president in November 2016, it could be their sixth trip to the polls in 14 months. While the city's resources will be stretched thin by the cost of these elections, those committed to cast their votes may be stretched to the point of fatigue.
Elections set to take place in New York City during 2015 and 2016 are for local, state, and federal posts, including district leaders, City Council members, judges, district attorneys, and state Senators and Assembly members. And, along with the rest of the country, New Yorkers will also be voting for members of Congress and, of course, president. Some of the city and state-level contests are special elections, wherein voters in certain districts will select a candidate to fill a vacant post, which is the case with two City Council seats, for example.
Whether the contested post is for local, state or federal government, the city's Board of Elections administers the election. The city pays entirely for local elections. For state and federal elections, the cost is divided, but the city still pays a share.
With the city bearing costs for all elections, some argue that it would make financial sense for consolidation by holding federal, state, and local primaries on the same day in any year possible. During an executive budget hearing in June, Michael Ryan, executive director of the New York City Board of Elections, talked of the benefits of consolidating election dates.
"There is some talk that the state may be coalescing around a merged date around both the presidential and the federal, but as they say, it's a long way from the lip to the cup," Ryan said, using a golf saying. If it happens, he said, "that will certainly be a significant reduction in the resources necessary."
Despite the advantages of consolidation, this is not something that has received too much support in the state Legislature where election dates are decided. Ryan and Ben Kallos, chair of the City Council's Committee on Governmental Operations, have both spoken of suggestions in the past to merge election dates. "There was no consensus from the board of commissioners, with respect to any exact date or preferred time of year," said Ryan. "However, it's clear that the same date is better than multiple."
While some dates in the upcoming election cycle have been moved, these changes were to accommodate religious holidays and there appears no serious talk of consolidation at the moment.
Frequent elections also result in voter fatigue, causing a dip in turnout. Voter participation has been dropping in all 50 states but New York's turnout rates are among the lowest in the country. In the 2014 elections for state-level positions, only 29 percent of eligible voters went to the general election polls in New York, making it the third worst performing state in terms voter turnout according to a report by Nonprofit Vote. With elections every few months over the next year and a half, voter fatigue is likely to be a factor - at least for those with the interest in voting at all.
Add to the mix concerns about wait-times at certain polling places and it might be enough to turn some ambivalent potential voters away. According to Capital New York, the state Board of Elections recently voted to "request a formal plan from the New York City board by September 30" that outlines its plans to comply with the state-mandated wait-time limit of 30 minutes by the 2016 election. The presidential contest is again expected to see a bump in voter participation, as it has in years past, while the so-called "off-year" or "mid-term" elections are not expected to see anything resembling heavy turnout. City BOE's Ryan has said that reforms are already taking hold to make the voting process efficient.
There are just six weeks until the first of these many election days, while changes in dates are still possible for some of the upcoming votes. As of July 28, the following are the New York election dates and general state of the races at play:
September 10, 2015
New York City voters will cast their votes in several primary elections for local posts on Thursday, September 10, 2015. In a break from tradition, these elections will be held on a Thursday due to Rosh Hashanah falling on the Tuesday of that week.
Due to Democratic City Council Member Mark Weprin's resignation in June, his District 23 seat in Queens is up for grabs. Contenders for the Democratic nomination include Barry Grodenchick, Rebecca Lynch, Ali Najmi, Satnam Singh Parhar, and others. The Republican field is much less crowded; retired NYPD Capt. Joe Concannon will probably be the Republican candidate.
There will also be a primary to replace William Scarborough, the former State Assembly member from Queens who vacated his seat in May after pleading guilty on charges of fraud. There are several Democratic contenders for the seat but the Queens Democratic Party is backing education activist Alicia Hyndman. State Committeewoman Scherie Murray is likely to be the Republican candidate in this overwhelmingly Democratic district.
Primary Elections will also be held for vacant posts for Judge of the Civil Court of the City of New York (4 in Queens, 3 in Manhattan, 4 in Brooklyn, and 2 in the Bronx).
On the same day, there will also be primaries for the district attorney races in Queens, Bronx and Staten Island, though none of them will be competitive and one or more may not even occur if they are uncontested. Both the Queens and Bronx district attorneys are long-time incumbents who will cruise to reelection, but the Staten Island seat is open after former DA Dan Donovan was elected to Congress in a special election earlier this year. The general election for Staten Island DA looks like it will be competitive.
Lastly, voters will be asked to decide local races for district leaders in Manhattan and Staten Island, and for State Committee.
November 3, 2015
On November 3, 2015, general elections will be held for the DA races, Civil Court judge positions, as well as special elections for vacant seats in the state Assembly and Senate. There will also be special elections to fill the City Council seats of Weprin and Vincent Ignizio of Staten Island who stepped down on July 10.
Because of the timing of Ignizio's resignation, there will be no primary for that seat in September, just an open general election in November - followed, due to a quirk in election law, by another race in 2016, and then another in 2017 when all of the Council seats will be elected. Only Joseph Borelli, a Republican Assembly member and former Ignizio chief of staff, is running for the seat in the 2015 special.
Also on this day is a special election for State Assembly District 46, in Brooklyn, previously represented by Democrat Alec Brook-Krasny. Because of the date on which Brook-Krasny resigned, election rules call for parties to decide on their candidate without holding a primary. On the Democratic side, Brook-Krasny is supporting his chief of staff, Kate Cucco, who is expected to replace him. Other Democrats interested in the seat are reported to be Andrew Gounardes, Pamela Harris, Michael Nelson and John Gangemi. On the Republican side, speculation is focused on District Leader Lucretia Regina-Potter.
The guilty verdict against Deputy Senate Majority Leader Thomas Libous, on July 22, has also resulted in a special election to fill his state Senate seat as he is automatically forced from office due to the conviction. Within a day of the verdict, Governor Andrew Cuomo endorsed Barbara Fiala, former Department of Motor Vehicles commissioner, as the Democratic candidate for the seat vacated by Libous, a Republican. This election for the Binghamton seat is sure to be hotly contested, and will occur on Election Day 2015.
A special election for Senate will also take place for the seat of former Brooklyn State Senator John Sampson, found guilty of several corruption charges on July 24.
In the district attorney races, Queens DA Richard Brown and Bronx DA Robert Johnson are running unopposed. The Staten Island DA seat vacated by Dan Donovan's election to Congress will be contested by former Congressman Michael McMahon, a Democrat, and Republican Joan Illuzzi, a Manhattan assistant district attorney.
April 19, 2016 – Presidential Primaries:
After some confusion, the New York state Legislature decided on April 19, 2016 as the date for both the Democratic and Republican presidential primaries. They changed the originally proposed date of April 26 as it fell during the Jewish holiday of Passover.
June 28, 2016 – Congressional Primaries:
Voters in New York will decide on their party's candidates for all Congressional races in the state on June 28, 2016. This includes the primaries for all 27 of New York's members of the House of Representatives. Democratic Senator Chuck Schumer will also be running for reelection on this day.
September 13, 2016 – State Legislature Primaries:
On September 13, 2016, there will be primaries for all 53 members of the New York State Senate and all 150 districts of the New York State Assembly. There will also be elections for district leaders in Queens, Brooklyn and the Bronx.
November 8, 2016 - General Election:
On November 8, 2016, voters across the country will vote on their choice for the President of the United States. In New York, votes will also be cast for one US Senate race (Sen. Schumer), 27 races for the House of Representatives, and all State Senate and Senate Assembly seats. Democrats in New York are hoping that a presidential election, specifically a Hillary Clinton wave, will help them regain control of the State Senate. Stay tuned!
And, once the 2016 elections are through, expect the 2017 elections for New York City-level offices, including mayor, to heat up.
[Register to vote & find other voting related info here]
***
by Zehra Rehman, Gotham Gazette
@GothamGazette