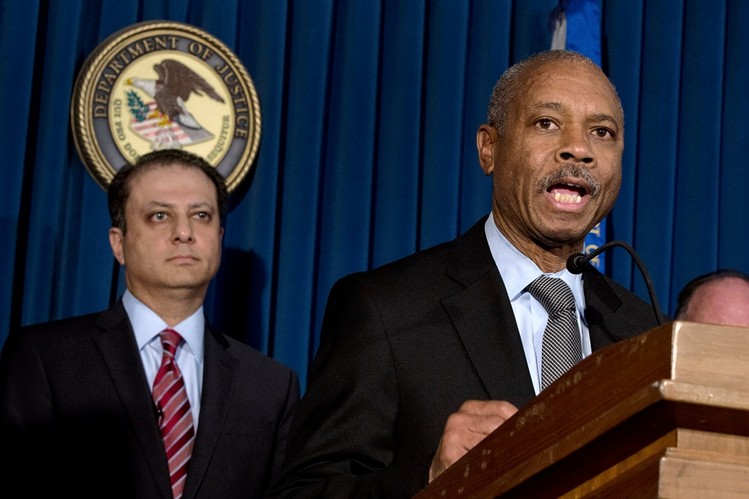 Bronx DA Robert Johnson, foreground (photo: Associated Press)
---
There's a rooftop rock garden at the Bronx County Hall of Justice, the sprawling ten-story glass building that houses the county's criminal and supreme courts. In theory, the space was designed to be a contemplative, community place, but in practice, it is not open to the public. Lawyers quip it has something to do with a potentially precarious confluence of angry people, the courthouse's glass facade, and rocks.
The suggestion that people would throw rocks from a zen garden is both an ironic joke and emblematic of the frustration acutely felt in the Bronx court system. A central figure at the heart of this discontent is District Attorney Robert Johnson, up for re-election this year and seeking - so far unopposed - his eighth straight four-year term.
Elected to represent "the People," Johnson is a virtual lock to secure a mechanical mandate returning him to the office, whether he faces a token opponent or not. It is likely that he will, yet again, be uncontested in a race that will culminate with little voter turnout.
Though just one cog in an overburdened system seen as dysfunctional in many ways, and operating in the city's poorest borough, Johnson's office has faced particular scrutiny, with many, including those who once worked in the office, questioning its efficiency and competence. Notably, it also appears to be an office home to little innovation, even as other district attorneys try new things.
To what extent criticism of Johnson is deserved is not immediately clear— the aggregate failings of the figurehead, the 400 attorneys who work for him, and "the system" are nearly impossible to parse and distinguish. But that does not diminish the pervasive dysfunction, manifested in astonishing backlogs, delays, low conviction rates, and concerns about how the office evaluates cases and handles the most high-profile among them.
The extreme likelihood that Johnson, a Democrat, will be re-elected with little to no pause serves to retain that status quo, and ensures that the Bronx District Attorney will be held to minimal public accountability leading to Election Day, but for by the press.
Culture of Delay
The overburdened Bronx criminal justice system, with an unprecedented backlog and slew of delayed cases, is notorious for being mired in a culture of delay.
In 2013, a New York Times series chronicled the dysfunctional system, finding that 73 percent of felony cases in the Bronx had exceeded the state court's guidelines for excessive delay— 180 days.
Day to day, the signs of backlog are everywhere. On a recent visit to a courtroom processing arraignments at Bronx central booking, Gotham Gazette saw that nearly 20 of the thirty-plus people on the list waiting to be arraigned had been arrested and detained for over 24 hours, spending most of that time in the basement of the courthouse; the rest were approaching the 24-hour mark.
Next door at the Hall of Justice, defendants missing work or school can sit through hours of hearings as they anticipate their turn to stand before the judge. When Gotham Gazette visited one courtroom, an observer yawned, provoking a sharp rebuke.
"I heard someone yawn with a loud mouth. If you find out who it is, remove them," the judge instructed a court officer. "There is no yawning with a loud mouth in my courtroom."
The district attorney's office was criticized for its role in maintaining the culture of delay— often attributed to a lack of judicial resources and defense attorneys— after 22-year-old Kalief Browder committed suicide in June. Before his release and struggle to regain his footing, Browder spent three years at Rikers Island waiting for his day in court after allegedly stealing a backpack. Behind bars, Browder was beaten by guards and inmates, and spent months upon months in solitary confinement. News that the Bronx district attorney's office finally admitted it had no witnesses, evidence, or a victim infuriated the public, spurring activists and politicians alike to call for criminal justice reform.
In a Daily News column, NY1 anchor Errol Louis wrote the responsibility for Browder's death could not be placed on an abstract criminal justice system, but on its leaders, singling out Johnson.
"It must be noted that a heavy measure of responsibility lies with Bronx District Attorney Robert Johnson, whose bungling subordinates contributed to the long delays in Kalief's case. Johnson, who is up for re-election this year, is named in the lawsuit Kalief filed against the city before his death," Louis wrote.
For Bronx City Council Member Andy King, the three years Browder spent in prison are the result of prosecutors' preoccupation with getting convictions.
"What happened here with Kalief Browder, is that the district attorneys are more interested in convictions rather than the truth," King said at a June press conference in front of Johnson's office.
King introduced a bill to amend state criminal procedure law to compel open and early discovery— a policy King says Johnson does practice. In a separate interview, King told Gotham Gazette he likes Johnson and approves of the job he has done, but thinks that, as is the case with anything, there is room for improvement.
At the same press conference, Browder's attorney Paul Prestia rebuked the district attorney, criticizing the delays he says Johnson's office introduced that kept his client in prison.
"Kalief Browder languished in jail for three years while prosecutors delayed his case without any accountability," Prestia said. "But I won't digress into that and all of those details. You can speak to the so-called DA of this borough, and perhaps he'll have the answers for you or something to say about it."
District Attorney Johnson was not made available for an interview with Gotham Gazette.
Prestia told Gotham Gazette he hoped district attorneys would be held accountable for creating unreasonable delays.
"You'd think that with such a bureaucracy there'd be enough oversight that this wouldn't happen," he said of the backlogs in the Bronx court system. "Basically there's no real sense of urgency on their part to go forward on cases."
But a lack of urgency on the part of the district attorney's office, real or perceived, likely does not tell the full story behind the pervasive culture of delay. Terry Raskyn, a spokesperson for Johnson's office, attributed the delays to logistical issues and a lack of judicial resources.
"The law does not permit a "Law & Order" style of case management," Raskyn said, referring to the TV series. "Every defendant and 'the People' have requirements that have to be met with regard to the opportunity to appear, plead, have motions made and decided upon, pretrial hearings, etc. Add to that the scheduling issues and you have delays," Raskyn wrote in an email to Gotham Gazette.
"And then there is often delay in getting defendants produced, either from Rikers Island or other facilities – prisoner movement often delays scheduled appearances by hours, and those hours compound the problem."
Also citing a lack of resources, Robert Dreher, an executive assistant district attorney in the office, dismissed the notion that prosecutors purposefully introduced delays.
"One of the primary problems we deal with is resources: judges, court rooms, stenographers, court officers that are needed...the more of that we have, the more efficient the system would be," Dreher said. "We're in favor of speedy trials...people sometimes think prosecutors like delays, that couldn't be further from the truth. We want cases to go to trial quickly. Delays are for defendants' benefit. Obviously no one wants someone sitting in jail waiting for trial for a long time, that's not acceptable."
The Bronx district attorney's office is set to receive just over $58 million in funding through the city's fiscal year 2016 budget, putting it behind New York County (Manhattan) and Queens County. The new fiscal year began July 1.
Though the office has seen slight increases to its budget in the last few years, in 2010 it was slashed and the office laid off 12 assistant district attorneys, Above the Law reported. In 2014, NBC news reported that Johnson led efforts on behalf of the city's five district attorneys to meet with Mayor Bill de Blasio to discuss their budgets. A meeting was finally arranged after NBC's report.
While the office did not respond to Gotham Gazette's request for an interview, Johnson has discussed the function of his office in the recent past. "The major changes that need to be done are not in the way the system operates but in how the system handles the capacity of all the cases that come in. This is a statewide problem...I believe that we have really trailed behind in this issue for the past couple of decades," Johnson told the Bronx Chronicle in 2014. "We need to take a long-term look concerning additional judges, additional courtrooms, and additional staff to better handle the caseloads we are getting in."
A former assistant district attorney under Johnson, attorney Paul Martin, agrees.
"There were never enough courtrooms to meet the needs of having a defendant tried in a timely fashion, there is no doubt about that. So with more judges and more courtrooms, we'd be able to address the backlog of cases," Martin said.
At the Hall of Justice, many of the trial parts — the term used to label a specific courtroom — were simply not open when Gotham Gazette visited on July 13. But it is also unclear how it is determined when a trial part is in use: a judge told attorneys all trial parts were in use when a visit to one nearby found another judge sitting in an empty room.
Efficiency
Even as it demands more trial parts, data shows that the Bronx district attorney's office actually declines to prosecute cases more often than any of its counterparts across the city.
According to the New York State Division of Criminal Justice Services, in 2014, the Bronx district attorney's office declined to press charges in 24 percent of violent felony arrests and roughly 16 percent of both felony and misdemeanor arrests. In contrast, in the same year, the Manhattan district attorney's office declined to press charges in 4.1 percent of violent felony arrests, almost 3 percent of felony arrests, and just over 2 percent of misdemeanor arrests.
Those numbers— along with (and perhaps caused by) plummeting jury trial success rates— have led many to question whether the office is letting dangerous people walk free.
But Executive Assistant District Attorney Dreher says that the rates at which the office declines to press charges are indicative of the office's practice of immediately rooting out weak cases.
"It's not quite what it appears. Each office has a different way of approaching [evaluating a case]. Some offices, when the police officers make the arrest, they'll bring the case in, they'll process it, and then they go through and determine is it going be sufficient for trial, is it going to be sufficient to charge," Dreher said. "We do triage much earlier in the case, we do it in the very beginning."
But the office's self-described careful triage has not prevented it from either accumulating a low conviction rate or from making a series of high profile blunders.
In April, the office came under fire after Bronx Criminal Court Judge John Wilson publicly condemned Assistant District Attorney Megan Teesdale for failing to reveal evidence that would have freed a man held on Rikers Island who was falsely accused of rape, the New York Daily News reported.
Later that month, the office was criticized for its "inexplicable" lack of follow-up in its role handling crimes committed by Assembly Speaker Carl Heastie's mother. Prosecutors from the office failed to file routine papers to help recover stolen funds. As a result, Heastie was allowed keep a house his mother purchased with embezzled money; he later sold it and pocketed the profits, reported the New York Times.
In 2013, Johnson's office declined to prosecute a group of corrections officers at Rikers who ignored a dying inmate's pleas for medical assistance, citing a lack of evidence. The inmate's death was ruled a homicide due to "neglect and denial of medical care." U.S. Attorney Preet Bharara charged one of the officers, Captain Terrence Pendergrass, and was successful in seeking a conviction.
Community Context
In interviews, attorneys and politicians stressed the importance of understanding the problems specific to the Bronx when evaluating the district attorney. For attorney Jason Foy, a former ADA in the office, that understanding is particularly important when scrutinizing the Bronx DA's conviction rate.
"I see articles about the conviction rate in the Bronx being lower than in other places. Well, that's not necessarily the DA's problem because that comes from a historical problem between the police and the community," Foy said.
Bronx jurors are notoriously distrustful of the police— a dynamic rooted in policing practices like "stop-and-frisk," broken windows enforcement, and Operation Clean Halls, in which police patrolled and searched apartment buildings and questioned residents. Johnson was lauded by Bronx residents in 2012 when he announced that his office would no longer prosecute people accused of trespassing in public housing who were searched and frisked unless the arresting officer explained the arrest to the office.
"When you're an innocent person walking home, you don't want to be searched and asked where you're going. That experience, when you become a juror, impacts how you see the case. It's hard for innocent people on those juries to just believe a cop automatically," Foy said. "You may not have that same experience in Westchester County. In the Bronx it's not that same type of deal...Now is that the DA's fault?"
There will be little opportunity for voters to express their opinions of Distrcit Attorney Johnson at the polls this fall, given the lack of competition.
For former ADA Paul Martin, more troubling than the low conviction rate is what he described as "the lack of understanding or consistency" in the office's recommendations for punishment.
"I thought there was a lack of understanding for the nature of the situation of the individuals and the community and situation in which they came from," Martin said. "It was that lack of understanding that led individuals who never had any of that experience to be somewhat heavy-handed in the manner in which they would pick their cases."
Foy noted that most lawyers in the office didn't grow up in the Bronx.
"Most of them are not from there, they're from other parts of the country, other less dysfunctional environments," Foy said. "So that's going to give you a different perspective."
"Now, if you're saying that the way the prosecutor's office doesn't take into account some of these social issues that have historically plagued the area— that might be true, but," Foy continued, "the prosecutor is there to do a job, they're not there to address the social ills."
***
by Catie Edmondson, Gotham Gazette
@CatieEdmondson