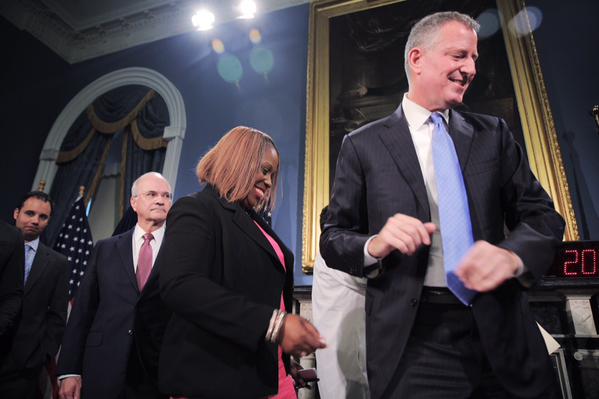 Mayor de Blasio at City Hall Tuesday (photo by William Alatriste)
---
Mayor de Blasio declined to discuss his recent criticism of the media at a press conference on Tuesday. When asked about it, de Blasio said he wanted to stay focused on substance. The choice, along with several other moves, may be indicative of a turn in communications strategy aimed at promoting more positive news from the de Blasio administration and boosting public approval of the mayor, which recent polls show at its lowest level since the mayor took office.
Regardless of his decision to comment Tuesday, de Blasio has been a somewhat regular media critic during his tenure, appearing frustrated by what he sees as a focus on political rivalries and personalities, and a lack of substance. The mayor, his allies, and those who see much good in what he's done during his first nearly 20 months in office are frustrated that the narrative around de Blasio is not more positive. De Blasio has expressed faith, though, that everyday New Yorkers are seeing and feeling real progress under his watch. On Tuesday the mayor said, "a lot of work is being done and done effectively."
"Crime is down, the number of jobs is up, test scores for our schools are up, the amount of affordable housing being created," the mayor cited as examples of the city heading in the right direction.
Still, the mayor and his team must be noting what many outside City Hall are: the public opinion polls, the perception gap, the caricature of the mayor that has formed, and, likely, the need to reevaluate some of the administration's approach to communications.
The mayor said on Tuesday that he is always "figuring out what can help me be as effective as I can be." He said this, though, in specific reference to a question about his exercise routine, which has come under scrutiny because he continues to work out in Park Slope despite having moved to Gracie Mansion on the Upper East Side.
De Blasio and aides were responding to renewed questions about the issue on Friday when the mayor went to work out during a "live-shooter" standoff on Staten Island. Among those aides is a new press secretary, the mayor's top liaison with members of the media, who joined his team in June. Karen Hinton has brought a more attentive and aggressive style to the press office and even to de Blasio's public comments. Both Hinton and de Blasio pushed back against media coverage of the mayor's choices Friday.
It's unclear if the mayor has now begun a long break from media criticism, but experts and observers say he should indeed change tack. They say that the mayor and his emissaries need to get the administration message out more, and directly to the public. This shift may be happening.
While it wouldn't hurt the mayor to win some front pages, he has more control over opportunities for himself and members of his team to speak directly to New Yorkers. Cases in point: the mayor is scheduled to appear live Wednesday morning on WNYC's The Brian Lehrer Show. This, after Deputy Mayor Alicia Glen was a guest on NY1's Inside City Hall Monday evening.
On Tuesday the mayor said that "the most important way we get information out is through the media," but this can come in different forms, of course. The mayor has many members of his administration that are strong on radio and television and good at public forums. Among the strongest are Deputy Mayors Glen and Richard Buery, and commissioners like NYPD's Bill Bratton and head of the Department of Consumer Affairs Julie Menin.
While administration officials do make regular public appearances, it may be smart for City Hall to push the pace of such availability. The administration appears to have missed an opportunity to have the mayor and Menin tout drastic reductions in fines on small businesses that were recently announced with little fanfare.
"The stories have been about him and his feelings, not about his policies," says Dr. Christina Greer, political science professor at Fordham University. "You want the stories to be about what you're doing for people."
While Greer sees some merit in de Blasio's critiques of media coverage, she acknowledges that going after the press doesn't appear to be working in the mayor's favor. Political consultant Evan Thies agrees, saying, "They need to try something different. Blaming the media is not going to work. Getting the message through surrogates may be a better plan."
Thies says that it's not only time to make sure that de Blasio officials are making public appearances, but to also go outside the administration. "One thing that most elected officials do when their poll numbers are sinking is call on friends that they have various areas of agreement on and ask them to join with them for an event, an announcement, a policy issue, or meeting voters," Thies says. "It may be time to start treating this like a campaign again."
Thies specifically cited powerful allies such as City Council Speaker Melissa Mark-Viverito, state Assembly Speaker Carl Heastie, and Brooklyn Borough President Eric Adams. All three have been strong de Blasio backers and can help the mayor stay in good standing with his Democratic base, including people of color who continue to support the mayor in stronger numbers than white New Yorkers.
Greer cautions, though, that "sometimes proxies aren't a substitute for the real thing. Sometimes people want to see the mayor, not his proxy." No matter how many appearances are made by deputy mayors, agency commissioners, and other allies touting the administration's moves, it is likely there will continue to be questions about how often the mayor himself is available for interviews or takes questions directly from members of the public - on the air or at town hall-style events.
The mayor, who is strong thinking and responding on his feet, has not held any town hall meetings himself and has taken only a few call-in questions during sporadic radio appearances on WNYC and other stations, including Hot 97. De Blasio was last on WNYC with Lehrer in early June and took a few questions from callers. He is likely to take a few more on Wednesday morning as he discusses year two of his pre-Kindergarten program, jobs, and housing with Lehrer.
Asked about a shift in approach, Hinton wrote Gotham Gazette that "Mayor de Blasio has been in front of the media speaking to New Yorkers since taking office. Nothing has changed except he has many more accomplishments to report on than his first month on the job."
Whether this week shows a shift of any kind is to be determined, and media appearances are different from in-person contact with constituents. The mayor did visit a senior center in the Bronx last week amid the Legionnaires' Disease outbreak his health, buildings, and communications teams have been dealing with. As de Blasio said to the New York Times over the weekend, his administration "can always communicate things better."
On NY1 Monday evening, Deputy Mayor Glen said, "We're not going to worry about poll numbers" and touted progress on education, jobs, and housing. She said what appears to be true about the administration's accomplishments, though: "maybe we need to share them with the public more."
***
by Ben Max, Gotham Gazette
@TweetBenMax