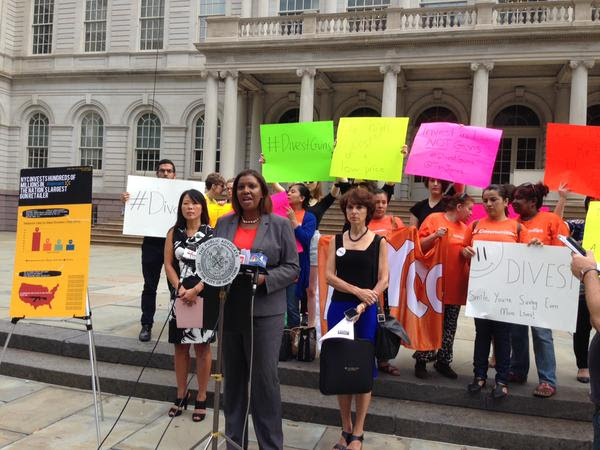 Public Advocate Letitia James
---
Capitalizing on a boost to a historically anemic budget, Public Advocate Letitia James has emphasized the use of litigation in her capacity as the city's elected gadfly, often suing the city that funds her.
James is utilizing her office's limited funds in accordance with her own background as an assistant attorney general and public defender, hiring additional attorneys to her team and filing several suits against the de Blasio administration— a mayoralty with which she is politically aligned. Since taking office in January 2014, James has filed over a dozen suits, amicus briefs, complaints and petitions against the city and its agencies, with mixed results. She is set to announce another lawsuit on Wednesday, according to Politico NY.
The public advocate, alongside the comptroller and City Council, is tasked with oversight of city agencies and programs, ensuring good government and good living and working conditions for New Yorkers. The public advocate may introduce legislation in the City Council and will serve as mayor in his or her extended absence.
The Office of the Public Advocate has traditionally been limited by budgetary restraints, the result of years of mayors implementing retributive and devastating cuts. But, Mayor Bill de Blasio, the first public advocate to move into the mayoralty, added $700,000 to the office's budget his first year - a small amount relative to the overall city budget, which totals over $78 billion, but fairly large in terms of the public advocate's office. The budget bump was an attempt to compensate for budget cuts made during Mayor Bloomberg's tenure, according to the public advocate's office.
"The Public Advocate serves a critical role as the City's watchdog - something the Mayor knows firsthand from his own time serving in that office," a spokesperson from the Mayor's Office of Management and Budget said in an emailed statement to Gotham Gazette. "It's important to our City's democratic process that the office have sufficient resources."
Now, in de Blasio's second budget, which took effect July 1, Letitia James' office has $3.27 million for the 2016 fiscal year, according to a spokesperson for the public advocate. To put that in perspective, a newly created Department of Education task force also dedicated to performing an oversight role— rooting out cheating by teachers and administrators in city schools— is likely to utilize $5 million a year.
Both Mark Green and Betsy Gotbaum, who served as the city's first and second public advocates before de Blasio became the third, agree that the office suffers from having its budget controlled by the very person it is supposed to be watchdogging.
"The structure of the office of the public advocate— it's something that should be looked at and changed. The mayor…should not be controlling the budget of the person who's looking over their shoulder. It's silly, it doesn't make any sense," Gotbaum said. "Because [Mayor Michael Bloomberg] would get furious at me and then come June, July, he'd cut the budget."
In 2009, Bloomberg infamously declared the office a "total waste of everybody's money," even after he and the City Council nearly halved Gotbaum's budget from $2.9 million to $1.8 million.
That's a situation that James has not found herself in, Green notes, saying she will likely not suffer at the hands of de Blasio.
"Of course, the new mayor has a special appreciation for the budget difficulties of the public advocate since he was the prior occupant of that office," Green said, "and that increase should help [James] do the kind of long-term investigations that can yield real benefits to city performance and law."
With these new funds, James has molded the role of public advocate into one with an aggressively litigious attitude.
The role of public advocate as an ombuds and watchdog has always, somewhat necessarily, been tied to litigation. As public advocate under Bloomberg, Gotbaum sued the city (along with city Comptroller William Thompson and sundry council members) in the lawsuit Molinari v. Bloomberg, opposing an extension of term limits.
As public advocate under Mayor Giuliani, Green famously pursued litigation against the city in Green v. Safir, (in which Green won the right to access documents on the conduct of the New York City Civilian Complaint Board after the police commissioner refused to provide them to his office) and Green v. Giuliani (in which Green successfully sought a judicial inquiry into whether the mayor obtained and released information that had been sealed pursuant to state criminal procedure law concerning the criminal record of a man who had been shot and killed by an NYPD officer).
As public advocate, de Blasio sued Bloomberg to compel the mayor's office to turn over data on the city's revenue from business fines.
But James has been particularly robust in taking legal action against the city.
"Everyday New Yorkers don't have access to expensive lawyers and fancy lobbyists, which is why they need a Public Advocate who will fight for them," James said in an emailed statement to Gotham Gazette. "We've resolved to use every tool at our disposal, whether it's litigation, legislation, or agitation to stand up for working people."
The list of lawsuits, petitions, or complaints James has filed is long and getting longer: her office sued the city's Department of Finance over a rule change to the city's rent freeze program; filed and won a lawsuit against the Department of Education, opening school leadership team meetings to the public; filed and won a lawsuit to block co-located charter schools; and petitioned unsuccessfully to unseal the Eric Garner grand jury proceedings, though she continues to appeal decisions in this pursuit. James also petitioned the Board of Corrections to enact rules to protect inmates at Rikers' Island from sexual assault.
Recently, the office filed a class action lawsuit against New York City and state foster care agencies. The lawsuit alleges the city Administration for Children's Services and the state Office of Children and Family Services fail to protect children from maltreatment, to ensure that services provided are effective, and to ensure appropriate placements. Some have questioned the suit, asking why the city's usual legal opponents on child welfare issues did not sign on and citing nuances in New York law that explain some of the data cited in the suit.
The public advocate's office employs 44 staff members, including six attorneys (other than James herself) and one legal assistant. Two of the six attorneys were hired this year. According to the office, feedback received by the constituent services unit can spur the litigation unit to file a suit or complaint. After tenants reached out to the unit, the public advocate was compelled to file a lawsuit on behalf of four Bronx residents, asserting that the city's Department of Buildings is violating the civil rights of people with disabilities by permitting landlords to deprive mobility-impaired tenants of access to means of egress during extensive elevator outages.
James' office also scrutinized the quality of life for children and families and workers in the city, releasing reports on the child care available to CUNY students, the city's foster care system, and car wash and nail salon workers.
In September 2014, almost eight months before The New York Times ran its incendiary "Unvarnished" series, James released a report on the state of nail salons in the city, calling for designated city nail salon inspectors, the implementation of a citywide nail salon safety study, and a healthy salon incentive program.
James finds herself in an unprecedented situation— she is the first public advocate to share the same party affiliation with the mayor (the position has only ever been held by Democrats and existed during the terms of Giuliani and Bloomberg). Some questioned whether her ability to act as a watchdog over the mayor would be compromised by their common viewpoints.
"If you're the public advocate and you have a lovebird relationship with mayor, what's the point of the office?" one Democrat who backed James asked the Observer (James once described the mayor as her "political husband.")
Critics claimed that James left de Blasio largely unscathed in the first year of her term as watchdog, taking "safe" stances on equipping police with body cameras, authoring a bill against campus sex crimes, and completing her work on nail salons.
Gotbaum noted that she often thought the public advocate could be more effective if they had a positive relationship with the mayor.
"I thought it was better for the city that if I found out there was a problem and I called an agency or the mayor himself and it was solved quickly, then I wouldn't have to have a press conference and I wouldn't have to jump all over the mayor," Gotbaum said, adding that the contentious relationship Giuliani had with Green rendered Green the "municipal nag."
"Giuliani ordered his agencies not to talk to Mark Green, which to me makes the whole thing ridiculous," Gotbaum told Gotham Gazette. "I thought it was better for the city if [the public advocate and the mayor] had a positive relationship. That's what you're there for, you're there to help people who are desperate, have no place else to turn, and it's generally allied with some sort of city agency."
But in recent months, it appears that James has become increasingly comfortable with publicly criticizing the mayor and city agencies.
During budget season, James held a late May press conference advocating for universal free school lunch and condemning the mayor's opposition to the program.
"I was shocked and disappointed that Mayor de Blasio said during his executive budget presentation that no expansion of free lunch would happen this year," James said at a press conference outside the Department of Education headquarters. "Mr. Mayor, you're wrong. Universal free lunch works and the results are in."
In her report on mayoral control of city schools, James also recommended that the mayor lose his deciding majority on the Panel for Educational Policy in favor of increased parent engagement. The report came after James conducted public town hall meetings on the subject in each borough, a general strategy for constituent feedback that de Blasio has not adopted.
According to James' office, she has held 27 town hall-style events, with a 28th scheduled for Wednesday evening in Brooklyn - the subject will be public safety.
Green, the city's first public advocate (who endorsed State Senator Daniel Squadron over James in the 2013 public advocate primary), said that regardless of party affiliation, the public advocate must act as a gadfly and compel reform rather than simply espouse ideals.
"I laud her earlier initiative looking into the problems of nail salons, which is a real home run because it helped inspire others to follow up and now the governor and mayor are in a competition who can clean up this early 20th century sweatshop," Green said earlier this summer. "I just wish there could be more of that and fewer press releases saying I believe in 'x.' The issue isn't so much what she believes in— which is very similar to what Bill de Blasio believes in— but to blow the whistle on problematic agencies that the mayor won't own up to."
Indeed, James' office frequently issues releases on a variety of topics, including gun control, collision avoidance technology in city vehicles, ending the sale of toy guns, and the one-year anniversary of the Boko Haram kidnapping in Nigeria among them.
According to Green, James has yet to take full advantage of the uniquely situated role.
"Because the charter gives the public advocate a lot of discretion, this public advocate is somewhat free to contour the office to his or her temperament, values, skills. If the question is has she evolved more toward oversight ombudsman role over city services, I think the only fair answer is 'not yet,'" Green said. "In my personal opinion, it doesn't add that much value when a longtime ally of the mayor spends so much of her valuable time either saying 'yay' or 'I wish he could've done [something] a little better or sooner.'"
Gotbaum, who at times during her tenure as public advocate struggled to assert the relevance of the office, noted the difficulty of drawing attention to causes and the importance of highlighting substantive ones.
"I think it's very hard to get traction, there's so much going on in New York, unfortunately it's very hard to get publicity," Gotbaum said. "It's hard to get attention to some of these issues and the more [Public Advocate James] gets it the better, when it's on issues of real substance, and she isn't just attacking the mayor."
Most recently, the office has lobbied the New York City Employee Retirement System, the board of the city's largest pension fund, to divest from gun retailers, including Walmart. In response, NYCERS passed a resolution James authored that would commision a study of the board's investments in gun retailers and would analyze the transitional costs of divestment.
"Any council member or council body can sound off about what they think is a better way," Green said, "but the public advocate is uniquely situated to do policy and performance audits of city agencies, respond to patterns of complaints in the thousands they receive, do investigative reports way beyond what any individual councilman can do."
***
by Catie Edmondson, Gotham Gazette
@CatieEdmondson