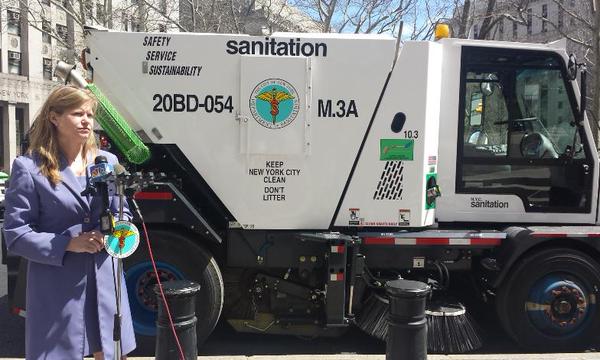 DSNY Commissioner Garcia (photo: @NYCSanitation)
---
New York is safer and more prosperous than it's been in years, but the city still can't figure out how to stop people from trashing streets with litter.
Despite a focus on quality of life issues, City Hall has made limited progress in dealing with a problem that has plagued mayors since the days when animals roamed Broadway. Even a small army of workers from the Department of Sanitation (DSNY), business improvement districts, and the Doe Fund still can't fully police 6,000 miles of city streets and more than 27,000 public waste and recycling baskets on a daily basis.
Two bills discussed at a recent hearing held by the City Council's sanitation committee aim to increase penalties for littering and illegal dumping, by doubling them or more in some cases, in an effort to curb bad behavior.
"It's not a cure-all for littering. It's not going to solve the littering problem that we have on Staten Island and our city. But it's part of a multi-pronged approach that my office and this Council has taken to combat littering," said Council Member Steven Matteo, Republican Minority Leader from Staten Island, at the hearing. "Littering is out of control in our city and it's out of control because we're doing it to ourselves."
The city still receives high cleanliness scores, as determined by the Mayor's Office of Operations, though the proportion of streets considered "acceptably clean" has slowly declined to 92.7 percent - though even those numbers have been challenged. With tourism and population growing every year, stray takeout containers and over-stuffed wastebaskets have become common sights. According to a Council briefing report, monthly 311 complaints about dirty sidewalks have nearly doubled from approximately 700 in July 2010 to 1,200 in April 2015.
One bill -- introduced by Matteo with four other sponsors -- would increase the fines for littering from $50 to $250 for a first violation and up to $450 for a third or subsequent one.
Sanitation Commissioner Kathryn Garcia supports the bill, but warns about enforcement. Garcia said it would still be difficult for DSNY agents to issue tickets due to a lack of authority. A ticket can only be written if the offender is witnessed littering and agrees to provide their name. Sanitation agents aren't allowed to pull over drivers witnessed littering either. Because of this, DSNY issued just 746 littering violations from July 2014 through June 2015 (fiscal year 2015).
Garcia said that if littering was reclassified as a criminal offense it would fall under the purview of the NYPD, which has larger issues to worry about. DSNY plans to begin sending stern letters to drivers caught in the act this fall, though Council members agreed that was unlikely to be a successful deterrent.
Another bill -- introduced by Council Member Karen Koslowitz, a Queens Democrat, with eight other sponsors -- would increase fines for illegally dumping residential or commercial waste inside public baskets from $100 to $200 for a first violation and up to $600 for a third or subsequent violation. DSNY supports the bill, but wants it to also include penalties for illegal dumping next to baskets.
A 2005 DSNY study showed illegal dumping accounting for 20 percent of all waste in public baskets. Due to some confusion over the state's new e-waste ban, TVs and computer parts have also begun showing up on street corners.
After the Council hearing, Garcia told Gotham Gazette that the city is always looking for ways to make waste disposal easier by installing new types of baskets and increasing education. She said that DSNY plans to continue fighting litter based in part on the "broken windows" theory often cited by NYPD Commissioner Bill Bratton.
"If people see one gum wrapper, they think nothing of adding their fourth and fifth gum wrapper," she said. "So we really try and stay ahead of it."
While some New Yorkers don't seem to care about keeping their streets clean, multiple Quinnipiac polls show that others are bothered by the issue.
In 2009, when streets were rated at their peak cleanliness levels, 42 percent of registered voters said the city wasn't doing enough about "quality of life offenses" such as littering and loud music. In 1998, when streets were rated slightly dirtier than today, 51 percent of residents said they considered littering to be a "very serious problem."
Robin Nagle, an NYU anthropology professor who specializes in "discard studies," said the city has been trying to tackle this issue for a very long time. Under George Waring, a prominent sanitation commissioner during the 1890s, nearly 1,000 young children were enrolled in Juvenile Street Cleaning Leagues to police the streets and raise awareness by writing fake tickets.
Nagle doesn't think such an effort would be successful today, but said there needs to be a greater sense of shared responsibility. She said that other countries have already found ways to crack down on littering and wondered if society's attitude toward it will someday shift similar to smoking.
"How do we help people be a little less selfish without telling them that they are selfish?" she asked. "When you're on the street you're sharing a commons. You're sharing a place that is not only yours, but is ours."
Anti-littering messages from government agencies are posted on bus stops, subways, trash cans and DSNY vehicles. They range from the annual summer environmental appeal of "Clean Streets = Clean Beaches" to the MTA's subway announcement about trash-related track fires causing delays.
Recently, elected officials and community members have decided to address the problem on a more local level. For the second year in a row, the City Council funded a $3.5 million clean-up initiative in Fiscal Year 2015 to help district efforts. Other officials have also taken up the cause.
Staten Island Borough President James Oddo's "Operation Clean Sweep" is responsible for cleaning 120 locations since April. His office has partnered with local businesses to create public service announcements and help maintain their areas through programs such as the city's "Adopt-a-Basket." In April, Oddo also announced a public-private partnership between the Institute of Scrap Recycling, Jason Learning, and multiple city agencies to create a pro-recycling/anti-litter curriculum in 10 local schools.
"Litter is a problem that is created by a small number of people, but one that affects everyone. All of us have to deal with the filth that collects on the side of the road, making our community look uninviting and run down," said Jennifer Sammartino, Oddo's communications director, in an emailed statement. "The more litter we have on our streets the more it becomes an accepted part of life."
A group of frustrated citizens working with the Greenpoint Chamber of Commerce have taken on the problem in Brooklyn with a project called "Curb Your Litter: Greenpoint." Funded by $570,000 obtained from a state settlement with ExxonMobil over a local oil spill, the project will spend three years studying the sources and types of litter with the help of cutting-edge sustainable planning firm Closed Loops. They will also work with local businesses, create educational material and soon launch an interactive website for the community to have input about new baskets.
The project's director, Caroline Bauer, said that so far volunteers have picked up nearly 1,500 pounds of trash on 135 blocks this year. She supports the two new City Council bills, which may be voted on at an upcoming committee hearing, but said that ultimately it's up to New Yorkers to come together over what should be a simple issue.
"Litter is something that nobody enjoys," said Bauer. "It really erodes the way that you think of the community and your neighborhood."
***
by Cole Rosengren for Gotham Gazette
@ColeRosengrenNY
@GothamGazette