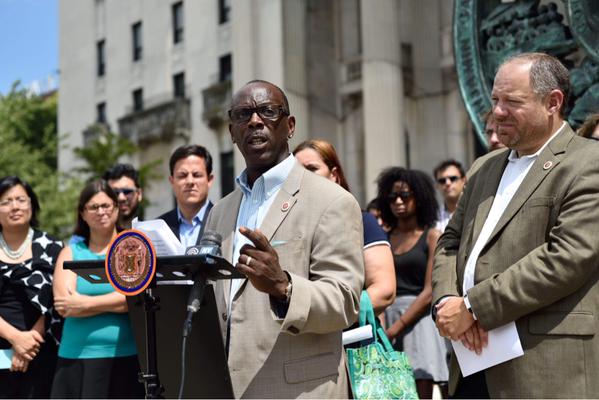 Council Member Miller (photo by John McCarten)
---
The City Council Committee on Civil Service and Labor saw heated debate at a Friday hearing on a proposed law to protect grocery and retail store workers from job volatility. The bill, known as the Grocery Worker Retention Act, aims to regulate personnel decision-making during store ownership transitions.
Introduced by Council Member I. Daneek Miller, chair of the labor committee, the act (Intro. 632) would require grocery stores that undergo a change in ownership to retain employees for a 90-day period and to review their performance on an individual basis thereafter, keeping employed those who've performed satisfactorily. In case of employee cutbacks, those with seniority or experience would be required to be retained. The act also affords these employees legal recourse in case any conditions are violated.
Although the bill drafting process began over a year ago, said Council Member Miller, a former labor leader himself, now may be the time to maximize the benefits envisioned. In July, supermarket giant A&P declared bankruptcy and will be selling dozens of its stores, which would stand to have an effect across the five boroughs. Many locations will be up for auction, with thousands of employees facing job insecurity.
The unions that altogether represent roughly 50,000 grocery workers in New York City -- around one-fourth of the city's retail workforce -- are heavily in favor of the bill.
The law is beneficial to workers, owners, and customers, said David Mertz, New York City Director for the Retail, Wholesale and Department Store Union. "A worker retention policy such as in this legislation protects working families, provides a stable and experiences workforce for owners and thus maintains a safe and reliable service to customers," he said at Friday's hearing.
Others who testified in the law's favor included union representatives, non-profit health and safety groups, and individual grocery store employees.
Representatives of the retail and grocery industry are displeased with the bill, viewing it as an overreach by the Council. Employers see the liberal legislative body as trying to impose excessive regulation of employment decisions by private entities.
Jay Peltz, general counsel and vice president of government relations for the Food Industry Alliance of New York State, questioned the legal authority of the City in passing the bill in so far as it aims to maintain health and safety standards at stores. Peltz was insistent Friday that the bill would do more harm than good, disincentivizing investors from purchasing supermarkets, which means "the neighborhood around [a store] would be deprived of a better store with wider assortments, healthier choices, and more jobs. This would hurt the health and well-being of an area, not help it."
The hearing saw a thorough back-and-forth between industry representatives and Council Members Ben Kallos and Daniel Dromm, who refused to accept the opposing arguments being made. Dromm personally recounted the predatory practices of a supermarket owner in his district and repeatedly refuted and dismissed counter-arguments.
The bill is not the first of its kind. Local Law 39 from 2002 gave protections to building service workers in much the same vein as this law would do for grocery store employees. A more parallel example is a law passed statewide in California earlier this year that even withstood a challenge at the State Supreme Court.
The Council labor committee also quickly discussed and unanimously approved Intro. 903 which would provide health insurance coverage to the family members of deceased employees of the Department of Sanitation. The law was requested by Mayor de Blasio in response to the on-duty death of a sergeant from the Department of Sanitation in July this year.
The Grocery Worker Retention Act currently has 20 sponsors in the 51-member Council. After Friday's hearing it could be tweaked, or not, before being voted on in a subsequent committee hearing before heading to the full Council for approval - if it has enough support.
***
by Samar Khurshid, Gotham Gazette
@samarkhurshid
@GothamGazette