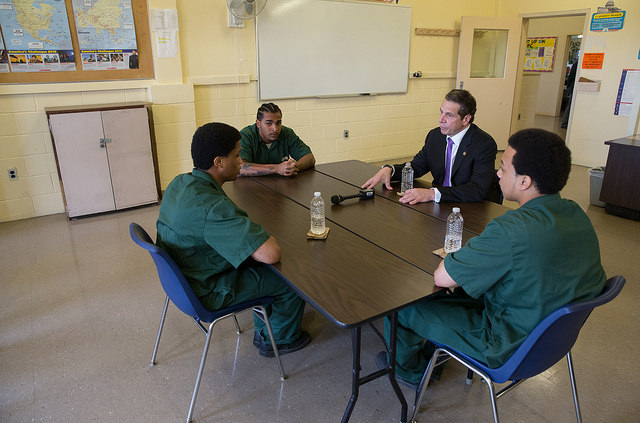 Gov. Cuomo meets with young inmates (photo: Governor's Office)
---
Gov. Andrew Cuomo is fond of calling New York a "progressive leader," declaring the state trailblazing on issues that matter, like marriage equality and gun control. It is a tenet of the governor's new push for an eventual $15-per-hour minimum wage.
However, New York lags so far behind other states on one criminal justice issue that it could soon be the only state in the nation to try 16- and 17-year-olds as adults - a practice that advocates and criminal justice experts say does irreversible damage to youth who are merely charged with a crime, much less convicted.
In declaring October "National Youth Justice Awareness Month" earlier this week, President Barack Obama pointed to the fact that just two states prosecute all 16-year-olds as adults regardless of their crime, and said, "Involvement in the justice system -- even as a minor, and even if it does not result in a finding of guilt, delinquency, or conviction -- can significantly impede a person's ability to pursue a higher education, obtain a loan, find employment, or secure quality housing." A total of nine states prosecute all 17-year-olds as adults, the president wrote.
Raising the age of adult criminal responsibility has been something Gov. Cuomo has been pushing, but unless the governor can soon cut a deal with the state Legislature, especially Senate Republicans, he and his Democratic allies will find themselves watching North Carolina become the 49th state to move to at least 17 as the adult age of criminality. There appears to be bipartisan agreement among North Carolina legislators on a plan to stop the practice of trying 16- and 17-year-olds as adults in their state.
Bipartisan agreement on criminal justice issues has been particularly elusive in the New York state Legislature, despite Cuomo's attention on raising the age and other related matters.
After including funding for "Raise the Age" in his most recent budget, Cuomo was unable to reach a deal with the Legislature. Then, Cuomo made raising the age a major priority during the waning days of this year's legislative session, even visiting an upstate correctional facility to speak to young inmates about life behind bars. Yet, Senate Republicans balked at Cuomo's plan to redirect most 16- and 17-year old offenders to family courts, while some Democrats worried his plan wouldn't actually improve how teens are treated by the justice system. Cuomo's original push stemmed from reports about abuses at Rikers Island jails.
With session over, Cuomo announced he would take "executive action" to at least remove 16- and 17 year-olds from a situation he had described as "intolerable."
"We did not reach an agreement on something called "Raise the Age," which is a proposal that I had made in the State of the State. The executive will on its own raise the age of people in state prison," Cuomo said in June. "Right now 16- and 17-year olds are going to state prisons and that, I believe, is an intolerable situation. So by executive action we will take 16- and 17-year olds out of state prisons and put them in separate facilities which will be designed and managed by the Department of Corrections and OCFS."
Advocates were initially pleased by the move until it became clear the administration had no concrete plan on where to house the 16- and 17-year-olds it promised to remove from adult prisons. They were further disappointed when it became clear the administration would have no say over county jails and therefore the number of youths separated from adult populations would be relatively small - all taken from state-run facilities.
With the year coming to a close the administration appears to be admitting they have hit a wall.
"We are in the process of engaging with a few agencies, the relevant agencies, to determine how we can do that," Cuomo's counsel, Alphonso David, said during an interview on Capitol Tonight earlier this month when asked about the process of relocating 16- and 17-year-olds. "There are operational issues that you can anticipate that we have to address. We're hoping to do that in the near future."
A Cuomo administration official acknowledged to Gotham Gazette that they are aware of the legislation advancing in North Carolina and that they hope to work on the challenges faced in finding alternative housing for the teens currently serving time while negotiating a broader bill with the Legislature. "We are hopeful that the Legislature will take another look at this," said the official.
Paige Pierce, executive director of Families Together New York, told Gotham Gazette that regardless of the fate of the governor's "executive action," the bigger issue remains how being processed as an adult can permanently damage the futures of thousands of young New Yorkers, whether they are found guilty or not.
"The larger issue is that every 16- or 17-year-old arrested is treated as an adult and therefore lacking access to support from family services, their parents don't have to be notified, and their records aren't sealed," Pierce told Gotham Gazette.
Members of the "Raise the Age-New York" campaign point out that youth in adult prisons face high rates of sexual assault and are much more likely to commit suicide than those in juvenile facilities. "New York has failed to recognize what research and science have confirmed: adolescents are children, and prosecuting and placing them in the adult criminal justice system doesn't work for them and doesn't work for public safety," the campaign emailed.
Advocates say that there was some hope at the end of last year as a few Senate Republicans were involved in discussions with Assembly Democrats on a compromise. That last-minute compromise may have died, but it gave indication that there may be room for negotiation when the clock is not ticking. It's unclear what kind of pressure moves by President Obama and North Carolina might exert on the governor and other New York lawmakers.
In his September 30 proclamation, Obama writes that trying 16- and 17-year-olds as adults "continues despite studies showing that youth prosecuted in adult courts are more likely to commit future crimes than similarly situated youth who are prosecuted for the same offenses in the juvenile system." He also points out that it is not cost effective to hold so many young people in state facilities.
Republican Sen. Patrick Gallivan, former sheriff of Erie County, told Gotham Gazette earlier this year that he is interested in discussing increasing alternative sentencing and other diversions for teen offenders. "We need to continue this discussion," he said. "Youth courts and other alternatives should be looked at as models."
How much influence Gallivan might have with his conference on the issue is unknown. However, both he and Cuomo have said that an agreement was in reach last session but was snuffed out by time constraints.
That isn't necessarily good news for the issue in the coming session. Advocates are quick to point out that 2016 is an election year and while the issue might be good for most Democrats, being seen as tough on crime is never bad for electeds, especially Senate Republicans who will be looking to defend and grow their majority.
***
by David King, Albany editor, Gotham Gazette
@DavidHowardKing