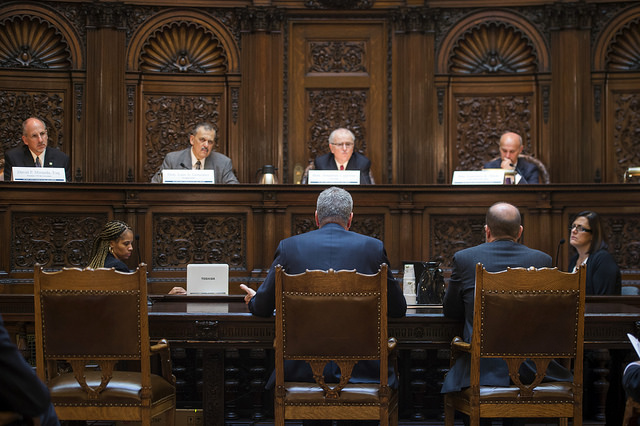 Mayor de Blasio testifies in front of Judge Lippman (photo: Demetrius Freeman, Mayor's Office)
---
New York's "broken bail system" puts an estimated 50,000 people behind city bars each year simply because they cannot afford to pay bail. These people are accused of low-level, non-violent offenses, many of whom wind up not even seeing trial or being convicted of a crime. But, they do not have the means to pay bail, part of system being questioned by many of late, including the state's chief judge, elected officials at various levels, activists, and the experts who spoke on a panel Tuesday at the Brooklyn Historical Society. The panel was titled, "Why New York? Our Broken Bail System."
"Money bail fails to distinguish between those who are the most dangerous and those who are low risk," said panel moderator Shaila Dewan, of the New York Times, "but it easily distinguishes between those who have money and those who don't. New York State's own chief judge has called this system 'ass backwards.'"
Tuesday's discussion occurred just days after Jonathan Lippman, the very New York State chief judge Dewan referened, announced a series of initiatives aimed at addressing what he called the "unsafe and unfair bail system," including an automatic review of all misdemeanor cases in which the defendant cannot pay bail within ten days of arraignment, and new training for judges to encourage them to use some of the other types of bail that are already available, rather than predominantly using cash bail for defendants.
The purpose of bail is to ensure that defendants return for their court dates, but for various reasons, in New York bail has overwhelmingly become something that keeps poor people in jail as they await their trials.
Panelists in Brooklyn discussed the human, economic, and criminal impacts of the way the system is being run.
Kicking off the conversation, Dewan said, "The Supreme Court has said, 'in our society liberty is the norm, and detention without trial is the carefully limited exception.' It has become, unfortunately, in practice, the norm."
Dewan pointed out that there are several different bail options available, such as allowing defendants to pay ten percent of the bail to the court up front and sign a paper promising to pay the rest later, or simply releasing defendants pending trial.
One key issue criminal justice reform advocates have with the cash bail system is the fact that those who are held in pretrial detention tend to have worse outcomes to their cases. "They get longer sentences, they get less favorable plea deals, they're more likely to plead guilty to crimes they didn't commit," Dewan said, "and - perhaps most importantly - they are more likely to commit new crimes. So, we think we're holding people in jail before trial to protect the public, but in fact we may be increasing the crime that's out there."
Judge George Grasso, a panel member, said now is the perfect time to evaluate "the issues impacting the fairness of our criminal justice system. I think Judge Jonathan Lippman really hit the heart of this bail issue this past Thursday, I think he used the term 'Alice in Wonderland' - referring to the fact that we have a system that metes out punishment first."
"There are far too many people in jail who are really pretrial and who pose no threat to society," Judge Grasso continued. "Without waiting for state legislature to act, we can and we must make substantive changes to this system."
To that end, New York City officials recently announced new measures to assist nonviolent offenders stuck in the city's bail vice. In late June, the City Council approved Speaker Melissa Mark-Viverito's proposal to set aside $1.4 million of the city's budget for a citywide bail fund to help pay bail for low-level defendants whose bail is set at $2,000 or less.
Though some taxpayers may rebuke the idea of their money being used to bail people out of jail, Mark-Viverito argues that the bail fund would actually save the city money, given the fact that it costs the city a little over $450 a day per inmate to keep people locked up. According to Mark-Viverito, a defendant who cannot afford bail stays in jail for an average of 24 days for nonviolent offenses, like jumping a turnstile or marijuana possession.
Similar initiatives, like the Bronx Freedom Fund and the Brooklyn Community Bail Fund, have had excellent results.
Peter Goldberg, executive director of the Brooklyn Community Bail Fund, told the crowd gathered at the Brooklyn Historical Society, "In the past five months, the bail fund has paid for 133 clients, at a cost of about $110,000. Ninety-seven percent have made their court dates, even though they had no financial incentive to return. These are individuals who would have been jailed, perhaps for months, for the lack of a few hundred dollars. Out on bail, they've had significantly improved case dispositions. Fifty percent have had or will have dismissals. Not a single client has been sentenced to additional jail time. Clients who are out have not been coerced to plead guilty."
In July, Mayor Bill de Blasio announced a separate $17.8 million initiative to reduce unnecessary jail time for those awaiting trial. The program aims to help roughly 3,000 low-risk defendants per year by substituting cash bail with a "supervised release" program, which would allow poor defendants to be released and supervised until their trial, rather than detained on Rikers Island.
Judge Grasso, speaking of his own involvement in the development of city-wide initiatives to reform the broken bail system, said, "We are in the process right now of expanding supervised release for indigent defendants tried with misdemeanors and nonviolent felonies. They will use a risk assessment instrument and focus on linking defendants with appropriate services, and a contact regime in lieu of cash bail, to release people on their own recognizance. That's what we're working on expanding right now through Mayor de Blasio's task force - I happen to be a co-chair of the subcommittee that recommended that."
When asked why judges don't use the many alternative forms of bail that are available more often, Judge Grasso's answer made a solution to the problem sound shockingly simple, "Frankly we need more training in the court system. Not only do the judges need to be trained, but the court clerks who prepare the paperwork for the judges and the court need to be trained in that."
"There's about seven other types of bail," Judge Grasso continued, "What we really need to do is embark upon top-to-bottom training, so the paperwork is available, clerks know what's going on, and the judges are trained in how to use different types of bail for different types of situations. That's something that Judge Lippman said this past Thursday that he'd make a top priority."
As Dewan pointed out during the question and answer portion of the discussion, typically, judges set bail for two reasons: "one, so that person will return to court; two, to protect public safety in the meantime." Yet "in New York State, the law says you can only consider their likelihood of returning to court; you can't consider public safety?" Dewan asked.
"One of the problems in the state of New York is the fact that we're not supposed to take public safety into consideration [when setting bail]," Judge Grasso said. "You can consider community contacts, you can consider the strength of the charges, but can't consider public safety directly."
As a result, wealthy, dangerous people may get out of jail to await their trial, while nonviolent, poor people must remain behind bars until their day in court. "It's been a real serious problem in the State of New York," Judge Grasso said. "Judge Lippman has been proposing legislation to change that, and so far it has stalled."
Some criminal justice reform advocates want the city to entirely do away with money bail for low-level offenses, which officials in Washington D.C. did in the 1990s, opting instead for a system in which most defendants are either detained because they are considered a flight or safety risk, or let go without bail.
However, in New York, such an overhaul would need to be approved by state lawmakers in Albany, where legislation to change the bail system has gone nowhere time and again.
When asked by the Brooklyn Historical Society crowd what the obstacle to ending money bail in New York City is, criminal justice reform advocate and founder of JustLeadershipUSA Glenn Martin, who was previously incarcerated on Rikers Island, remarked, "the bail bondsmen have a very strong lobby, and they give money to our elected officials in New York State, which influences their decision making."
Speaking to the larger issue of mass incarceration, public defender Josh Saunders told the crowd on Tuesday, "Let's not forget that we are the world leader in incarceration - the United States has five percent of the world's population and 25 percent of the world's prison population. Are there people who need to be incarcerated? Sure, but are we also all participating in this kind of diseased fiction that the way we solve problems is to put people in cages? I think we're doing that too."
With 50,000 people - the population of Hoboken, New Jersey - locked up annually on Rikers awaiting trial solely because they cannot afford bail, the human cost of putting those "people in cages" can easily be forgotten. Panel member Miguel Padilla spent over a week at Rikers because he did not have the $1,000 he needed to buy his freedom. While driving his intoxicated brother-in-law home from a family gathering, Padilla was pulled over for a broken tail light, then arrested for driving with a suspended license. Desperate to see his wife and three children again, Padilla said he pleaded guilty "just so I could come home." As a result of his brief stint in Rikers, Padilla lost both of his jobs and gained a criminal record, which in turn left him struggling to find a new job for over a year.
"We should ask ourselves," Judge Gasso said, "what is the primary purpose of our criminal justice system? Do we want a system that is based primarily on the concept of punishment, or primarily on the concept of justice?
***
by Meg O'Connor, Gotham Gazette
@MegOConnor13