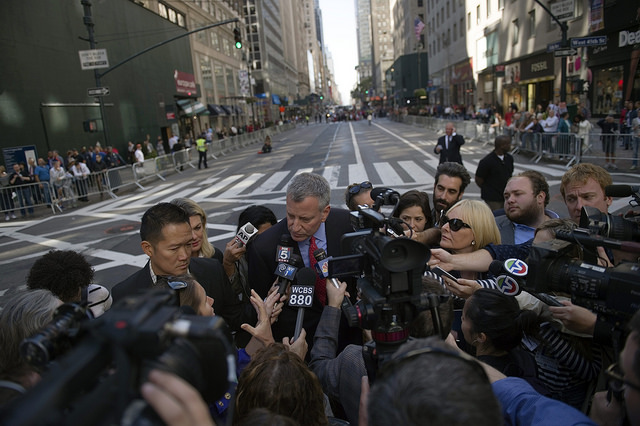 The mayor & the media (photo: Ed Reed/Mayoral Photography Office)
---
Have you heard Mayor de Blasio's voice lately? He's been trying harder to ensure you have, sharply increasing the frequency with which he makes extended appearances on television and radio, and holding events to interact directly with New Yorkers.
Instead of New Yorkers only hearing and seeing quick clips of the mayor on networks covering his press conferences, de Blasio has pursued greater control over his message, making many more broadcast appearances. The push is indicative of a mayor seeking to correct a public perception problem, lift slumping poll numbers, reconnect with his base, and woo more allies.
In September, for example, the mayor averaged about one TV or radio interview per day. In July and August, the mayor averaged just one TV or radio interview per week. Going back to June, it was about two per week - more frequent than during the typically slower summer months that included a family vacation, but less often than recently.
The uptick began in late August after worrisome public opinion polls and de Blasio criticizing media coverage of his administration. The trend then took hold in September as the mayor seized on Pope Francis' visit to New York and the start of a new school year.
The effort to be on the airwaves more is "clearly part of a concerted effort," says Democratic political strategist Alexis Grenell. "It allows him to connect with the electorate, which is good for him and good for the public. Arguably, he should be doing more."
Not coincidentally, the mayor's media blitz has also coincided with an increase in planned in-person interactions with the public: de Blasio did pre-K canvassing, spoke about his housing plans at a church, and held a parents' night at a school, all in Brooklyn; he hosted his first town hall meeting, also focused on housing, on Wednesday evening in Washington Heights.
"It's about time," said Dr. Christina Greer, a Fordham political science professor. Greer thinks that although a bit late into his term, it was smart for de Blasio to do the initial town hall and that it is key for him to be on the airwaves more. "He needs to control the narrative, and you need to give yourself the opportunities to do so. If you don't leave City Hall, the media can craft the narrative more. If you get on the airwaves, you can deliver the message...if you go to the people, they hear it directly from you," Greer says.
With information provided by the mayor's office and gleaned from press advisories, Gotham Gazette counted 13 appearances by de Blasio on radio and TV over 79 days from June 1 through August 18. In the following 55 days, de Blasio made 36 such appearances, beginning with a 40-minute interview on WNYC's The Brian Lehrer Show on August 19.
Asked about the sizeable increase in broadcast interviews, Karen Hinton, the mayor's press secretary, emailed Gotham Gazette to say, "Whether it's walking through a neighborhood - something the Mayor often does spontaneously - or taking questions from the public during a radio show or a Town Hall, Mayor de Blasio is always looking for new ways to communicate with New Yorkers so he can learn more about their problems and find solutions."
Even frequent de Blasio critics see progress. Republican political strategist Jessica Proud told Gotham Gazette that she sees a different, and welcome, approach by the mayor and that she suspects Hinton has been a key force behind it. Proud, who helped run the campaign of de Blasio's general election opponent, Joe Lhota, said the mayor still has a long way to go, but it is positive for all involved if he is on the airwaves more and doing town halls.
"I see a little bit of progress, yes, but he will need a more aggressive pace if he wants to dispel that rap on him," Proud said of the impression that the mayor has been in his own progressive bubble. She said that the mayor and his team have been too siloed, and even as they branch out, they must continue to do more appearances in places like Staten Island, and that the mayor should appear on a broader diversity of radio and TV programs.
"Going on The Brian Lehrer Show, that's right in line with his base and his audience," Proud said, referring to the popular political talk show that appears to be de Blasio's favorite on-air venue. "The media and the public would relish the chance to have more in-depth conversations with him" on a wide variety of topics, she said.
Evan Siegfried, also a Republican strategist, says that more on-air hits are a good thing for any politician, but that de Blasio needs more accomplishments to boast, which comes down to his policies.
Polls show that the mayor must improve voters' perception of him and the direction of the city under his leadership. It's not clear whether New Yorkers are worried about de Blasio's openness to ideas that don't fit his typical focus on inequality and progressivism as he defines it. Proud argued, though, that "there are a lot of city opinion leaders, civic leaders that do matter - their perception of you has a ripple effect."
Grenell, Greer, and Proud all agree that more public exposure is smart for de Blasio in particular because he's actually good at delivering his message. "Some people aren't their own best messengers and need other people to articulate their vision," Greer says, "but [de Blasio] is not that person, he's actually the best person to explain his ideas, he's very good at it."
Grenell thinks similarly: "When you listen to the mayor on the radio, he excels, it is only good for him."
In short, being on the airwaves more, holding more public events to interact with New Yorkers is both good government and good politics.
Still, within de Blasio's media hits lies an ongoing problem for the mayor: his presence on the national stage and the perception that he is not as focused on city governance as he should be.
A handful of the mayor's recent TV appearances have been on national programs, like ABC's This Week with George Stephanopoulos, but that has been a trend for the mayor. The real increase in de Blasio's media presence has been on local radio, with more appearances on WNYC as well as 1010 Wins, Hot 97, and AM 970 The Answer.
While he has mostly feuded with The New York Post, de Blasio has been critical of the media in general, though less so since August, when he expressed concerns with press focus on topics he finds less appropriate than policy points of his agenda.
One way to get around displeasing newspaper coverage is to do fewer press conferences and make more interview appearances over the airwaves. Even if somewhat filtered by the radio or TV host, live appearances offer direct channels to those who tune in.
"I'm baffled by why he and his handlers haven't done this more," Dr. Greer said, "because when he talks to the voters, he resonates. When he talks about New York City he makes you feel like no one wants to fight for New York City more than him."
Greer asserts that de Blasio's favorability will rise "if he does a sustained effort at TV and radio." Similar to Proud, Siegfried said "de Blasio should also be willing to sit down with adversarial media outlets for interviews. It would demonstrate he is not afraid to talk to people that might not laud him with praise."
Greer also said de Blasio should appear on a wide variety of outlets, though she didn't necessarily say they should be "adversarial."
"Hearing him on a station that's not say, NPR, it gives him access to people are who are not necessarily paying attention to the political scene throughout," Greer said, citing what she called a strong appearance on Hot 97.
It's a novel approach aimed at correcting course as de Blasio nears the halfway point of his term: more broadcast interviews, town hall-style events, and even attempting to mend fences with his predecessor, former Mayor Michael Bloomberg.
While the mayor is not shying away from his progressive brand of politics and battle with inequality, he and his team are perhaps recognizing a need to change the narrative and do some things differently in order to capture more good will and public approval.
To date, October hasn't shown the pace of radio and TV appearances de Blasio struck last month, when he was not only tying his agenda to the Pope's visit and promoting his pre-kindergarten program, but also addressing the NYPD's mishandling of former tennis star James Blake and sparring with Governor Cuomo over MTA funding.
When de Blasio returns from a weekend trip to Israel, he'll give indication of whether he intends to resume the more frequent pace of media appearances some say is essential to his potential success.
***
by Ben Max, Gotham Gazette
@TweetBenMax