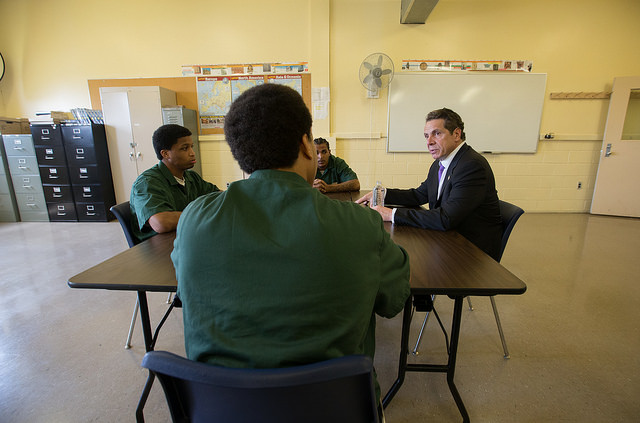 Cuomo at The Greene Correctional Facility (photo: Governor's Office via flickr)
---
In the Summer of 2010, Benjamin Van Zandt was a smart, quiet 17-year-old; an excellent student enrolled in AP classes, a math whiz and violin player, and on his way to becoming an Eagle Scout. Van Zandt was a resident of Selkirk, a small town just outside Albany known for its rail yards and manufacturing plants.
Only four years later, at the age of 21, Van Zandt became the youngest state inmate to take his own life when he hanged himself with his bed sheets and shoe laces in his cell at Fishkill Correctional Facility.
A series of events that took place over a short time and are described differently by those involved sent Van Zandt's life off what most would consider a normal trajectory for a bright, young suburban kid. His mother, Alicia Barraza, blames her son's death on a specific statute in New York law that allows 16- and 17-year-olds to be processed and tried as adults upon arrest.
"We have this shy, bright teen with so much potential who admitted mental health issues and admitted he started a fire," said state Senator Neil Breslin, who counts Barraza as a constituent, and Thomas Breslin, the judge who oversaw Van Zandt's plea, as his brother. "Does that mean he should be sentenced to jail with older hardened criminals who harassed and abused him? The answer to me is clearly 'no.'"
Barraza has become a leading voice in the 'Raise the Age' movement, which is pushing for New York to amend its laws so 16- and 17-year-olds have access to family courts, diversionary sentencing, treatment, and the rights afforded to other minors at the time of arrest. New York and North Carolina are the only two states with criminal justice systems that treat 16- and 17-year-olds as adults, while a small number of others have 17 as the threshold for adult criminal responsibility.
What changes actually need to be made to the law are still being debated, though Governor Andrew Cuomo has been a vocal proponent of 'raising the age.' Law enforcement officials, including many district attorneys say the debate has been oversimplified and ignores some real-world dilemmas. Both Sen. Breslin and Albany County District Attorney David Soares say they support parts of the "Raise the Age" legislation proposed by Cuomo but both also say they have concerns that require significant discussion.
Cuomo's original proposal was dismissed by Republicans as weak on crime and by a number of Democrats who said it wasn't properly thought out and would make things worse for young offenders. After no agreement on Raise the Age last legislative session, Cuomo appears set to renew his push, while advocates are focused on grassroots efforts designed to help voters and legislators understand how one trip into the justice system for a young person can alter his or her life irreversibly.
During the Summer of 2010, Barraza says that her son, Benjamin Van Zandt, was quietly battling depression. His condition took a turn for the worse; he later told his parents that he was hearing voices and trying to quell them by starting small fires. Finally, in early August, Barraza said Van Zandt lost control and decided to act on the voices that had been tormenting him. He bicycled half a mile to the nearby suburb of Delmar, where he entered an empty house and spread gasoline around the rooms, eventually setting a fire. The home was nearly entirely destroyed.
At the time, the quiet neighborhood had been dealing with a series of break-ins and was on high alert.
A week later, police came to arrest Van Zandt, after he used a credit card he had stolen from the house. His father asked police if he could come along, as his son had told him of the depression and his hallucinations. The police denied the request, saying Van Zandt was being charged as an adult. The family scrambled to find a lawyer; by the time they found one and made it to the police station Van Zandt had already written a lengthy confession. The police had calmly offered Van Zandt something to eat and drink and told him to write down all the details of the arson.
From there Van Zandt was sent to Albany County Jail, not to a mental health facility. He was released on $50,000 bond, along with an agreement that he would receive psychiatric treatment and medication. Barraza said her son started doing better, first as an inpatient at an upstate psychiatric center, and later at home, thanks to medication and therapy.
Barraza, though, continued to worry. She says the Albany County District Attorney's office and the judge seemed keen on delivering her son lengthy jail time. She said Soares' office refused to talk to her and other family representatives about her son's mental illness and how he might get the best care.The family was told to either take the plea deal being offered or face trial.
Van Zandt caved and pled guilty in a deal that saw him relinquish any chance to be treated as a juvenile offender, agree to serve four to 12 years in adult prison, and pay $455,000 in restitution for the house he burned.
The Albany County District Attorney's office paints a different picture of events.
The office says Van Zandt created a fake Facebook profile to stalk one of his classmates. Then, when he found out that classmate and his family were out of the country, he packed a backpack with a jug of gasoline, a blow torch, and tools to break into the house. Once inside, they say he targeted his classmate's room, looking through personal items and searching for valuables, only finding some credit cards, and then set the house ablaze.
After, Van Zandt began ordering iPads and other electronics under a false name and having them delivered to a neighbor's house. Police were finally tipped off when Van Zandt used a fake Facebook account in an attempt to gain more personal details about his classmate's father because he needed them to use one of the stolen credit cards.
DA Soares' office says that Van Zandt's family members were adamant that he not be sent to the mental health system and that they referred to it as a "black hole." Technically, Van Zandt could have spent more time in a mental health facility than he was sentenced to in jail. Soares' office also said that the family could have presented a not-guilty plea based on mental health if they allowed the case to go to trial.
However, looking back at the case this week, Soares said he personally does not feel that a sentence to a mental health facility would have been appropriate in the case. "Someone who demonstrates the prowess to achieve what [Van Zandt] achieved is not someone demonstrating schizophrenic behavior," Soares told Gotham Gazette.
The Raise the Age NY campaign cites multiple studies that show youth are more likely to commit another crime after serving time in adult prison. In fact, one study shows that youth sentenced to adult prisons are 34 percent more likely to commit a felony offense upon release than youth sentenced to juvenile facilities.
The studies that apply to Van Zandt's case are even more striking. Youth in adult prisons are more likely to report abuse from guards and 50 percent more likely to be attacked with a weapon. They constitute the population that is most likely to face sexual assault and are 36 percent more likely to take their own lives.
Barraza said her son started doing well after being diagnosed and treated for severe depression and psychosis. During his stay at Woodbourne Correctional Facility he received counseling sessions. He was valedictorian in his GED class and he enrolled in the Bard College Prison Initiative to earn a college degree. Barraza and her husband visited most weekends.
The calm didn't last. Van Zandt's studies were interrupted when he was caught bringing a piece of bread to his cell. He was transferred to Midstate Correctional Facility and placed in a mental-health unit. He became despondent, and was later caught carrying drugs for other inmates. He was transferred yet again, winding up eventually at FishKill. There, he was put in solitary confinement for fighting with other inmates.
During his time in jail, Van Zandt was beaten, tormented, and raped by older inmates. Finally, he took his own life with a makeshift rope fashioned with bed sheets and shoelaces.
A number of legislators have balked at Raise the Age efforts on principal. "It never hurts to appear tough on crime, especially in an election year," Paige Pierce, executive director of Families Together New York, told Gotham Gazette. She and other advocates think Van Zandt's story can show legislators that the current system doesn't just punish hardened criminals, but could in fact ruin the lives of those with mental-health issues or of teens who simply make one wrong choice.
DA Soares, who has clashed publicly with Gov. Cuomo on a number of occasions said there are many aspects of what has become known as "Raise the Age" that he agrees with, including not jailing teenagers with adult prisoners. However, Soares said the issue has become oversimplified as part of a political campaign.
"There is an appearance that our criminal justice system conducts its affairs in a certain way in certain communities that impacts more children and even men and women of color," said Soares. "Those truths are things we can't get away from or solved without real discussion of criminal justice reform. It has to be more than just going out and getting a cause and giving it a hashtag and then having our politicians moving forward without thought to the collateral damage."
Soares said the that the governor and legislators need to get serious about discussing clearing criminal records so that offenders can better reenter society. "Until we are talking expungement and allow folks to apply for jobs, we are not talking about real reform," said Soares.
"It is offensive to me that our state government is prepared to spend million to lock up brown and black kids in separate facilities but they are unwilling to spend money to help them succeed," Soares said, referring to separate facilities for younger offenders. "Our state government is more willing to invest in our kids' failure than their success."
As for Van Zandt, Soares said he feels the prison system failed him and that he should not have been housed with adults. He called his death "tragic."
Barraza said she feels all that happened to her son from August 2010 to October 2014 was a result of the Albany County DA office and the sentencing judge's efforts to appear tough on crime by giving a troubled teen a stiff adult penalty.
In some sense it appears she is right. Soares told Gotham Gazette he doesn't feel, based on Van Zandt's meticulous planning, that he should have received a lighter sentence.
"This is not a young person who just walked in and set fire to a home. That is just not the fact pattern we were presented with," Soares told Gotham Gazette. "The fact pattern we do have is a young man who planned ahead, packed a backpack with gasoline and a blowtorch and then after setting fire to the home began to methodically pursue criminal benefit. There was nothing about what he did that indicated a mental health problem, other than his family's surprise."
Barraza has dedicated herself to making sure New York changes its laws so that no other teens suffer like her son and no other parents are left helplessly watching their teenage child in the bitter realities of the adult prison system. She, other activists, and legislators - including the governor - appear determined to see Raise the Age take a prominent place on the 2016 legislative agenda.
But, Barraza is also still looking for answers from her son's case. She still wants to know why the authorities decided her son needed to be sentenced as an adult.
"I would like an explanation of why our son, who was clearly mentally ill, was denied youthful offender status," Barraza told Gotham Gazette. "It was just pure punishment. As soon as he pleaded guilty he had no chance of rehabilitation."
***
by David King, Albany editor, Gotham Gazette
@DavidHowardKing