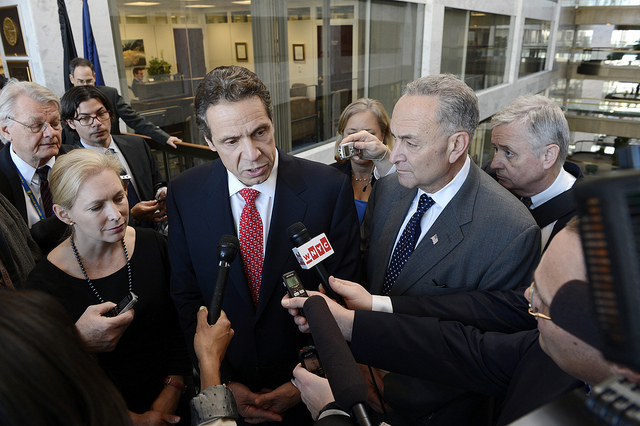 Cuomo and New York's Senators, in 2012 (photo via the Governor's Office on flickr)
---
The murder of NYPD officer Randolph Holder and the seemingly constant news of campus shootings has a number of prominent Democratic legislators calling on Gov. Andrew Cuomo to lend his support to state-level gun control bills.
Cuomo, who is responsible for passing what many believe are the strongest state-level gun laws in the nation in 2013, has been particularly outspoken of late saying the federal government should take significant action to restrict the sale and flow of guns in the United States. While touting his SAFE Act, passed in the aftermath of the 2012 Sandy Hook Elementary School massacre in Newtown, Connecticut, Cuomo has said Democrats must make gun control a centerpiece of the 2016 election cycle.
While Cuomo has made a number of media appearances to centered on the point, going so far as to intimate Democrats should threaten shutdown of the federal government over passing new gun laws, some New Yorkers continue to look for additional regulations at home. A number of gun-control advocates and Democratic legislators say that the likelihood of action in Washington is negligible, but that with Cuomo's backing and political savvy New York could continue to lead the nation in moving to prevent gun violence.
New York, they say, can again set the example by passing gun safety legislation, bans on certain weapons, laws that would strip domestic abusers of their firearms, and stricter checks on gun sellers, including licensing of individual salespeople.
"The governor has the strongest political voice for change in this state," said Sen. Liz Krueger of Manhattan, "Having the governor on these issues could mean everything." Fellow Democratic Sens. Michael Gianaris, Jose Peralta and Daniel Squadron also told Gotham Gazette that despite opposition from Republican leadership, Cuomo's involvement could get the ball rolling on very basic gun safety legislation.
"The Senate Republicans have refused to move on these issues, but it is no reason to retreat," Squadron told Gotham Gazette of Albany dynamics. "We all need to work together to change it. The governor is right that we need national action to address the flow of illegal guns. He has been a national leader with The SAFE Act, but there is a lot more we can do in New York."
Cuomo had remained particularly quiet on gun control issues after facing backlash from gun-rights groups and seeing his poll numbers slump following implementation of the SAFE Act, but with the random shooting death of his aide Carey Gabay, this fall Cuomo returned to the issue with a vengeance, now with a focus on national action.
"[I]t's not enough for New York State to pass a gun law and close the front door when the guns are coming in the back door," Cuomo said in his late-September eulogy of Gabay. "When the guns can come up from Virginia or South Carolina for anyone willing to take a car ride. That this nation's leaders have to show the resolve to end this scourge once and for all and demand real gun control nationwide."
A number of New York politicos who were previously outspoken on gun control became uncharacteristically silent after the National Rifle Association (NRA) and other groups began organizing around the SAFE Act. The Act was seen as particularly damaging to Cuomo's support in Upstate New York during his 2014 reelection. When pushing for national regulations, Cuomo has repeatedly said that he has felt the backlash for what he was able to pass on guns; recently saying on WNYC's The Brian Lehrer Show, "I know the political price because I paid it."
Calling the SAFE Act "the safest, smartest gun law in the country," Cuomo appears now to be looking to others to act on guns. In fact, new Republican Senate Leader John Flanagan apparently negotiated a slowdown of the implementation of one measure of the SAFE Act that would track ammunition sales.
The Cuomo administration signed a memorandum of understanding with Republican legislators indicating that a database tracking ammunition sales wouldn't be implemented until the technology for such a system was ready. Gun activists saw it as a concession from Cuomo on one of his signature accomplishments. The Cuomo administration pushed back saying it didn't mean anything in particular. Other elements of the SAFE Act recently survived court challenges, outcomes Cuomo celebrated.
Leah Barrett, the head of New Yorkers Against Gun Violence, said that it is time for Democrats and the governor, specifically, to push back on the state level against the NRA and support what she says are well-crafted, common-sense bills. "I know the governor said after the SAFE Act that he had paid a political price for it, but I hope his spine has stiffened a bit now," Barrett said. "We need to make sure background checks are full steam ahead, that the database is implemented," she added, saying that the governor should support new bills on the table. "He shouldn't be afraid of these gun groups who are really on the fringe, these bills have the support of most New Yorkers."
The governor's press office did not return a request for comment on whether Cuomo will pursue further gun-related regulations in New York.
Assemblymember Michelle Schimel of Great Neck, who has been a gun-control activist for years, said she feels some lawmakers have been woken up by recent events after hiding from gun issues for a time. "They went 'Oh no way!' because there was such a backlash" to the SAFE Act, said Schimel. "Well now reality has hit again and there is real focus again. This could be a real bellwether year for us.'
Schimel, who is bound for Washington this week for a national discussion on preventing gun violence, said she agrees with Cuomo that "it starts on the federal level with the gun show loophole." However, she said "there are a number of bills on that state level that have been vetted and are not just a kneejerk reaction to recent events."
Gun Dealer bill
Sponsored by Assemblymember Amy Paulin and Senator Jose Peralta, the legislation would require gun dealers to sell only in one specific location, install a security system, and provide all their employees with training. It would also have the State Police devise a plan to ensure gun dealers are complying with the new rules. Gun dealers have to be licensed in the state but their employees do not. "We have to hold gun dealers accountable," said Peralta.
Pro-gun groups say the law would have a chilling effect on small business owners by imposing more costs and mandates.
Schimel counters that plenty of other businesses in the state that sell more benign products and services are faced with regulation.
"The person who does my nails is licensed," said Schimel. "They've been trained. They've had their background checked and yet the person who works at a gun store hasn't."
Guns and Domestic Violence
"The Safe Homes Act," sponsored by Assemblymember Nily Rozic, would require police to ascertain whether there are guns present in a home where there has been a reported case of domestic violence. Officers would then remove those guns in the event of an arrest. The bill is in response to cases where victims of domestic violence have later been shot to death by their abuser after going to law enforcement.
"The Domestic Violence Firearm Prevention Bill" sponsored by Paulin would require police to strip firearms from anyone convicted of a misdemeanor domestic violence incident.
Neither bill has a cosponsor in the Senate, but Barrett said she hopes both bills could win bipartisan support.
Microstamping
Sponsored by Schimel in the Assembly and Peralta in the Senate, the bill would require all semi-automatic pistols manufactured in, or delivered to licensed dealers in New York, to be equipped with a specific technology that automatically marks shell casings with a code which can identify the make, model, and serial number of the pistol. The legislation has support of a number of law enforcement entities because they see it as a tool that would make it easier to identify the owners of guns used in crimes.
Opponents say the technology is expensive and untested. Only California and Washington D.C. have similar laws.
Recently, California successfully defended itself against a lawsuit that sought to do away with its law. "We have technology to do so much to help law enforcement catch criminals," said Peralta. "We just celebrated "Back to the Future Day," we have the technology, we should use it. It isn't a matter of whether or not it works. It works. It is a matter of political will."
Nicholas' Law
Nicholas' Law, which requires safer storage of guns, is sponsored by Paulin in the Assembly and Sen. Jeff Klein, Independent Democrat of the Bronx, in the Senate.
The bill is named after 12-year-old Nicholas Naumkin, a resident of Saratoga Springs who was shot and killed by a friend who was playing with his father's pistol, which had been left loaded and unlocked.
"Nicholas' law is a gun safety bill that advocates from both sides can agree on. It's common sense," Paulin told Gotham Gazette earlier this year. The Assembly passed the bill this past session but it didn't get a vote in the Senate.
The bill requires gun owners to safely store their guns so they can't be accessed by children and others who should not be handling guns. Infractions against the law could be punished by a simple violation or a class E felony depending on previous history and severity of the violation.
High Caliber Ban
Sponsored by Squadron in the Senate and Brian Kavanagh in the Assembly, the bill would ban the ownership of .50 caliber rifles and require state police to seize the weapons from current owners and provide them with fair market value. Squadron and Kavanagh both say the firearms are designed to kill humans and disable vehicles, and have no value in hunting or home protection. Opponents say the bill would violate the Second Amendment. The bill is perhaps the least likely to see any bipartisan support given that it involves the actual surrender of property.
As hopeful as Shimel is for legislative action this year, many of her colleagues believe they will have to wait until after the 2016 elections to see real action and only then if Democrats win control of the state Senate. Gianaris told Gotham Gazette that he feels the same bipartisan gridlock Cuomo blames for stopping action on gun control in Congress is beginning to take over the state legislature. "A lot of the same stuff is happening here in New York. And we have to stand up to it," said Gianaris.
Short of Cuomo deciding to come out strongly in favor of additional New York gun control measures, they are likely to get minimal attention in the coming budget and legislative negotiations.
Asked what she thought it would take to get real action in the upcoming session Barrett was blunt. "Probably nothing short of another massacre in New York. We've seen that is what it takes to get our state government to act."
***
by David King, Albany editor, Gotham Gazette
@DavidHowardKing
Note: this article has been updated to reflect the high caliber ban involving "surrender" of property, not "seizure" as originally stated