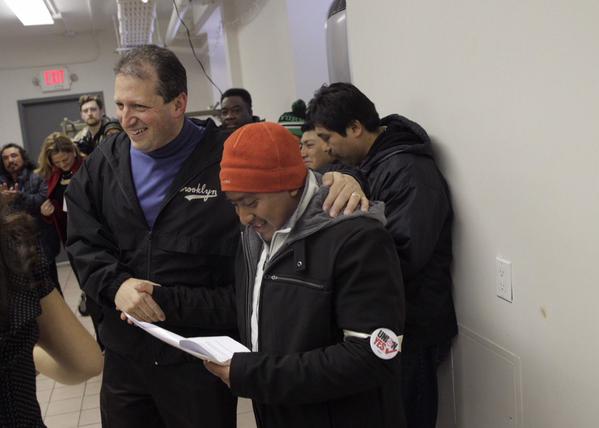 Council Member Lander with carwash workers (photo: William Alatriste)
---
There are more than 1.3 million freelancers working in New York City and with the help of the City Council, these workers may soon be afforded certain protections on par with full-time workers.
Initially focused on wage protection and health benefits, Council members and advocates are also looking at legislation to expand collective bargaining rights to certain groups of workers in the "gig" economy.
The on-demand economy of such workers has mushroomed in the city with Uber and Lyft drivers, Handy.com cleaners, and the more traditional writers, graphic designers, and other artists. These temporary, "for-hire" workers largely perform their various efforts without the benefits of job security, health insurance, pension buy-in, or paid sick leave. Even their wages are regularly not guaranteed. Eight out of ten freelancers have complained of being victims of late payment or non-payment of wages according to reports compiled by the Freelancers Union.
With the City Council aggressively tackling workforce issues, Council Member Brad Lander, a Democrat who represents part of Brooklyn, has taken the lead in developing legislation to help people in the gig economy.
Lander is working with the New York City-based Freelancers Union to create a legislative framework for wage protection for freelance employees. In September, He appeared at a Brooklyn town hall hosted by the Freelancers Union to launch the #FreelanceIsntFree campaign, seeking to raise awareness and push for legislation.
"It has very real dark sides to it," Lander said in a recent phone interview with Gotham Gazette, referring to freelancing and the company payment cycles that cause hardships for freelancers. "The rent is due and you still gotta put groceries on the table," he said.
Lander believes that the best possible scenario would be a "cutting edge," enforceable administrative solution, similar to protections guaranteed by the state Department of Labor and the Attorney General. Currently, the only legal recourse freelancers have is civil court, an expensive and time-consuming option. Lander wants to introduce a bill within the next two months.
But worker protections go beyond simply wages and Lander has found support from his colleagues for other ideas. Lander and Council Member Corey Johnson are working closely with the New York City Taxi Workers Alliance on a "drivers benefit fund" that would use a small fare surcharge to provide health benefits to for-hire drivers. After wage protections for freelancers, drafting this legislation is Lander's next priority; and with the city looking at rules reform for the Taxi and Limousine Commission, he said this "is a good time to move it forward."
Inevitably, workforce issues revolve in some important way around organized labor. On-demand gig workers are by their very nature unorganized. That's where the Freelancers Union stepped in and now the City Council is moving toward creating new worker protections.
Eyeing Seattle, where a City Council member is pushing a bill to allow taxi drivers, for-hire drivers, and those from ride-sharing companies like Uber and Lyft to unionize and exercise collective bargaining, Lander is considering a similar path in New York.
Uber's success in the city, and its disruption of the long-standing taxi/black car marketplace, has garnered the for-hire industry new attention. The ability for drivers, who are seen as independent contractors, to unionize would change the game for thousands, and the company, of course.
Uber has added more than 20,000 cars to their service in the last three years and also handled more than 100,000 rides each day in July, four times its record from last year. During a summer face-off between city lawmakers and Uber, the Mayor de Blasio and the City Council brought about a temporary detente by landing on a four-month study of the effects of ride-sharing companies like Uber (and no cap on the growth of the industry). The results of that study are due soon and will likely play an important role in the future of ride-sharing in the city.
An Uber representative declined to comment for this story.
The city's efforts to create space for independent contractors to unionize may run up against federal law. The National Labor Relations Act of 1935 protects the right of employees to collectively bargain with their employers. It lays down specific definitions for employees and employers which could preempt local jurisdictions from taking action since independent contractors do not qualify under the law's criteria.
A class-action lawsuit brought by three drivers in California against Uber highlights this basic issue. The drivers are arguing for benefits as employees of the company while Uber maintains they are independent contractors who are not eligible for these benefits, and therefore should not have received class-action status.
"Seattle's leading the way," said Council Member Lander. The proposed legislation in Seattle would create a precedent and likely face numerous legal challenges. Lander recognizes this fact. Even though the NLRA preempts the City Council from legislating, he believes there is room for cities to take action for workers not covered under the federal legislation. Currently there is no draft legislation but Lander said any proposal would attempt to protect workers across the on-demand economy and not just specific companies.
(He also talked of changes to the city's human rights laws to clarify the workers covered. He said this could happen in the next few months after these initial bills.)
The Council recently took controversial action to help car wash workers unionize, but that is being challenged in court.
Council Member I. Daneek Miller is firmly in support of any proposal that would help on-demand drivers organize. As a former labor union leader, Miller's perspective on the issue is decidedly pro-labor, and his position as chair of the Council's civil service and labor committee puts him at the front lines in addressing it.
"The whole concept of the shared economy has to be put into perspective," Miller told Gotham Gazette. "I don't think it's a sustainable model."
He said the "irony" of the situation is that the shared, gig economy is contributing to its own demise and disempowerment -- a younger generation with few responsibilities finds flexibility and mobility attractive and then later on when people want security, they find themselves left out in the cold.
For the system to work, he said, there need to be checks and balances in the form of collective bargaining and the right to organize.
"I'm less inclined to create public policy legislation around this," he said about the issue of unionization, perhaps recognizing the challenges involved. "We'll let them do their job and give them the tools to support them. We've got our finger on the pulse of organized labor."
***
by Samark Khurshid
@GothamGazette