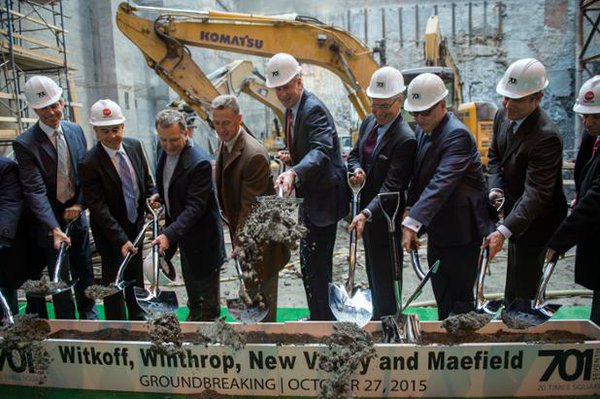 A ground-breaking (photo via the mayor's office)
---
With nearly 60,000 homeless people sleeping in New York City shelters each night, roughly 24,000 of them children, a City Council hearing Monday will examine one of the essential elements in reducing homelessness.
At Monday's oversight hearing, advocates and Council members intend to once again call on the mayor and the governor to come together to approve a fourth NY/NY agreement to create more permanent supportive housing for New York's most vulnerable.
Supportive housing, a combination of affordable housing and support services, such as case management and job training, is viewed by many to be both the most cost-effective and successful way to help the homeless, particularly those who are chronically homeless due to mental illness, substance abuse problems, or other health issues.
"There's a lot of good data to support that this stabilizes individuals," Nicole Bramstedt, policy analyst at Urban Pathways, a non-profit social service and supportive housing organization serving homeless adults, told Gotham Gazette. "Over 80 percent of individuals who have been in supportive housing for one year remain in supportive housing."
"This is the solution to chronic homelessness," Laura Mascuch, executive director of the Supportive Housing Network of New York, a nonprofit membership organization that represents over 220 nonprofits that develop and operate permanent supportive housing apartments across New York State, told Gotham Gazette. "It really is the answer for moving people out of this shelter system."
Each tenant in supportive housing saves taxpayers $10,100 annually by helping to stop chronically homeless individuals from cycling in and out of emergency rooms, jail cells, and shelters, thus reducing public spending on expensive emergency interventions, according to a 2013 report by the New York City Department of Health and Mental Hygiene.
At the hearing on Monday, held by the Committee on General Welfare and the Committee on Housing and Buildings, advocates and Council members will again call attention to the urgent need for the mayor and the governor to reach an agreement to create more permanent supportive housing. Currently, over 20,000 homeless individuals and families qualify for supportive housing each year, yet only one unit is available for every six qualified applicants.
The General Welfare committee is expected to pass a resolution Monday, "calling upon the Governor and Mayor to approve a fourth "New York/New York Agreement" to create permanent supportive housing."
Mayor de Blasio has agreed to support the creation of 12,000 units in New York City over the next ten years, while Governor Cuomo proposed a plan to create 5,000 units statewide over the next seven years. The latter would be 4,000 fewer units than created by the previous NY/NY agreement - which began in 2005 and is set to end next year - despite the fact that the number of homeless people in New York City shelters each night has nearly doubled since '05.
Additionally, in the three previous NY/NY agreements, the state agreed to pay for 80 percent of the new units. This time around, Governor Cuomo has proposed that the city and the state evenly split the cost of all supportive housing units built under a fourth NY/NY agreement.
Neither the mayor's nor the governor's proposal is anywhere close to the 32,000 supportive housing units that need to be created in order to meet the needs of New York's homeless adults and families, according to a recent report released by the Corporation for Supportive Housing. Advocates and state Assembly members alike are calling for a similar number of units to be built.
In July, 133 members of the New York State Assembly signed a letter sent to Governor Cuomo calling for the development of 35,000 new units of supportive housing by 2025 to address the state's growing homelessness crisis.
"Supportive housing is vital for combating chronic homelessness and the factors that keep thousands of New Yorkers without a home," wrote Assembly Member Andrew Hevesi, chair of the Social Services Committee. "It is the logical solution to homelessness. It will save taxpayer dollars as it is more cost-effective than relying on homeless shelters and, most importantly, it works."
At the hearing on Monday, Bramstedt told Gotham Gazette she will testify about "the need for these 35,000 units, our experiences providing supportive housing, and the barriers we encounter in terms of operating supportive housing - we still encounter resistance from communities."
"There is a lot of misinformation about supportive housing," Bramstedt continued, saying that advocates plan to "tell the Council about the need to have more education for members of the community about what supportive housing is - it is difficult to get the funding for these facilities, but once we get that funding, we encounter a lot of pushback from the community about where we will build the housing."
A 2008 study by the Furman Center for Real Estate and Urban Policy actually shows that supportive housing has helped increase property values and encourage growth in neighborhoods after opening.
With the third NY/NY housing agreement set to expire in 2016, it seems the mayor and the governor are content to wait till the eleventh hour before working together to approve a fourth NY/NY Agreement.
Last month, the Wall Street Journal reported Mayor de Blasio and Governor Cuomo were said to be negotiating a new program to provide more housing and support services for homeless individuals in the city, though such a deal has yet to be announced.
"We are not privy to where the negotiations are at," said Mascuch, who will also be testifying at Monday's hearing, "but we have not heard that [the city and state] are talking on a regular basis at this point. It is very concerning that we don't have an agreement - every day that goes by more and more individuals are staying in homeless shelters."
Whenever a deal is reached, and it is very likely it is a matter of when, not if, there will be a process before new supportive housing units are available to tenants. The sooner a deal is reached, logic says, the sooner those units will be available.
"We need the mayor and the governor to come together on this. It needs to be done now," Bramstedt said. "The third NY/NY agreement has basically expired, and these units take time to develop."
"The longer we delay reaching an agreement," Bramstedt continued, "the longer we are denying homeless individuals long term placement options that succeed, and the more money you and I are spending and the government is spending."
It is unclear who from the de Blasio administration may be testifying on Monday - inquiries to the Department of Homeless Services were not returned. Council Members Stephen Levin and Jumaane Williams, who chair the two committees holding the hearing, were not made available for interviews by their respective press people, despite numerous attempts by Gotham Gazette.
Monday's hearing may put pressure on Mayor de Blasio to commit to funding supportive housing units on his own, either forcing the governor's hand or truly moving forward without him. The city has unleashed a variety of homelessness fighting measures over the past year or so under de Blasio, and has moved over 50,000 individuals out of shelter, the administration says. But, many of those people cycle back into shelter, and just as fast as some move out, others move in, as the city's challenges with affordability, mental health, and substance abuse continue.
"We are confident Mayor de Blasio will soon come forward with the city's share," Assembly Member Hevesi and Shelly Nortz, deputy executive director for policy with the Coalition for the Homeless, wrote in a recent op-ed for the Daily News. "Now the burden is on Cuomo to do his part. Experienced organizations stand ready to build thousands more permanent homes for our homeless veterans and their families, women and children overcoming domestic violence and abuse, people recovering from addictions, and men and women struggling with debilitating mental illnesses."
If the governor really wants to "save New York City," as he reportedly said during a private event for his fund-raising committee several weeks ago while speaking about city issues, including the homelessness crisis, many say he should heed calls to finalize a new agreement to fund and develop the number of supportive housing units that New York actually needs.
That's one message very likely to be made clear yet again on Monday at the City Council.
***
by Meg O'Connor, Gotham Gazette
@MegOConnor13
@GothamGazette