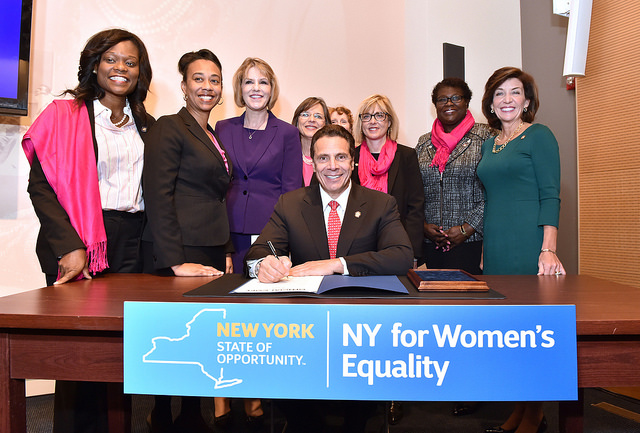 Gov. Cuomo at a bill-signing (photo: Kevin P. Coughlin/Office of the Governor)
---
Late last month Gov. Andrew Cuomo sat at a desk at Hunter College surrounded by applauding women, including advocates and elected officials led by Lt. Gov. Kathy Hochul. At that desk, Cuomo signed eight bills that were part of his Women's Equality Agenda. It was declared a historic occasion as new protections against discrimination versus women were made law. But, the bills the governor signed were an incomplete version of the ten-point WEA Cuomo had debuted with great fanfare during his 2012 State of the State address and insisted for quite some time must be passed as a package.
Recognizing that they could not get state Senate Republicans to concede on a bill to codify abortion protections into New York law, Democrats including Cuomo decided to pass the WEA bills for which they did have bicameral support (nine points became eight bills). Despite Cuomo's triumphant tone last month, many women's rights advocates and legislators feel the governor is declaring victory too early. They say that New York is not leading on women's issues nationally, notwithstanding the governor's claims, and that there must be a renewed push for further action - on the final pieces of the WEA and other measures, such as paid family leave.
In 2012, Cuomo announced the legislative agenda addressing pay equity, abortion, and human trafficking, among other key issues related to gender equity and women's rights, such as protecting domestic violence survivors.
"This State has a legacy of leading the way in advancing equal rights and today we are making New York a model of equality for women," Cuomo stated at the time of the October bill-signing. "This comprehensive set of laws will help to ensure that women are supported, protected, and given all of the opportunities they deserve in life. Today, New York stands once again as a monument for progress, and a sign of what can be achieved when we come together to do the right thing for women everywhere."
Many saw Cuomo's involvement in women's equality issues as a way to ensure greater equity and finally pass a controversial measure that supporters and detractors say encodes abortion protections into state law. "The belief was that if we packaged all these important bills together anti-choice Republicans would have to come to the table," said state Senator Liz Krueger, a Manhattan Democrat.
Asked if she expected movement on the abortion measure in the coming 2016 legislative session, Krueger responded: "I will never take reproductive rights off my priority list and despite what opponents say a bunch of states have better laws than New York and that is a shame."
The decision to pass the other measures of the WEA without the abortion bill was a difficult one for many who were pushing the entire package. A number of advocates and analysts see other moves by the Cuomo administration as designed to pander to women without actually achieving anything substantive. One major example is the Cuomo-created Women's Equality Party, which has been mismanaged and largely seen as an attack on the liberal Working Families Party, with which Cuomo has had a contentious relationship.
Prior to the WEA bill-signing, Cuomo spent significant time enacting and promoting his new campus sexual assault policies, which he described as essential to protecting women in New York and an example of the state as a national leader.
Some legislators and advocates say that while the governor likes to lead on progressive issues and point to partisan gridlock in Washington, the abortion plank of the WEA is one area where the governor was either unable, or unwilling, to deliver truly progressive leadership.
Sonia Ossorio, president of the National Organization of Women (NOW) NYC, said that she doesn't consider the fight for the abortion plank of the WEA over. "It is full-steam ahead as far as we are concerned," she told Gotham Gazette. "Everyone involved did not start with the WEA. The legislation has been around for some time. We will keep beating the drum."
Further, Ossorio said that a full press on the measure from Cuomo ending with passage of the abortion plank could serve as a message to the rest of the nation that New York rejects the recent onslaught against Planned Parenthood that was sparked by videos that have now been discredited.
"It would send a very positive message in a time when we are seeing so many states passing laws designed to restrict access to reproductive health and abortion," said Ossorio.
The Cuomo administration did not return requests for comment about whether the governor will pursue passage of the final plank of the WEA, or what other legislative priorities he might have that involve what might be called women's issues.
Karen Scharff of The Working Families Party and Citizen Action New York issued a statement following Cuomo's October bill-signing. The first half of the statement praised his action on the eight bills. The second half was less celebratory: "Glaringly absent from today's announcement were two pieces of legislation that should be priorities for the Governor and legislature in 2016: protecting a woman's reproductive rights, and guaranteeing paid family leave. Full equality for all women in New York requires both. Women need to be confident that we will be safe from national Republican attacks on reproductive rights and know that we will no longer be forced to choose between caring for our families and making ends meet. We urge the legislature and the Governor to make passing the 10th plank of the Women's Equality Act and paid family leave a priority next year."
State Senator Jeff Klein, the leader of the Independent Democratic Conference who has been supportive of paid family leave, said he simply doesn't see how the final WEA measure makes it through the Senate, despite his support.
"I support it, I don't believe it is a controversial measure. We need it it if the Supreme Court goes wrong way so that New York still has the protections but I don't believe we have 32 Senators who are pro choice," Klein said, referring to a majority in the Republican-controlled 63-seat Senate. Klein's IDC does have a ruling partnership with the Republicans that helps the latter keep hold of the chamber.
Now, many advocates and legislators appear to have their sights set on Cuomo's minimum wage campaign and a push for paid family leave as they say women are deeply impacted by both issues. While Cuomo is getting a lot of credit for his wage push, supporters of paid family leave want to see real action from the governor on that issue.
Ossorio said that both the campaign for a $15 minimum hourly wage for all New Yorkers and for paid family leave in New York would be overwhelmingly positive for women across the state. "Forty percent of single mothers in New York City live in poverty," said Ossorio. "So raising the minimum wage in New York is undoubtedly massively important to women as is the movement for paid family leave. These are issues that are really significant for working families and when we are talking working families we are often talking about mothers."
Krueger said 2016 could be a year to tackle a number of issues that help improve the lives of working women.
"It does seem this is a ripe year for having a discussion about the economic issues women face. When we talk about the minimum wage we are talking about a women's issue because it disproportionately impacts women," Krueger told Gotham Gazette.
Cuomo's push for a $15 minimum wage is already facing pushback from some Senate Republicans and a number of business groups that say that type of increase will force companies to downsize their workforce. Cuomo took another big step toward putting enough pressure on Republicans to back a $15 phase-in by announcing he was implementing a timeline for raising state workers to an eventual $15 per hour minimum.
The issue of paid family leave was a surprisingly live topic toward the end of this year's legislative session. Assembly Democrats and the Independent Senate Democrats each had their own proposals on paid family leave. Senate Republicans included a measure in their budget proposal, surprising many observers.
Debate over the bills did not end harmoniously, with each conference blaming the other for failed talks. Cuomo initially told reporters that the legislature had no "appetite" to negotiate paid family leave, but as it became clear both houses of the legislature supported some version of a program, a spokesperson clarified the governor's position. "This administration strongly supports the notion of providing paid family leave in New York State," Melissa DeRosa told Politico New York in March. "Unfortunately, the Senate and Assembly have advanced differing versions of this policy that do not see eye to eye and that fail to form the comprehensive solution that the issue requires."
Klein said he is optimistic there can be some kind of compromise on the issue this year and believes the governor was simply looking for both houses to reach an agreement at the end of last session. "That didn't happen," Klein told Gotham Gazette. "This an extremely important issue that resonates with residents across the state."
In the Cuomo administration press release celebrating the WEA bills being signed, a statement from Donna Lieberman, executive director of the New York Civil Liberties Union, captured the lens of many: "By closing loopholes in many existing protections for women and demonstrating a commitment to equality, the bills signed today set the stage for further, future reforms, such as protecting women's fundamental right to choose, ensuring access to reproductive health care and allowing new mothers paid family leave to care for their children without facing debt or bankruptcy."
Ossorio says there are a number of other issues that have mostly flown under the radar that she hopes the legislature will address. They include making childcare more affordable, funding sex education and "consent education" in schools, and making sure the state enforces an existing law that bans pregnant prisoners from being shackled during delivery, as well as expanding the law to banning shackling throughout a prisoner's pregnancy.
"This is a basic human rights issue that New York lags behind on," said Ossorio. "It's an issue that this state should lead on."
***
by David King, Albany editor, Gotham Gazette
@DavidHowardKing