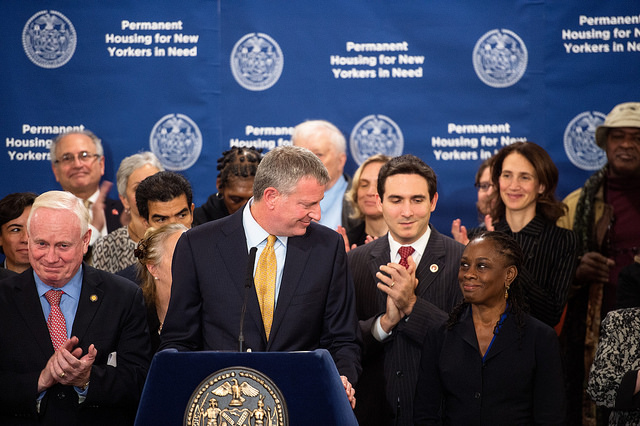 Sen. Golden, de Blasio, McCray on Wednesday (photo: Demetrius Freeman/Mayor's Office)
---
Gov. Andrew Cuomo is in an unusual position this week as Mayor Bill de Blasio and his allies, including large bipartisan groups from both the Senate and Assembly, attempt to pressure him into matching the city's investment in supportive housing for the homeless.
On Wednesday de Blasio was joined by advocates and legislators for a fairly raucous, celebratory announcement that his administration plans to create 15,000 supportive housing units over 15 years at a cost of $3 billion. Some of the units will become available as soon as next year, the mayor said, also noting that there are other units being created from a previous deal with the state, which has run its course.
De Blasio, service providers, those concerned with city expenditures, and many others say supportive housing is the best way to address rising homelessness in the city and want the state to devote significant resources to add to the number of units being created. Stakeholders have been awaiting word of a new "New York/New York" deal, as the previous three city-state supportive housing plans have been called, but with negotiations at an impasse, de Blasio said the city couldn't wait for Albany any longer.
"Let's be clear, the city of New York is acting, we're acting decisively, we are not waiting on Albany," de Blasio said. He quickly added that a number of state legislators were leading on the issue and standing on the stage with him.
De Blasio wouldn't call on the governor by name, but others did on Wednesday, saying that Cuomo must step up as de Blasio was doing.
Mary Brosnahan, the head of Coalition for the Homeless and "a voice of conscience," according to de Blasio, said, "It's really hard to overstate the significance of this tremendous announcement" and called it "a victory for all New Yorkers."
"Today's announcement needs to be part of a fourth New York/New York agreement," Brosnahan added. "We need Governor Cuomo to step up and match this tremendous, unprecedented commitment that Mayor de Blasio has made today."
Next, on Thursday, advocates plan to march in solidarity just before the City Council is to pass a resolution calling on the city and the state to commit to creating 35,000 supportive housing units statewide. Supportive housing is permanent residence and services offered to homeless individuals dealing with addiction, mental illness, domestic violence, and other acute challenges.
De Blasio's announcement came after insiders say the mayor walked away from the negotiating table with Cuomo after the governor made it clear he was only willing to commit a fraction of the funds the city thought necessary to provide 30,000 city-based units of supportive housing that advocates and some city officials say are necessary to truly impact the city's homelessness crisis - which stands at about 60,000 individuals, 57,000 of whom sleep in shelters.
Advocates and legislators hope to pressure Cuomo into a new and significant commitment before the start of the next legislative session when he returns to negotiate with the legislature over the budget.
A spokesperson for the governor said on Wednesday, "Everyone understands the City has had a very real homeless problem and we're glad the city is starting to act on it," according to the Wall Street Journal. "Given the severity of the situation the State will be providing management assistance to the City and additional resources."
Cuomo has repeatedly jabbed at de Blasio recently by commenting on the city's homelessness problem. "We have a major homeless problem all across the country," Cuomo said in September, "and I think the mayor is now acknowledging that we have a very serious homeless problem." Cuomo also indicated that he thought the homelessness issue in the city had been alleviated but had come back under de Blasio.
The city and advocates for the homeless say the state shoulders significant blame for rising homelessness because of 2011 cuts to the Advantage rent-subsidy program. Advocates and legislators favor supportive housing programs because they appear to save money and have a success rate of 85 percent in keeping formerly homeless housed.
De Blasio has battled the perception that quality of life has deteriorated under him as tabloids have focused on shootings and regularly printed pictures of homeless people.
What is unique about this policy battle in the ongoing Cuomo/de Blasio feud is that it appears the mayor has a great deal of the legislature on his side. A bipartisan group of 133 Assembly members signed a letter to Cuomo asking him to support the creation of 35,000 units of supportive housing over the next ten years. Assembly Member Andrew Hevesi, who chairs his house's social services committee and led the letter campaign, praised de Blasio's plan and said that Cuomo, "Now has a chance to rise to the occasion." He added that he hopes the governor, "Acts quickly."
A bipartisan group of 26 state senators sent a separate letter to Cuomo asking the same. It was sent on the letterhead of Republican Sen. Martin Golden and has the signatures of a number of upstate Republicans. Golden was front and center during de Blasio's announcement on Wednesday. "Supportive housing has bipartisan support because it has a proven track record," Golden said. He added that he looks forward to working with the mayor, the governor, and his colleagues on a larger city-state deal.
Cuomo now faces de Blasio, a surprisingly united legislature, and a swath of advocacy groups that want him to commit to funding more supportive housing before the end of the year.
"As the governor has said many times, the state stands ready to help the city address the homelessness crisis," a spokeswoman for Cuomo told the Wall Street Journal on Tuesday as the news of de Blasio's pending announcement broke.
"We applaud the mayor's extraordinary commitment to – and investment in – supportive housing, the solution to homelessness among our most vulnerable," said Laura Mascuch, Executive Director of the Supportive Housing Network of New York, in a statement. "In the past, Governors and Mayors have stood shoulder to shoulder in their commitment to supportive housing; now we look to Governor Cuomo to come to the table as well. Only in working together can we meet the true need for 30,000 homes in New York City for our neediest citizens."
Advocates and legislators want to force Cuomo's hand before legislative session starts in January because at that point budget negotiations start and Cuomo will have a plethora of issues to hold over the legislature's head. Cuomo is due to give his State of the State address on January 6 in Albany.
Doug Muzzio, professor of political science at Baruch, acknowledges that it is unique to see a New York City mayor, let alone de Blasio, with bipartisan support from the legislature on any issue. De Blasio rankled Senate Republicans by trying to unseat them in 2014.
Still, Muzzio wonders if the support will hold up if Cuomo digs in his heels - Cuomo has only publicly offered to fund 5,000 supportive housing units. "If in fact the commitments are real and the mayor's got majorities from both houses and then the governor ignores it, it could get messy," said Muzzio. "This does seem like a game of chicken and the legislature likes to avoid conflict. The governor has more carrots and sticks than the mayor. So maybe there is enough legitimate feeling on this issue to make it happen but if the governor holds out, I'm betting on the governor."
***
by David King, Albany editor, Gotham Gazette
@DavidHowardKing