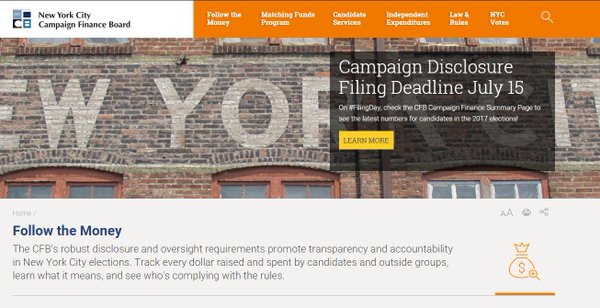 (photo via @NYCCFB)
---
On Friday morning representatives from both the New York State Board of Elections and the New York City Campaign Finance Board will come together to outline updates to their reporting systems and take questions from candidates, journalists, watchdogs, and others.
John Kaehny of Reinvent Albany, the good government group hosting the event along with Civic Hall, where it will take place, said he is most excited to have representatives of the State BOE in the New York City and ready to take questions and walk users through their new system that is expected to be ready sometime in 2017.
"They aren't known for doing this kind of thing--speaking directly to the public," said Kaehny of BOE reps. "This kind of dialogue with the public is really important for transparency." The event is free and open to the public, but RSVPs have been requested.
Technically, the "State Board of Elections" won't be at the event as Republican members of the Board decided not to take part. Instead, Democratic members will be representing themselves as employees of the agency (but not speaking for the BOE as a whole). Douglas Kellner, Democratic co-chair of the BOE, told Gotham Gazette that he hoped to have the full agency cosponsor the event but that idea was discarded by Republican chairs.
The absence of the full BOE is just another reminder of how differently the two agencies - the state BOE and the city CFB - are constituted and operate.
"The CFB are state of the art nationally; the two really come from completely different universes," said Kaehny, referring to the fact that the state BOE is not regarded as cutting edge or particularly effective. "The CFB have infinitely greater resources, they hold candidate forums, their compliance is higher - they are the model, people from across the country look to them. They aren't bipartisan, they are nonpartisan, and they get a lot done."
New York City's Campaign Finance Board is indeed seen as a national model for transparency, efficiency, and accountability. It is well funded, nonpartisan, focused, and maintains a fairly constant public relations effort. The same can't be said for the New York State Board of Elections, whose members have long complained of being underfunded. The BOE oversees data from state and local elections, as well as polling places and voting machines. It is a bipartisan organization and as such is hampered by political infighting and often deadlocks on major issues. The BOE is well known for a lack of enforcement, a lack of transparency, and using cantankerous campaign finance reporting software that is decades out of date.
Kellner, of the BOE, said he is excited to talk about the board's new software, which it is currently testing in working groups with journalists and other interested parties. Users of the BOE's current software are accustomed to botched searches, missing pages, and problems with data.
Kellner thinks that is going to change. "I am very hopeful for our new campaign finance system," he told Gotham Gazette. "Our current system was set up 20 years ago and was very much out of date. It was a credit to our staff that they've kept it functional." Kellner noted that California's system was neglected for years and finally went down, leaving the agency to record votes on paper for a year while a new system was developed.
"We had been sending out alarm signals that this could happen here. We had been asking the state for funding to update for years and thankfully Governor Cuomo agreed and we got the funding," said Kellner.
Kaehny said he is also hopeful for the new system but a bit disappointed it couldn't have been prepared in time to test during this year's relatively quiet election cycle and then given a full rollout during the 2016 cycle, when all of the state legislative seats are up for election.
Kellner said that the BOE gets a bad rap, that the agency has put a great deal of effort into reaching out to interested users for input on its new software ,and that the newly created enforcement arm of the BOE, through its compliance unit, has been auditing filings for data inconsistencies and filing errors and has either rejected filings or offered help to treasurers to ensure accuracy and consistency.
While the state BOE is set to show off some of its new tools, the CFB is also expected to outline coming changes at Friday's event, which is called "Following the Money: Opening NY Campaign Finance Data." The event listing says the two agencies will "preview new campaign finance reporting systems and discuss how to make state and city campaign finance data easier to use." The CFB is eyeing the next round of city elections in 2017, but its representatives are also aware that the board's data is always of interest to many.
Kaehny, despite his praise of the CFB, said he has a frustration with both agencies he hopes will be alleviated on Friday. He says that he and other campaign finance aficionados are in the dark about how to report data errors to the agencies and whether they actually get fixed once they are reported. "If we get anything out of it," Kaehny said of Friday's event, "it's to get both agencies to tell us how to report data problems and who is going to fix it."
***
by David King, Albany editor, Gotham Gazette
@DavidHowardKing