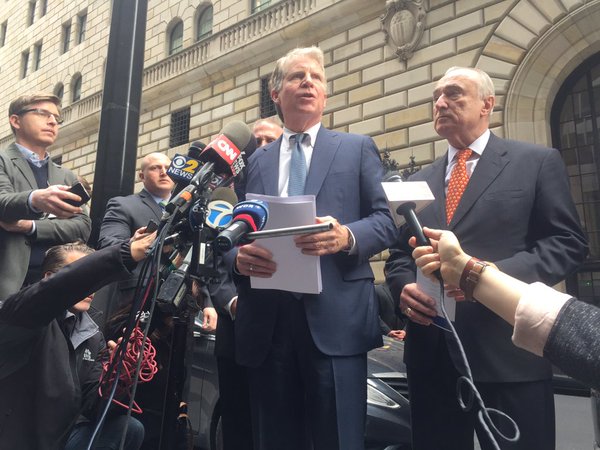 DA Vance with Commissioner Bratton, photo via @NYPDNews
---
In an effort to reduce the city's backlog of 1.3 million open arrest warrants for unanswered summonses for non-violent offenses such as being in a park after dark, having an open container of alcohol, and littering, city district attorneys are holding amnesty events, giving New Yorkers with warrants a chance to clear up the original summons without fear of arrest.
Manhattan District Attorney Cy Vance held such an event in Harlem on Saturday, offering anyone with an open warrant for failing to answer a summons a chance for a hearing before a judge - which often leads to a dismissal and a cleared record.
The event, dubbed "Clean Slate," is the first of it's kind in Manhattan, according to the district attorney's office, and comes fives months after Brooklyn District Attorney Ken Thompson held his first summons- and summons warrant-clearing event, "Begin Again." Thompson has since held a second Begin Again event and has a third scheduled for early December. Meanwhile, two new district attorneys - in the Bronx and Staten Island - were elected November 3, and both have told Gotham Gazette they plan to hold similar events once they take office.
While DA-elect Darcel Clark of the Bronx and DA-elect Michael McMahon of Staten Island both intend to offer something similar to Clean Slate and Begin Again, long-time Queens District Attorney Richard Brown does not. A spokesperson for Brown, who just won a seventh four-year term, told Gotham Gazette he has no such plans.
"It is a sad fact that for individuals who have open warrants for minor infractions called summonses, there is a fear that's constant that they will be arrested," Vance said at a November 17 press conference launching Clean Slate. "Emotionally and psychologically, those weigh down those who hold those outstanding warrants, and [those warrants] have real consequences - they can affect the warrant holder's immigration status; they can hurt an individual's chance of getting a job; or prevent him or her from enlisting in the armed services."
"If there is an arrest, that years-old case must still come through an already overburdened court system," Vance noted, saying that he was motivated to host Manhattan's first summons warrant amnesty event to give "individuals with minor offenses that are outstanding a fresh start, and for efficiency in our courts."
The success of Thompson's first Begin Again event, held in June, led him to put together another two summons warrant-clearing events this year, with the next one planned for December 5. On Saturday morning at the event, Vance told assembled members of the media that given the good turnout for his first Clean Slate event, he is optimistic about holding more in the future, and would like to host such events on a quarterly basis.
Hosting Clean Slate and Begin Again events has required the NYPD, judges, clerks, the Office of Court Administration, public defenders, volunteers from the Legal Aid Society, and the community to work together to set up an off-site courtroom for one day. They've involved significant awareness and outreach efforts by the DA offices and community partners to spread the word - often on flyers that attempt to make it clear that people with warrants for these "low-level" offenses should not fear arrest at the event.
With so many stakeholders willing to collaborate in order hold an event that "helps the person who has the warrant, helps protect our officers so they're not put in dangerous positions with people who have warrants, who may try to flee or resist arrest, helps our overburdened court system, and helps to strengthen the relationship between law enforcement and the community," as Brooklyn DA Thompson told Gotham Gazette, the question remains: will the city's three other district attorneys follow suit?
Spokespeople for Clark, of the Bronx, and McMahon, of Staten Island, told Gotham Gazette that each of the newly elected DAs, both Democrats, do indeed plan to hold such events. (All five DAs will be Democrats after Clark and McMahon are sworn in.)
"District Attorney-Elect Michael McMahon has said that he believes programs like Begin Again and Clean Slate have merit and value, particularly in giving individuals and veterans an opportunity to start fresh and clear their names from summons violations for low-level offenses, such as walking a dog without a leash or being in a park after closing, that may impact their ability to get a job or access needed services," Ashleigh Owens, spokesperson for McMahon, said in a statement emailed to Gotham Gazette.
"As District Attorney, he'll look to evaluate options and secure resources for bringing a similar program to Staten Island," Owens added.
"Once in office, Bronx District Attorney-elect Clark is committed to working to find solutions that will clear backlogged arrest warrants for summonses, which includes potentially holding amnesty events," Ryan Monell, a spokesperson for Clark told Gotham Gazette.
Queens DA Brown currently has no intention of offering any sort of amnesty program in Queens. Kevin Ryan, a spokesperson for Brown, told Gotham Gazette, "We have no plans to offer an amnesty program at this time, as Queens maintains the lowest failure to appear in court rate in the City."
"Additionally," Ryan continued, "any blanket amnesty program would be unfair to those individuals who assume full responsibility for their actions by appearing in court when their cases are scheduled and paying their summonses. Beyond that, individuals can avail themselves of such amnesty programs whenever they become available in other boroughs."
Indeed, the events being held by other DAs are open to anyone with a summons warrant, regardless of where an individual lives or was cited for a violation.
Yet even if four of the city's district attorneys were to hold amnesty events for summons warrants on a regular basis, it would take decades to significantly reduce the city's 1.3 million outstanding arrest warrants for summonses. According to the Brooklyn District Attorney's office, Thompson's Begin Again initiative has "helped nearly 2,000 New Yorkers and has cleared more than 1,300 outstanding summons warrants," while hundreds of New Yorkers lined up to clear their records at Vance's Clean Slate event this Saturday.
Hypothetically, if four DAs each held four amnesty events per year and cleared an average of 650 warrants at each event, a total of 10,400 summons warrants could be cleared each year - not even one percent of 1.3 million.
It's also important to take into account the fact that in 2014, an average of 985 summons were issued each day in New York City. According to the Mayor's Office, in 2014, a total of 359,432 summonses were issued citywide - 38 percent of which resulted in an arrest warrant for failure to appear in court.
If roughly 136,584 summons warrants are being added to the million-plus backlog each year, amnesty events alone will never be able to eliminate the tally of summons warrants.
That is not to say that such events aren't worthwhile, as the participating DAs, public defenders, and others would argue. Many New Yorkers clapped, cheered, and profusely thanked nearby volunteers upon exiting the Soul Saving Station Church on Saturday at Vance's Clean Slate event. Some walked away with the white slip of paper informing them of their Adjournment in Contemplation of Dismissal clutched between their hands, staring at it and smiling, while others threw their hands up into the air and shouted "I'm free!" and "Clean Slate, baby!"

What's more, clearing the backlog of arrest warrants for such minor offenses frees up the NYPD and the courts to devote resources to areas with greater need. "We should free our officers to deal with gun violence, domestic violence, and sexual assault - serious crimes," Thompson said. "Everyone benefits with a Begin Again program. This is being smart on crime, helping reform the criminal justice system, and working together with the community to show that law enforcement and the community can stand as one."
Yet it is clear to many that a more comprehensive approach must be taken to deal with the city's staggering backlog of summons warrants - one which grows daily.
"The root of the problem is overcriminalization for low-level, quality of life offenses," Council Member Rory Lancman, Chair of the Courts and Legal Services Committee, told Gotham Gazette. Lancman wants to see some violations made civil, as opposed to criminal. "If I get a ticket for putting my trash out too early, and I forgot to pay it on time, I don't get arrested. I get a penalty, and I'll pay my fine," he said.
When asked whether any reforms to tackle "the root of the problem" were currently underway, Lancman replied, "Not directly. We are pushing to have some of the low-level quality of life offenses processed through the civil justice system, though that would be prospective, not retroactive."
About 40 percent of New Yorkers who receive a summons fail to appear in court for the date specified on their summons, automatically triggering a warrant for their arrest. There are a number of reasons people may miss their court appearance: immigrants may fear deportation, some may not be able to pay the fines issued to them, some aren't able to miss work - but more simply than that, many do not understand what is required of them, and don't know that a warrant will be issued for their arrest if they fail to appear.
A number of reforms have been put in place this year to address this issue. In April, Mayor Bill de Blasio and the Chief Judge of the State of New York, Jonathan Lippman, announced a new initiative, called "Justice Reboot," to modernize the criminal justice system. Part of the pilot program aims to make the summons process easier to understand and navigate by simplifying the design of the summons form and providing a wider window of time for individuals who have received a summons to appear in court.
"We have taken steps to make summons court more user friendly," Lancman explained. "Hopefully, by instituting night hours, by allowing people to pay their fines online once they have pled guilty, and by providing people with electronic alerts to let them know about an upcoming court appearance, we will reduce the number of bench warrants issued in the future."
Even NYPD Commissioner Bill Bratton has expressed support of amnesty as a means to clear the case backlog. "Warrants never go away. There's no expiration date," Bratton said in an interview with the Associated Press. "It would be great to get rid of a lot of that backlog. It's not to our benefit from a policing standpoint to have all those warrants floating around out there."
Bratton, however, has not looked kindly upon the City Council's attempts to address the "root of the problem" by decriminalizing quality-of-life offenses. Yet, Bratton has expressed commitment to what he has called "the peace dividend" approach he is taking, whereby because the city is much safer than it once was, the NYPD can use more discretion. Still, this may mean more summonses rather than arrests, which does not help the summons-warrant problem.
"I think these individual programs that DAs are running are good progress and I'm very supportive of them," Council Member Lancman said, "but we really need a larger, more macro strategy for dealing with this extraordinary number of arrest warrants."
***
by Meg O'Connor, Gotham Gazette
@GothamGazette