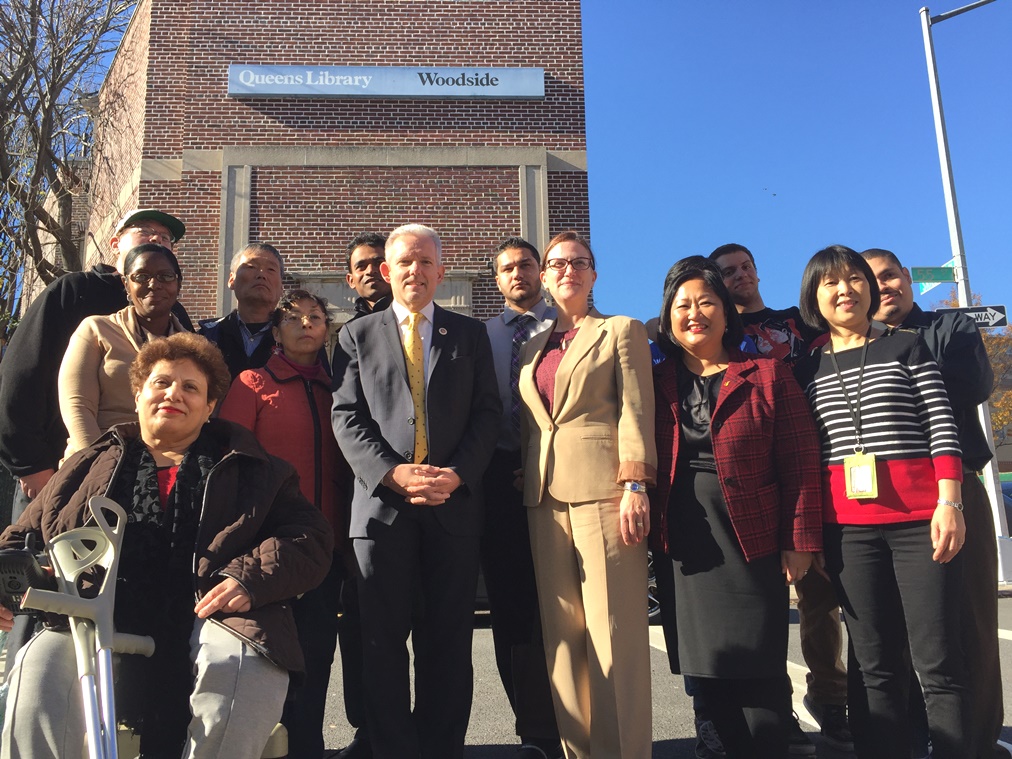 CM Van Bramer celebrates expanded library service (photo via @JimmyVanBramer)
---
This June, officials added $43 million in funding for New York City's three public library systems to the fiscal year 2016 budget, allowing for expansion of branch operating hours and a return to six-day service for the first time in nearly a decade.
At an oversight hearing on Monday, November 30, City Council members will seek an update on the libraries' progress implementing six-day service, with particular focus on staffing and how the added funds are being allocated, as well as outreach efforts to inform the public of the newly expanded hours.
Just as the added budget funding was much-applauded when it was announced, the hearing will likely be a celebratory affair - according to interviews and information obtained by Gotham Gazette, expansion is moving quickly across the systems. This includes more six-day service, hiring of new staff, and more.
The historic funding increase comes after a push by advocates, City Council members, Public Advocate Letitia James, and others. The city's three public library systems, the Brooklyn Public Library, the Queens Public Library, and the New York Public Library (which has branches in Manhattan, Staten Island, and the Bronx), operate 217 local library branches and served 37 million visitors in fiscal year 2014 - more than all of the city's professional sports teams and other major cultural institutions combined.
Today, New York's public libraries are far more than a place to take out a book - they play a critical role in the lives of New Yorkers who are most in need of the services that libraries offer, like early childhood education, job training, technology classes, free tax assistance, and English classes.
As Council Member Jimmy Van Bramer told Gotham Gazette, "Libraries are really the first line of defense when it comes to bridging the information gap and technology gap. Folks who are working class, working poor, they're working during the week, and so many of them can't get to libraries during the week. Saturdays and Sundays are the only times they can get to the library."
Which is why, Van Bramer says, it is "really imperative to have libraries open on Saturdays. It's absolutely essentially to reach every New Yorker and it is essential for every New Yorker to have access to library services, programs, and materials."
At the upcoming hearing, Van Bramer, Chair of the Committee on Cultural Affairs, Libraries, and International Intergroup Relations, said he "will ask how the three library systems have ramped up, whether every library is at expanded hours at this point, and if not, when will they be expanded?"
Making a few calls ahead of the hearing, which was postponed from an earlier date, Gotham Gazette was able to pull together some of that information.
Since October 19, all of the Brooklyn Public Library's local branches are now open at least six days a week, while the Queens Public Library's branches began six-day service November 15. The New York Public Library's branches already had six-day service, so the added funding is being used to extend hours, bringing the total number of NYPL branches open on Sundays from three to seven.
Van Bramer said he also intends to ask "how their hiring is going - obviously a large part of the funding we allocated to expand days of service goes toward staffing - so how many new librarians and new library workers have been hired? Have they hired everyone they need to hire, or are they still in the process of hiring to get to that staffing level they need for full six-day service? I want to know how much more do they have to do."
The added funding has "meant a big uptick in hiring," Queens Public Library Interim President and CEO Bridget Quinn-Carey told Gotham Gazette. "We've hired over 100 positions."
The New York Public Library, meanwhile, has "hired 60 new librarians," George Mihaltses, head of government affairs at NYPL, told Gotham Gazette. "And we're planning to hire 36 more."
Even one new librarian can make a significant impact. According to the NYPL, in fiscal year 2015, the library used added funds to hire a children's specialist for a branch in the Bronx. As a direct result of the librarian's arrival, NYPL says, children's programming attendance at that branch increased by about 60 percent.
Council Member Andy King, Chair of the Subcommittee on Libraries, co-hosting Monday's hearing with Van Bramer's committtee, told Gotham Gazette that the committees want to find out specifics about "how the libraries plan on rolling out six-day service. How are they going to be doing programs in the libraries, what services will be provided on that sixth day? What kind of outreach is being made to ensure people know about six-day service? Will we be having events to promote the rollout together? With the...millions that have been allocated to the library system, how will this money be spent?"
In addition to increasing libraries' hours of operation and hiring more librarians, those added millions will be used to bring more programs, books, and materials, to the NYPL's branches, Mihaltses said. For the Queens library system, the added funds will be used enhance early literacy and afterschool programs, and to increase the library's budget to purchase books, videos, e-books, and other materials by 30 percent, a library official told DNAinfo.
Council Member King told Gotham Gazette "making sure the libraries' outreach is successful" is what he believed is the most important factor to consider when allocating resources to the many branches of New York City's library systems. "We need to let people know that our libraries are open," King said, "and we need to be prepared to receive them as they come into the doors."
As far as outreach goes, David Woloch, executive vice president of external affairs at the Brooklyn Public Library, told Gotham Gazette that much of their outreach would occur "over the next few weeks. We're going to be communicating to our patrons at all of our branches, we have a very big email list and we'll be communicating the new hours to our entire email list, and using social media. There's a lot of pieces to it - basically on every front we want to be getting the word out there."
The Queens Public Library system took a more festive route to let the community know about the expanded hours, holding celebrations at about two dozen of its branches on Saturday, Nov. 21. "It's all about making a big splash," Quinn-Carey said. Scheduled events included meet-and-greets by eleven City Council members, as well as programs like face-painting, arts and crafts, storytelling, science labs, documentary screenings, and live music and dance performances.
"There will be a lot of promotion," Quinn-Carey added, "not just this Saturday, but ongoing. We're encouraging our branches to do a lot of local outreach."
Overall, Monday's hearing is a chance for city officials to "get some sense of accountability," King said, adding he would like to know "what the plans are for the upcoming year, and how we all will profit from libraries being open six days a week."
For many, the expanded hours of service comes as a much-needed relief, giving struggling New Yorkers with hectic work schedules a chance to utilize helpful programs offered by libraries that they simply couldn't make it to before.
"Whenever we would go out into the communities to see people," Quinn-Carey said, "they would always say, 'We really want Saturday service or Sunday service - we need another day.' Especially for two-parent working families or single-parent families, there really weren't many opportunities to get to the libraries. it just wasn't convenient for them."
"More and more people are relying on the library to be the sole source of their internet connection, they rely on us for basic education classes, or preschool classes, or ESL classes. They have a fundamental need to get into the library and it needs to be convenient for them," Quinn-Carey continued.
"They want to get help for their children's homework. I think that's what so important - that, thanks to support from the city, we are now able...to open doors for the community. This is one of those things where you think to yourself, 'the government is working for me,' because it's a service they can see is being provided by public money."
Although the $43 million in funding added to this year's budget has rightfully been lauded by library advocates, Council Members, and others, as Van Bramer points out, "six-day service should be the bare minimum. This should be baselined [in the budget] right away and not subject to any further cuts."
Large funding deficits to the three library systems beginning in fiscal year 2011 required the City Council and the administration to restore funding, which the city began to do in fiscal year 2014. Van Bramer himself played a key role in securing the increased funds for this fiscal year.
"We need the administration and Mayor de Blasio to baseline this funding," Van Bramer said. "I do think libraries would love to see some additional funding, but I think, at a bare minimum, we need to baseline this funding and then we can talk about potential increases."
Even with the newly expanded hours, New York City still lags behind other major cities and even other New York counties in terms of how many hours per week public libraries are open, according to a report by the Center for an Urban Future. In Suffolk and Nassau counties, libraries are open 64 hours per week. In Rockland County, 60 hours per week; in Westchester, 54 hours per week; and in Onondaga County, 53 hours per week. Public libraries in San Antonio are open 57 hours per week, while those in Los Angeles are open 53 hours.
Woloch said that by adding hours throughout the system, most Brooklyn Public Library branches are now open at least 48 hours a week. Mihaltses said the New York Public Library's branches "will be open, on average, 50 hours a week per branch, up from 45 hours."
The eventual goal, City Council sources say, is to expand to seven-day service.
To Jeanette Estima, a researcher from the Center for an Urban Future who helped put together the report on library hours, this much is clear: "Libraries are used more than ever today. They're used by people who are learning how to do computer programming, people who want to brush up on skills to make themselves more marketable, and when libraries are open for more hours, they are able to reach more people."
"Libraries are tied to the development of human capital in New York City," Estima continued. "Today's market is a knowledge-based economy, and this is the only free resource to build these skills for New Yorkers."
***
by Meg O'Connor, Gotham Gazette
@GothamGazette
@MegOConnor13