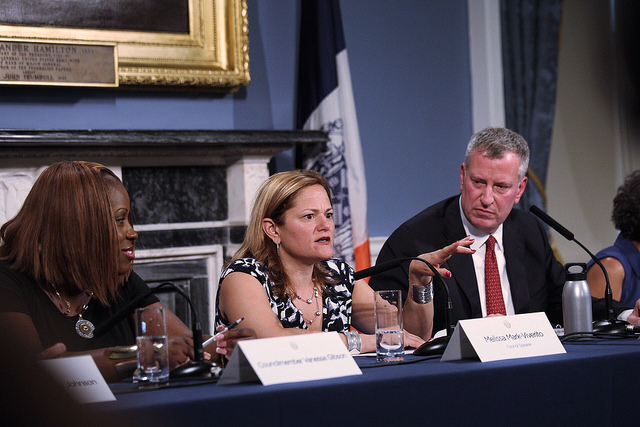 Council Speaker Mark-Viverito (photo: William Alatriste)
---
As a committee called by Mayor de Blasio, as required by law, considers recommendations for raising the pay of New York City elected officials, the City Council has made its public testimony. A document was submitted by City Council Speaker Melissa Mark-Viverito to the Quadrennial Advisory Commission for the Review of Compensation Levels of Elected Officials, which is chaired by Frederick Schwarz, and posted online at the commission's website earlier this evening.
In it, Mark-Viverito writes "on behalf of the Council," and does not suggest a specific salary for City Council members - they currently make $112,500 each per year, plus bonuses for filling leadership positions and chairing committees - but does include a more general pitch for a raise. "As you are aware, the compensation level for Council Members has not changed in close to a decade," Mark-Viverito writes, "[D]uring the past ten years the Council has become more productive and its work and processes far more complex. At the same time the cost of living in the City has risen significantly and Member salaries are not on par with other private and public sector jobs with comparable duties and obligations."
Mark-Viverito goes on to say that compensation for Council members must take into account "the nature of their service" and "the economic realities" of living in New York, in part so that the Council can attract top-level individuals. "I therefore believe it is clear that Council Member salaries should be increased," she writes, referring the commission to further information enclosed detailing the Council's efforts in drafting legislation, holding oversight hearings, crafting the city budget, working in their individual districts, and more. At one point, Mark-Viverito writes that "The time commitment for Council Members is considerable and most describe their jobs as '24/7.'"
Mark-Viverito also provides data showing that the Council has been especially productive under her leadership, writing that "the current Council has been even more active than in prior sessions. Council Members have already made 105% more bill and resolution drafting requests, introduced 41% more bills and enacted 32% more Local Laws than through the same time period in the immediately preceding session." This Council is indeed a far different one than its immediate predecessor, with more than 20 new members (of 51 seats) through the 2013 election cycle, and a new speaker. It has also had an often like-minded mayor to work with in de Blasio.
In her letter to the commission, Mark-Viverito also highlights Council rules reform of the past decades, including those made under her leadership in 2014, which have made the Council more transparent and democratic - "more vibrant, effective, efficient and ethically sound," she writes. There is no mention of reforming committee chair compensation, known as "lulus," which often net Council members $10-15,000 in addition to their salaries and have been the source of scorn from good government watchdogs. Citizens Union, for example, told the commission that it should recommend doing away with lulus while raising base salaries to account for cost-of-living increases and to attract strong candidates for office.
Mark-Viverito concludes her letter saying that the Council's role in city governance "is a vital one and if it is to live up to the promise of the 1989 Charter, its Members must be compensated fairly and for the responsibilities they bear and the sevice they perform." Along with not specifying a new salary, the speaker also did not write whether the Council believes that the desired pay increase should be made immediate or for the next class of elected officials - the latter would mean raises would go into effect in January of 2018. Mayor de Blasio has already said that he will not accept a pay increase during this term, meaning that if the commission were to recommend immediate increases, de Blasio would likely alter that provision before sending the recommendations to the Council.
Public comment - from elected officials, good government advocates, and others - is open until 5 p.m. Friday. The commission also held two sparsely-attended public hearings. Along with Schwarz, the other two commissioners named to the panel by de Blasio are Jill Bright and Paul Quintero. The commission is considering the compensation of the mayor, public advocate, comptroller, 51 City Council members, five borough presidents, and five district attorneys. Manhattan Borough President Gale Brewer has submitted testimony, as have a group of district attorneys.
The commission is due to submit its recommendations to the mayor, who will then submit the report with his changes to the City Council for "approval, disapproval, or modifications," according to the commission website.
***
by Ben Max, Gotham Gazette
@TweetBenMax
Note: this article has been updated