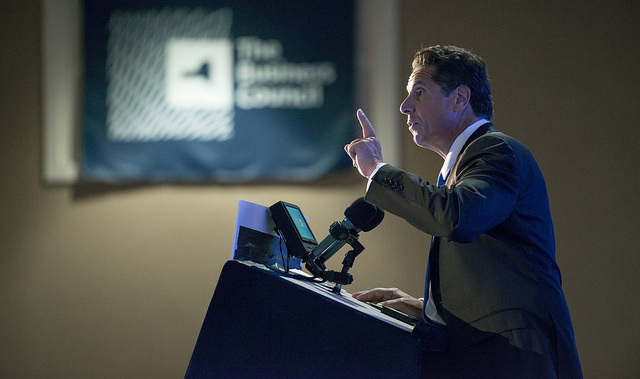 Gov. Cuomo (photo via The Governor's Office on flickr)
---
Gov. Andrew Cuomo has until midnight Friday to sign or veto two bills that would strengthen the state's Freedom of Information Act, often known as FOIL. "In a nutshell, these two bills are the difference between FOIL working and not working," said John Kaehny of Reinvent Albany, a good government group that has been instrumental on the issue and is urging the governor to sign the bills.
Cuomo's decision comes with the backdrop of the conviction of former Assembly Speaker Sheldon Silver on corruption charges and the ongoing trial of former Senate Majority Leader Dean Skelos--both cases have focused on what happens behind the scenes in Albany, far from public view. Calls for drastic measures around ethics and transparency reform have heightened, with many looking to the governor for leadership.
The two bills are designed to make state government respond faster to FOIL requests and to reduce the prohibitive impact of legal costs on pursuing FOIL requests. Cuomo spokesperson Dani Lever told Gotham Gazette both bills are still "under review."
Assembly bill 114 would reduce the time a government agency has to appeal a judge's decision to grant a FOIL request from nine months to two. The other, Assembly bill 1438B would amend a single word in state FOIL law: instead of saying a judge "may" award legal fees if an agency is found to have inappropriately denied a FOIL request, the new law would say a judge "shall" award legal fees. Both bills passed the Legislature unanimously and The State Committee on Open Government recommended their passage.
Assembly Member Amy Paulin, sponsor of the latter bill, A.1438B, told Gotham Gazette that she spoke to the governor's counsel this week and explained the motives for the bill. "We're hoping for the best," she said.
States including California, Colorado, Florida, Illinois and New Jersey have FOIL laws that require the courts reimburse those who file FOIL requests and are wrongly denied by the state.
On Dec. 4 a host of groups that regularly utilize FOIL, including the New York Civil Liberties Union, The Brennan Center, Consumer Union, Sunlight Foundation, Citizens Union, and Common Cause, wrote Cuomo asking him to sign the bills.
"The Freedom of Information Law is the single most important tool for open and transparent government in New York State. Journalists and government watchdog groups depend on FOIL to help hold government accountable," reads the letter. "Businesses rely on FOIL to ensure the government procurement process is fair. Unfortunately, state agencies often deliberately delay the FOIL process, or simply do not provide the requested records. Agencies know that it is very expensive for the public to appeal a FOIL request to the courts. Because of this, agencies are often able to effectively ignore FOIL without being challenged."
While there is unified support from legislators and good government groups for the legislation, there is still concern among advocates that Cuomo will decide to veto the bills.
Despite having run on the promise of "the most transparent administration in history," Cuomo's government is known for withholding information, moving at a snail's pace on FOIL requests, using Blackberry messaging to avoid leaving records of communications, and even implementing a policy where state agency employees were directed to purge their emails. That email policy was rescinded only after major outcry from good government groups, legislators, and journalists, and only after an initial email purge was complete.
"The criticisms of Albany we've heard from both the Silver and Skelos trials are that Albany is too opaque, so signing these bills could go a long way to sending a message that things are changing," said Blair Horner of the New York Public Interest Research Group. However, Horner noted that both Silver and Skelos have been members of the legislature and the legislature is basically exempt from FOIL - something advocates have been looking to change.
Kaheny told Gotham Gazette that he expects the bills could be "challenging" for the Cuomo administration because they would "immediately produce transparency demands on the administration."
At least six newspapers have editorialized in favor of the legislation this month. FOIL is a particularly significant issue for journalists who find that pursuing information requests regularly fall to costly legal battles due to government resistance. The costs are so prohibitive for many outlets that any government resistance effectively defeats the quest for transparency. Groups like the NYCLU and the Empire Center, which routinely use FOIL, are used to absorbing those costs that can reach tens of thousands of dollars because judges have the tendency not to force agencies to reimburse FOILers' legal fees.
Kaehny, of Reinvent Albany, said he finds it unlikely that any state agency would encourage the governor to sign the legislation as they are the ones who would end up paying for fighting FOIL requests and on top of what, Kaehny asks, "Who wants to be more transparent? No one."
***
by David King, Albany editor, Gotham Gazette
@DavidHowardKing
Note: this article has been updated to reflect that a "pocket veto" is not applicable in this instance.