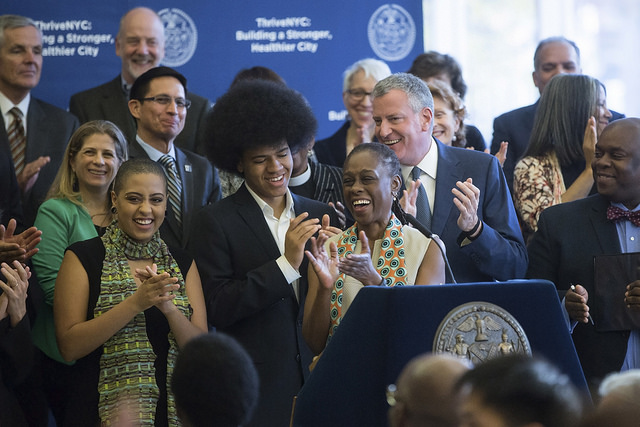 De Blasio and his family at a recent event (photo: Mike Appleton/Mayoral Photography Office)
---
In a somewhat surprising Christmas-week move, Mayor Bill de Blasio announced Tuesday that he will soon issue an executive order mandating paid parental leave for non-union city employees, while opening the door for municipal unions to return to the bargaining table to add the benefit to their contracts.
As Democratic presidential candidates have been blazing the trail decrying that the United States is woefully behind other developed nations on paid family leave and a major push has been underway for a statewide policy in New York, de Blasio is taking action and setting the city as a model. It is a development quickly garnering national attention, and it puts pressure on Albany lawmakers ahead of their January return to legislative session and budget negotiations.
"New York City is leading by example," de Blasio said in a news release, "putting us at the forefront of paid parental leave policies around the country. This is a common sense policy that will make for healthier and more financially stable working families – making it good for employees and employers."
In framing the need for such a policy, de Blasio invoked his own family experience and the choice faced by his wife, Chirlane McCray, when they were new parents. In his statement, the mayor said, "Too many new parents face an impossible choice: taking care of their child or getting their paycheck."
In the news release, the administration says that the new policy will provide a "national benchmark of six weeks at 100 percent salary for maternity, paternity, adoption, or foster care leave" and that it "puts the City at the forefront of city and state policies around the country."
De Blasio and his team have often worked to establish the mayor and the city as a progressive leader nationally, including around policies such as universal pre-kindergarten, affordable housing, and protections for immigrants.
About 20,000 city employees will be covered by the initial parental leave policy starting in 2016, once de Blasio signs the order. In combination with other vacation and personal time accrued it could mean up to twelve weeks for some new parents, the administration said. Significantly, the administration also explained Tuesday that "the new benefit will come at no new cost to New York City taxpayers, as the City will be repurposing the existing managerial raise of 0.47 percent scheduled for July 2017 and two days of existing vacation leave policy" of some long-term employees.
Providing this coverage to 20,000 city employees is a significant first step that could lead to hundreds of thousands of city workers having the option of paid parental leave.
The administration has publicly said it is ready to reopen collective bargaining with unionized workers to include the benefit in their contracts. Several unions have quickly indicated that they plan to sit down with the administration to alter their recently-bargained deals (de Blasio entered office with all municipal union contracts expired and has brought 92 percent of city workers under contract since).
In an interview with WNYC to first announce the policy, de Blasio said that his administration wants to give parents the choice to spend more time with a new child. "We want to give them that opportunity at that precious moment to spend time with their child in the way that makes sense for them," de Blasio said.
The administration opted not to hold a public event on the announcement, though when questions arose on social media about that decision, mayoral aides noting that there will soon be a signing ceremony for the executive order. Still, de Blasio certainly turned down even more attention for the announcement that could have come with a press conference, especially in terms of TV coverage.
Nevertheless, de Blasio is clearly fortifying what has already been two years of policies aimed at reducing inequality and creating new opportunities for workers and families, especially those at the margins.
On Monday, de Blasio spoke at length with reporters about the first half of his four-year term, reviewing top accomplishments and taking questions about missteps and the path ahead. Unsurprisingly, de Blasio cited the rollout of universal pre-kindergarten, the initial phase of his affordable housing plan, the city's new municipal identification program, among other achievements.
The paid parental leave policy - and its potential expansion to union workers - gives de Blasio more to claim in what he calls his ongoing pursuit of a more fair city.
The move was quickly met with praise from a wide variety of elected officials and advocates, some of whom noted that the New York state and federal governments can and should act on paid family leave. The United States is reported to be one of only two developed nations without a mandatory paid family leave policy - through the Family and Medical Leave Act, the U.S. currently mandates unpaid leave so that workers can care for a new child or sick family member, an option that many cannot afford.
Representatives of some businesses and governments argue that paid family leave can be disruptive to organizations and, depending on funding mechanisms, a potentially untenable mandate.
Manhattan Borough President Gale Brewer said that de Blasio's policy is "an important step forward and starts to bring city policies into line with those of the Fortune 500 and governments around the world."
In praising de Blasio's move, New York Senator Kirsten Gillibrand said that the push for a national policy must continue: "We need a national paid-leave program that covers all working Americans," she said in a statement.
Gov. Andrew Cuomo has indicated he supports paid family leave, but wants the two chambers of the state legislature to help figure out how a statewide policy will be crafted, and how the new benefit would be paid for. Cuomo's office did not immediately return a request for comment on de Blasio's announcement. The governor is set to give his combination State of the State and budget address January 13 in Albany.
The New York Paid Family Leave Insurance Campaign, which includes advocacy, labor, and community organizations, has been advocating for a paid leave policy in New York, and issued a statement in response to de Blasio's announcement calling on state lawmakers to enact "The Paid Family Leave Insurance Act," which passed the Assembly in March.
The release says that "the legislation would create a paid family leave insurance benefit that is employee-paid, through small payroll deductions that start at just 45 cents and rise to roughly 88 cents a week over four years" and "modernize New York's Temporary Disability Insurance (TDI) program, the critical support system for new mothers physically recovering from childbirth, which is currently frozen at the 1989 rate of $170 per week."
In a nod toward debate to come in the state capital next year, Assembly Speaker Carl Heastie offered comment in de Blasio's announcement, saying, "New Yorkers should not have to choose between keeping their jobs and spending time with a new family member. As longstanding supporters of paid family leave, the Assembly Majority applauds New York City for taking this critical step to strengthen family leave benefits for city employees."
***
by Ben Max, Gotham Gazette
@tweetBenMax