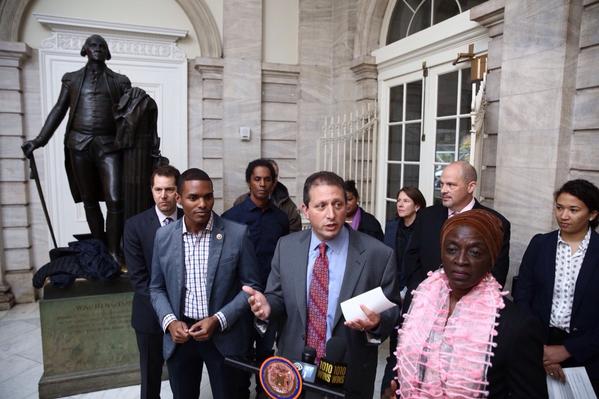 Council Members Lander, center, and Torres, left (photo: William Alatriste)
---
Public policy has helped create racially segregated New York City schools, and public policy must be used to aggressively address the problem. So say the sponsors of the School Diversity Accountability Act, City Council Members Brad Lander and Ritchie Torres, and others who have been pushing the de Blasio administration to move more quickly to diversify city schools.
Those who want to see integrated schools are eagerly awaiting the first report mandated by that legislation, due from the Department of Education by the end of the year. The law requires an annual DOE report detailing student demographic data by school and program; school admissions policies; and efforts underway by the DOE to diversify schools, which many say have been lacking.
"What could be more progressive than racial integration?" Torres asked, rhetorically, in a recent interview with Gotham Gazette, referring to Mayor Bill de Blasio and other self-branded progressives in city government.
"The school system will only become diverse on purpose," Torres said, "we have to make it a purpose of education policy."
Torres, Lander, and others want to see the DOE change its admissions and zoning policies to foster more diverse schools - New York's are the most racially segregated in the country.
Thanks, in part, to pressure from City Council members, parents, and advocates, the DOE recently struck a footnote from its regulations that some say prevented it from adjusting school admissions policies to foster greater diversity. Soon after, the DOE announced it was allowing seven schools to initiate efforts to diversify by dedicating seats for students from disadvantaged backgrounds or facing acute challenges.
These moves may be included in the first report under School Diversity Accountability Act, but aren't required to be as it is mandated to detail information from the 2014-2015 school year. But, Council Members Torres and Lander each told Gotham Gazette they hope the DOE will go beyond simply what is required to show more recent progress and plans for the future.
"The report is going to tell us what we already know: how segregated our school system is, but in a lot of detail that sets us up to make it better," said Lander, who represents parts of Brooklyn including Park Slope and several schools that have been pushing to enact integration policies. "It is going to give us demographic data at a level of detail we haven't had before."
"This is a platform for setting us up to make change in future years," Lander continued. "We want to see what things are happening now in pilot schools, in individual schools, then we can look at whole districts and the whole system."
Indicating his disappointment with DOE efforts thus far, Torres said that the administration made its recent decisions "begrudgingly." He wants to see much greater urgency and focus from the DOE and City Hall on the subject of school desegregation, starting with a strong plan in the new report.
"I'm hopeful that DOE will follow the spirit rather than the letter of the law," Torres said. "What I'm hoping to see in the report is a comprehensive citywide plan for promoting diversity in public education in New York City."
Lander, too, said he wants to see an outline of a larger forward-looking plan, but also said that it shouldn't be too detailed because the DOE must account for engaging stakeholders at the local level. Those advocating for integrated schools point to data showing integrated schools improve student academic performance and the need for young people to learn to work and socialize in a multicultural world.
The issue of school segregation has come to the forefront over the past couple of years after eye-opening studies, damning media reports, and community calls for action. In neighborhoods, though, shifts in policy can be met with stiff resistance as parents who like their child's school, who moved for a specific school, or who are racist, are wary of change.
Mayor Bill de Blasio has referenced some of these factors in explaining why his administration has been slow to move on school desegregation. When Gotham Gazette asked de Blasio why his administration was not more quickly allowing schools to enact new diversity programs, de Blasio said in November, "You have to also respect families who have made a decision to live in a certain area oftentimes because of a specific school."
De Blasio has also pointed to his affordable housing and pre-kindergarten programs as efforts underway that will help foster more integrated schools. The arguments are that the housing program will help create more diverse neighborhoods through its mandatory affordable units in new development, and that pre-K is helping disadvantaged students close any early learning gaps with their more affluent peers.
While many say housing segregation is the cause of school segregation, the equation is not so simple. The city's schools are even more segregated than its neighborhoods, as detailed in a new report from the Center for New York City Affairs at the New School.
The report shows that "school segregation is not always the result of housing patterns. In fact...there are dozens of high-poverty elementary schools that serve mostly black and Latino children that are located in far more racially and economically mixed neighborhoods."
On the ground, these factors have been seen in school desegregation debates this year in two neighborhoods looking at rezonings that could integrate sets of nearby schools, one on the Upper West Side and one in Downtown Brooklyn. In these neighborhoods, which are relatively diverse by population, nearby schools are zoned in ways that helped create deeply segregated student bodies. Attempts to move on rezoning school lines were met with resistance - and the Upper West Side plan was scrapped indefinitely, while the Brooklyn Heights plan moves toward a vote in the new year.
To be clear, both plans came about not as efforts to desegregate schools, but due to overcrowding at the mostly white school in each pair. There have been schools using admissions policies - and others looking to do so as well - in order to diversify.
Lander, Torres, and others are calling for a move toward unzoned districts, whereby school districts have open enrollment, by lottery where necessary, for all elementary schools. This, coupled with a policy known as controlled choice, which allows for set-asides based on certain student demographics like poverty level, could quickly create more diverse schools within many school districts. Set-asides by race have been disallowed by the Supreme Court, but schools are still able to use poverty levels and status as an "English Language Learner" among a list of qualifying factors.
While the Center for NYC Affairs report cautions "not to minimize the impact of housing segregation" on school segregation, there are significant factors at play when it comes to how schools are zoned - especially elementary schools, which are based on geography, while middle and high schools have more open enrollment policies in New York City (though admission policies vary widely, as the coming DOE report will show). Lander and Torres both say there is a great deal that can be done to diversify the city's high schools, which are not geographically linked like elementary schools.
Clara Hemphill is one of the authors of the Center for NYC Affairs report and a leading expert on city schools. While Hemphill wants to see admissions changes, she told Gotham Gazette "substantial integration is possible even without changing attendance zone lines." She'd like to see a focus on "improving ordinary zoned neighborhood schools" so that they would be more attractive to parents.
In the wake of the coming DOE report, Hemphill also said, though, that her primary hope is "to see the discussion focus on pre-k and elementary schools, where I think we have the most opportunity for integrated schools. By the time children are in middle and high schools, the gulf between the haves and the have-nots is so huge it's hard for even highly qualified teachers to bridge them."
The city is home to 734 neighborhood elementary schools, according to the Center for NYC Affairs, which found that 124 of them (with a total enrollment of 62,607 students) "are substantially poorer than their school zones." This means schools are segregated by socioeconomics and race, which are inextricably tied.
While noting that "the potential for school diversity varies widely neighborhood by neighborhood," Council Member Torres previewed the DOE report by saying, "I would hope that the DOE would create a citywide plan...identifying neighborhoods that can benefit from the controlled choice model."
"The problem is much more intractable in my and other racially concentrated districts," said Torres, who represents part of the Bronx where very few white people live and acknowledged that "No one is pretending that this is a simple problem."
Torres said a City Council education committee hearing on the DOE report would be a logical next step, but that the chair of the committee, Council Member Danny Dromm, would make that decision. Lander said similarly, though he indicated he wants to see the report before calling for a hearing. The report is due to the City Council and to be posted to the DOE website by Dec. 31 of this year (and Nov. 1 in subsequent years).
For Lander, pushing the ball forward, using the report to advocate for more progress, is key. He understands that some may be frustrated by slow progress, but says that the situation is going to be improved one step at a time. Torres, too, acknowledged political realities.
"You can want a total solution and be frustrated by incremental steps," Lander said, "but there is so much work to do. The incremental approach is the right one so much as we keep going. Seven out of 1700 schools is a start, but if we keep doing it, momentum grows," he said of shifting admissions protocols at individual schools and moving toward controlled choice for districts.
Mayor de Blasio has expressed support for integrating schools, but has also been cautious in his public remarks about what should be done. It appears that the mayor is a believer in desegregating city schools, but is moving slowly because of the risks of blowback and the fact that he is already trying to push through his controversial rezoning proposals as part of his affordable housing plan.
In announcing the seven school pilot on Nov. 20, the DOE wrote that the administration "is working to expand diversity across our schools in partnership with the City Council and other partners, and this initiative is a pilot and remains one piece of a larger effort."
Schools Chancellor Carmen Fariña said that she is "hopeful that these changes will help serve as a model for schools across the city" and indicated that the DOE will continue to work with Council members, school officials, and community members to create such policies that "promote diversity and respect the needs of the community."
At the time, Council Member Torres called the announcement "a powerful and important first step to tackle the issue of segregation," but added that "the city still has more work to do to in order to create diverse classrooms."
With at least a tinge of incredulity, Torres is somewhat impatient, and wants to see significantly more from the de Blasio administration. "I want the administration to put as much energy into diversifying our classrooms as it has into creating and preserving affordable housing."
"Diversity is not going to happen on its own," Torres said, "we have to plan for diversity."
He continued: "The scandal is not that we're failing to diversify our school system, the scandal is that we're not even trying."
***
by Ben Max, Gotham Gazette
@tweetBenMax