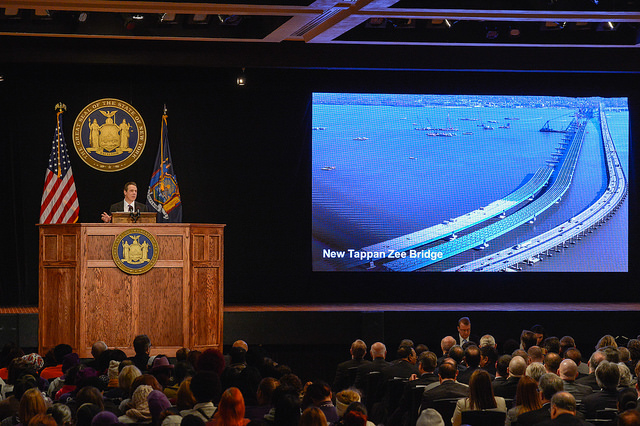 Cuomo during his State of the State (photo via The Governor's Office)
---
To open Gov. Andrew Cuomo's sixth State of the State address Wednesday, a video began with a frightening picture of the "bad old days," when legislative dysfunction held the people's agenda hostage. Despite the avalanche of indictments that have taken place under Cuomo, including last year's arrest and conviction of two legislative leaders on federal corruption charges, the Cuomo Era was portrayed as only positive, leading into the governor's speech.
Toward the end of that speech, and at page 274 part 10 of his new policy book, Cuomo acknowledged what he called "a threshold issue that must be addressed." After having outlined a wide variety of policy proposals dealing with infrastructure, business development, and economic and social justice, Cuomo acknowledged said none of it would work if New Yorkers don't have faith in their government.
The governor then outlined a sweeping government ethics and campaign finance reform platform, setting a high bar for negotiations with the legislature and impressing some reform-minded good government groups and lawmakers. However, due to the history involved - both Cuomo's and the state legislature's - there are more than a few skeptics about prospects for success in enacting new measures to prevent corruption.
While some reformers applauded the governor's ambitious plan, many are waiting to see how well the governor does in moving his proposals through the legislature.
Citizens Union released a statement saying that "Cuomo stepped up in a big way and proposed important reforms that, if enacted, would help rebuild the public trust and protect New Yorkers against another crime wave of corruption in Albany." The group is among three that recently unveiled a "clean conscience pledge" for lawmakers to sign guaranteeing that they would fight for reforms like closing the LLC loophole.
In his speech, Cuomo tied effective government to ethical government, something Albany has not been able to do.
"We have proven competence, and we have proven we can make government work, but recent acts have undermined the public's trust in government," Cuomo said. "Public trust is essential for government to function at the level we need. I have a number of recommendations that will be in the budget that I believe will help restore the public trust."
LLC Loophole
Cuomo's first reform proposal, closing the LLC loophole, faces an uphill climb. For years, Cuomo himself has been the major beneficiary of the loophole, which allows companies to create shell entities through which to donate virtually unlimited amounts to candidates. In fact, Cuomo has taken more than a million dollars in donations from LLCs tied to just one company: Glenwood Management, the real estate firm at the center of the corruption trial of former Assembly Speaker Sheldon Silver and featured in that of former Senate Majority Leader Dean Skelos. Cuomo has refused to return money from Glenwood and denied that political donations influence him in any way.
Cuomo poses his argument for closing the LLC loophole in his briefing book as one of equity. "It is our responsibility to even the playing field so that rich and poor New Yorkers alike have their voices heard in our political process," it says.
Senate Republicans have shown no appetite for closing the LLC loophole, which Assembly Democrats still appear ready to do and Senate Democrats attempted to force to a vote last year.
Assemblymember Daniel O'Donnell, a Democrat, was skeptical of the Governor's proposal, not because he isn't in favor of closing the loophole, but because Cuomo continues to take contributions from LLCs. "He can't play both sides and take LLC donations and tell us to pass a law to stop them," said O'Donnell. "I don't take LLC donations, there will be a sign at my next fundraiser saying: 'I don't take LLC donations.'"
Outside Income
In perhaps the most bold reform proposal in his budget, Cuomo wants to limit lawmakers' outside pay to 15 percent of their base salary, which would match the rule for members of the U.S. Congress.
Blair Horner, of the New York Public Interest Research Group, hailed the proposal as an effective post-Watergate reform. However, legislators are keenly aware that Cuomo's proposal does not include a raise for them to make up for any lost outside income as many good government groups have recommended and that the restriction only applies to legislators, not the governor, attorney general, or comptroller.
"You can't keep telling us that you'll give us a raise down the road if we just pass this," O'Donnell told Gotham Gazette. There is a pay commission set to soon make recommendations, which could lead to raises for lawmakers.
Cuomo has not been above making outside income, of course. The governor's book deal with HarperCollins (a subsidiary of NewsCorp) is estimated to be worth at least $700,000. The International Business Times has documented how the state has pledged to give NewsCorp a one-time payment of $15 million in 2016 and access to $15 million in tax credits as part of a drive to make the company an "anchor tenant" at 2 World Trade Center.
FOIL
The governor wants everyone to be subject to the Freedom of Information Law - the legislature is currently exempt to FOIL rules. Cuomo's proposal appears to be driven by flack the governor received late last year after he vetoed two bills that were designed to make the FOIL appeals process faster and more affordable. The move came to the dismay of good government groups - the bills applied to the executive chamber, state agencies, as well as the comptroller, attorney general and local governments. At the time, the governor promised action in the new year.
"It is indefensible, especially in today's context for you to say you believe in the Freedom of Information Law and for you to sign bills reforming the Freedom of Information Law, but excluding yourself," Cuomo told the legislature during his speech Wednesday. "Let's make a statement to the citizens and taxpayers of this state that you get it. If you pass a FOIL bill, include yourselves. I will sign it the very same day."
Public Campaign Finance System
Cuomo has flirted with voluntary public campaign financing system before - his last push on it resulted in a pilot program that only applied to the 2014 comptroller's race (Cuomo isn't particularly friendly with Democratic incumbent Thomas DiNapoli) and only DiNapoli's opponent opted in, but he failed to raise the $200,000 minimum to qualify. The program was limited in scope due to pushback from Senate Republicans and they are showing no signs of having a new position.
Senate Majority Leader John Flanagan made no mention of the program or campaign finance reform in general in his response to the governor's State of the State.
"If the governor is planning to do campaign finance with taxpayer funds we aren't going to stand for it," Assembly Minority Leader Brian Kolb told Gotham Gazette.
Good government groups hailed Cuomo's inclusion of public financing. "It's time to address the legal bribery that happens every day at the Capitol. It's time to change the system. Small donor matching is the only way to ensure that elected officials are putting voters before big donors," Karen Scharff of Citizen Action NY said in a statement. "A comprehensive approach to reform, like the Governor proposed, centered around public campaign finance, is the only way to restore public trust and restore democracy."
Pension Forfeiture
Both Silver and Skelos filed for sizeable pensions after being convicted on multiple federal counts of corruption last year. Beforehand, the heads of both legislative majorities came to a deal with Cuomo to strip pensions from legislators convicted of violating the public trust.
The Senate proceeded to pass a bill that would have stripped the pension from any public employee found guilty of a felony. But, facing pressure from public employee unions that worried their members would be targeted by the law after being convicted of crimes having nothing to do with their jobs, the Assembly stalled. Now Cuomo is attempting to get both sides to come to the table again. "This is nothing new," Kolb told Gotham Gazette. "We could have done this last year if (Assembly) Democrats hadn't stopped it."
O'Donnell said he was concerned about the impact the Senate's version of the bill could have had on workers and their families but he said he was more than happy to vote for a bill that "targets the right people."
The Rest
Cuomo also proposed a change in law that would force political consultants and those seeking state contracts to register as lobbyists. He also pledged to commit $1 million to fund a nonpartisan commission to help prepare for a constitutional convention where voters could have a chance to redraw New York's constitution. Cuomo has quietly supported a convention over the last few years.
Additionally, the governor outlined plans to make it easier to register to vote.
The Forecast
At the end of the day it appears that Senate Republicans are diametrically opposed to Cuomo's grandest ethics proposals. In an election year, which 2016 is, Senate Republicans may be moved to take some action, but it is unlikely they will move on Cuomo's version of outside income limits or public financing of elections.
Senate Republicans have run on their opposition to "using taxpayer dollars" for campaign finance and Flanagan has repeated that he believes lawmakers should hold outside jobs. Ethics were not a major part of Flanagan's rebuttal to Cuomo's speech.
"At the end of the day all the laws in the world won't prevent bad people from doing bad things," Flanagan said in a pretaped video. "We take this seriously and are already hard at work to restore the public trust," he said. "But we should not lose sight of what has already been done to improve the state's ethics and disclosure laws and to hold elected officials accountable for their actions."
***
by David King, Albany editor, Gotham Gazette
@DavidHowardKing