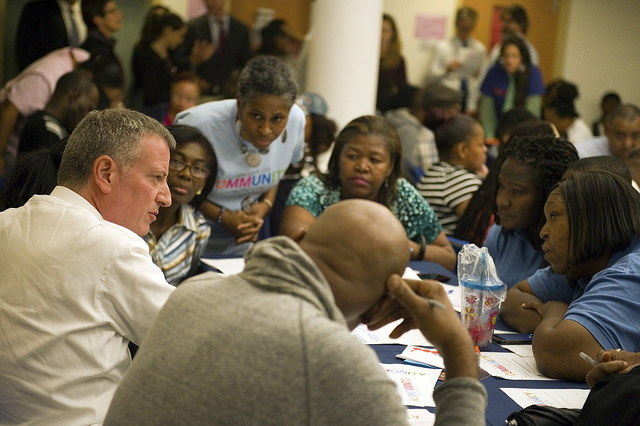 Mayor de Blasio talks with parents (photo: Ed Reed, Mayor's Office)
---
Community advocates are making it clear that Mayor Bill de Blasio's plans to rezone neighborhoods are not acceptable unless they include broader economic development initiatives like local hiring.
As part of his ambitious affordable housing plan, de Blasio has announced several communities the city plans to rezone first in an effort to create more density, build affordable units, and improve neighborhoods. When the mayor initially announced the start of the rezoning process, the blowback was severe. In East New York, which is slated to be the first area rezoned among 15 neighborhoods across the city, residents cried foul that the process involved limited community input, failed to consider local needs, and could lead to wide-scale displacement.
Last week, the city capitulated to a degree. At a hearing of the City Planning Commission, the administration announced that it would make additional investments in job creation to allay residents' concerns. The investment includes a Workforce1 career center to connect residents to jobs and education and provide assistance to local businesses, as well as $1.5 million to renovate the East New York Industrial Building and attract businesses.
"I feel like it's too little, too late," said Bill Wilkins, director of economic development, Local Development Corporation of East New York. Wilkins said the city is moving in the right direction but needs to keep local groups such as the LDCENY in the loop. "There's been a degree of dialogue with respective agencies. There just needs to be more."
Stressing the need for a collaborative approach to rezoning, he said the need to create affordable housing has to also be matched by economic synergy. "We have an opportunity to create a local micro stimulus plan if done correctly," he said, conceding that the city planning department's plan for economic development in East New York was well-intentioned but in need of "fine tuning."
"I think they're in the room," WIlkins said of the administration, "and they're close to getting on the dance floor."
Residents and groups all over the city are concerned that new residential development and other aspects of neighborhood improvement will lead to rapid gentrification and displacement of current residents. Good employment opportunities for those locals can help avoid such pitfalls.
Other communities identified for rezoning are making similar appeals around jobs, and the East New York announcement has marginally buoyed their hopes.
"Well, again, wherever we are looking at rezoning, my view is, I think, different than some of my predecessors," Mayor de Blasio said at a recent unrelated press conference when Gotham Gazette asked about including similar measures elsewhere. "I see the rezoning as a chance to right some wrongs and to make up for some things that were not done properly in the past," the mayor added. "A lot of communities did not have the kind of job creation they deserve. We haven't had enough of a five borough economy. That is changing in the last two years."
In the Bronx, community advocates insist that the city must guarantee job training and placement for local residents, especially around the new construction that comes with rezoning.
Susanna Blankley, director of Community Action for Safe Apartments, is a member of the Bronx Coalition for a Community Vision, which created a community plan to present to the city. She said, "We want to see a comprehensive plan that will lead to long-term careers, protections from displacement, and provisions to get high-end jobs as opposed to creating more minimum-wage jobs."
One of the coalition's demands is that construction jobs should go to union workers, which provide them greater opportunities for promotions.
The Bronx does have the benefit of time. The city is still struggling through negotiations over East New York. The City Planning Commission has only just passed two zoning amendments -- Mandatory Inclusionary Housing (MIH) and Zoning for Quality and Affordability (ZQA) -- which apply to the entire city and have been sent to the City Council for its approval. MIH and ZQA are intended to set a new baseline of land use rules that neighborhood by neighborhood rezonings built on.
"The city still has time to learn and adapt," Blankley said. It will be months before the Bronx rezoning is on the table. "[The city] should correct their course and learn from the mistakes made in East New York," she added.
In East Harlem, employment was also one of the significant priorities among dozens of objectives that were voted on at a community forum last week at El Museo del Barrio. The East Harlem Neighborhood Plan was formulated over a ten-month process involving community organizations; the City Council Speaker Melissa Mark-Viverito, who represents the area as its local Council member; multiple community workshops; and input from more than a thousand residents. At the forum, many residents voiced their concerns about being left behind or pushed out. Union representatives insisted that any construction jobs must go to union workers.
David Nocenti, executive director of Union Settlement, was the chair of the East Harlem Neighborhood Plan subgroup on economic development, small business and workforce development issues. He declined to comment since the final plan has not yet been released.
De Blasio said that his administration, led by the Economic Development Corporation, has "done a great job really trying to create a neighborhood-based economy in a five borough economy. But one of the things we can do through a rezoning process is maximize the creation of local jobs and maximize the ability of local residents to get them. So, that's something we're going to focus on intensely as we do rezonings."