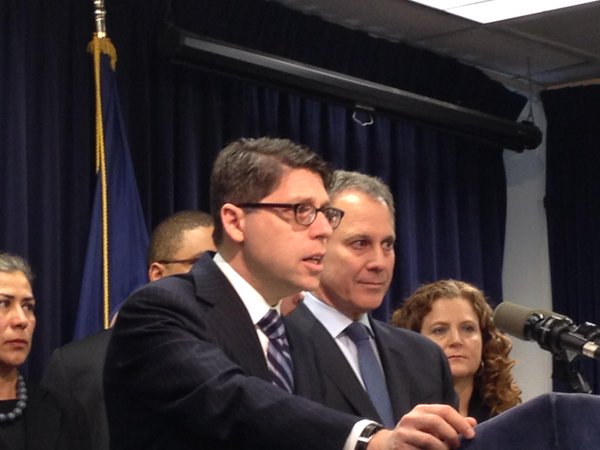 DOI Commissioner Mark Peters (photo: @DOInews)
---
The New York City Department of Investigation has become a more proactive body focusing on systemic problems at city agencies, said Commissioner Mark Peters at a City Council budget hearing on Monday afternoon. Peters explained his office's increased productivity and impact in attempting to justify a nearly 43 percent increase in the department's budget for fiscal year 2017, which begins July 1.
The City Council's evaluation of Mayor Bill de Blasio's $82 billion preliminary budget is now in its second week and administration officials continue to testify before committees on their agency expenses and programs. On Monday, the Committee on Investigations, chaired by City Council Member Vincent Gentile, heard testimony from Peters on how DOI has changed its procedures and added responsibility, and why it requires a significant increase in funding.
De Blasio's preliminary budget allocates $44.2 million to DOI, a $13.2 million, or 42.7 percent, increase over last year's adopted budget. The increase is largely due to a major agency expansion, adding 59 new staff members, for $4.5 million, bringing the total staffing to 361. Much of the workforce addition, at least 25 employees, will go to the Inspector General unit for the Department of Buildings. (DOI also oversees another 261 employees in oversight roles at city agencies, but those are not budgeted under DOI).
Of the 59 new personnel, 38 positions were baselined in the November financial plan for a total of $1.5 million, which will grow to $2.9 million in fiscal 2017.
"DOI, in the last two years, instead of being a reactive agency, which tended to react to complaints and react to tips coming in, has now become a proactive agency," Peters said in response to Council Member Gentile inquiries about the increased budget and shift in approach. Concerns were raised in prior hearings that DOI was not arresting as many city employees as the agency had under prior commissioners.
Peters reiterated that he had moved the department to focus more on macro issues to prevent the type of misconduct that can often result in an arrest, but he also pointed out that DOI has been making more arrests. In the 2015 calendar year, DOI made 569 arrests, an 83 percent increase from 2014, based on more than 1500 investigations, and received over 700 criminal prosecution referrals, nearly double from the prior year. Peters did again caution against using arrests as an efficient metric, a point he repeated when questioned by Council Member Rory Lancman later in the hearing, saying that his office has become fairly prolific in writing insightful investigative reports.
Peters and the Council members seemed to agree that there is a good balance for DOI to strike in making arrests for theft and graft and issuing more sweeping reports. Council members indicated that with DOI's increase in arrests, it appeared to be finding the sweet spot of rooting out corruption and, through its reports, influencing preventative change.
Reports that Peters cited include a comprehensive examination of the Department of Homeless Services, which necessitated an overhaul of the city's homeless shelter policies; a report on the failure of the NYPD and NYCHA to share information about the arrest and removal of criminal offenders from NYCHA housing, which resulted in changes in both departments; and an analysis of the use of force by NYPD officers, which led the department to announce that it would track all uses of force.
"In total we have issued 25 reports of this type," Peters said, "that collectively mean that children will not live in homeless shelters with decaying rats on the floor, that we are less likely to have bricks fall off buildings and kill two-year-olds, that police are less likely to use improper force." In comparison, DOI only issued 10 reports in the four years before Peters' leadership, he said.
DOI's jurisdiction has also expanded in recent years. In 2013, the NYPD came under its ambit and in December 2015, NYC Health + Hospitals was also included.
Unsurprisingly, the issue of agency savings, which has underscored the entire budget process, came up when Gentile noted that the preliminary budget didn't mention any savings for DOI. Peters responded with a proposal, which he said he had presented to the city's Office of Management and Budget as well. Accordingly, overtime for DOI employees is paid through federal forfeiture funds and if the city were to formally transfer the payroll of 261 investigators in other city agencies to DOI, it would keep the city from spending some of its own money, replaced by federal funds.
"We run a remarkably lean shop," added Peters.
Peters did note in his opening testimony that DOI had indefinitely lost an important stream of funding. In accordance with a recent change in federal law, the U.S. Department of Justice announced in December 2015 that equitable sharing payments that are made to state and local law enforcement from federal asset forfeiture programs will come to an end. These payments, separate from overtime payments, facilitated funding for equipment, renovations, vehicles, and training, to name a few. In fiscal 2015, DOI received about $27 million in these funds. Peters estimated the fiscal 2016 amount at $12,000. (DOI has roughly three years to spend this money). But he also reassured Council Member Helen Rosenthal that this would not affect the current budget under consideration.
Council Member Lancman and Commissioner Peters did "quibble" back and forth, albeit congenially, about DOI's lack of focus on the "nuts and bolts" that led to lower arrests two years ago and then a substantial increase in arrests last year. Peters said many cases only "paid dividends" in 2015 after being carried over from the previous year.
"Let me quibble with your quibble, a little bit," Lancman said in response to Peters at one point. His concerns were that run-of-the-mill corruption cases may be getting overlooked compared to larger investigations that the department was conducting. "Something must be different at the department if the only reason that you're back to a pre-de Blasio era arrest level is significant investigations that you've started that have reached fruition," Lancman said, asking Peters if DOI recognized this issue.
Peters, cognizant of the issue, called it a "philosophical question" about the best use of finite resources. He stressed that he had heeded the Council's feedback from last year and tried to stick to a "middle course" of ensuring that systemic investigations as well as low-level corruption were handled adequately and that the agency portrayed a message of zero tolerance.
"That is a valid, legitimate conversation," Peters said, "and it's one I have with myself and with my staff almost daily."