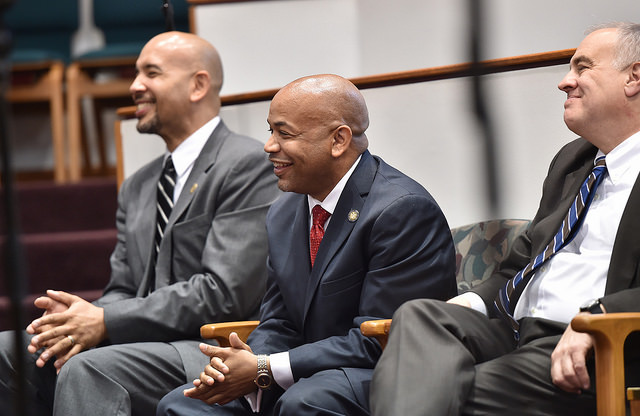 Carl Heastie (photo: Office of the Governor - Kevin P. Coughlin)
---
In a major departure from his predecessor, Assembly Speaker Carl Heastie publicly laid out his conference's proposals for government ethics reform during a wide-ranging speech and interview Friday morning. At a breakfast event hosted by Crain's New York Business, Heastie explained the proposals for preventing government corruption that will be contained in the Assembly's one-house budget, the release of which is key to intensifying negotiations with Governor Andrew Cuomo and Senate Majority Leader John Flanagan.
The announcement comes after many weeks of silence from the Legislature and Gov. Cuomo on ethics reform despite the fact that the leaders of both legislative houses were indicted and convicted on multiple federal counts of corruption last year. The proposals largely align with what Cuomo, a Democrat, outlined during his January State of the State address, while two of the policies are likely to face major push back from the Republican Senate majority. Heastie leads the Democratic Assembly majority.
Two Assembly proposals likely to face opposition from the Senate deal with outside income legislators are allowed to earn. One takes direct aim at an issue that fell Heastie's predecessor, Sheldon Silver: The Assembly would limit attorneys to only making money for casework they perform, rather than from being "of counsel" and simply lending their name to a law firm. The second would prevent legislators from earning more in outside income than they receive in legislative salary. Legislators currently make $79,500 per year, though a compensation commission has recently begun examining the issue and is likely to recommend significant raises for lawmakers, who have not seen a raise in 16 years.
Other measures Heastie outlined include closing the LLC Loophole that allows wealthy donors to subvert the state's campaign contribution limits, tightening rules around the use of campaign funds and party "housekeeping" accounts, which are also used to get around state campaign finance laws.
Unlike anything Silver ever did, Heastie described the Assembly's one-house budget and then took questions from two reporters for 45 minutes in front of a crowd of more than 200 in a Manhattan club ballroom. Heastie followed that Q&A by taking questions from other journalists in attendance for about 10 minutes.
A significant portion of the dialogue centered around government ethics and corruption, with Heastie both outlining new reform plans and defending himself and his colleagues as good public servants. After Heastie made his opening remarks, Crain's editor Erik Engquist and Politico New York reporter Laura Nahmias asked the speaker a wide variety of questions, including several that pushed Heastie for his take on what actually plays into corruption in Albany.
Confronted with a recent poll that found 90 percent of voters think Albany has a corruption problem, Heastie defended his members. "I don't want to ignore fact that there's been issues amongst elected officials, but I do believe the majority of elected officials go there for the right reasons," said Heastie, adding that "in any industry you are going to have bad apples."
Heastie also continually referred to things that "tripped up" his fellow legislators - apparent references to the rash of high-profile corruption cases Albany has seen over the last decade.
He challenged the media to cover "the good things" the Legislature does and also praised prosecutors for doing their jobs. Heastie pushed back against the assertion that campaign contributions can lead to corruption and half-joked that the only way for politicians to win is to only accept donations from groups they don't support because the press points out donations to politicians when they coincide with legislation that is favorable to a donor.
"Leveraging your name is something that got my predecessor in trouble," Heastie said, pointing to the "of counsel" measure contained in the Assembly budget. Asked later how the bill would actually be enforced Heastie replied that the conference hadn't actually gotten that far, but said the Joint Commission on Public Ethics (JCOPE) is a possibility.
"We have a significant number of lawyers in the conference and people are comfortable with what we've put forward," said Heastie.
Gov. Cuomo's budget contains a number of ethics proposals, including one that would limit legislators' outside income to 15 percent of their government salary. The budget also includes an end to the LLC loophole, pension forfeiture for legislators convicted of abusing their office, and increased transparency measures. Cuomo, however, has been focused on stumping for his $15 minimum wage plan, only discussing ethics reforms when questioned by the press.
Asked if ethics reforms were likely to stay in the budget late last month Cuomo responded: "Well, we're going to see. I would like to get it done in the budget, I made it as part of the budget. And I think that everyone understands that you need reforms in Albany. I proposed very drastic reforms — primarily for the Legislature, which is where we've seen a lot of corruption recently. Limiting outside income, passing pension forfeiture, more disclosure, more transparency, closing the LLC loophole. I stated it very clearly in my State of the State. It's part of the budget. And as we get closer and actually have budget conversations, it's going to be at the top of the list."
The governor's office did not respond to a request for comment on the Assembly Democrats' ethics plans.
When Gotham Gazette asked Heastie if he had any sense of what Senate Majority Leader Flanagan might think of the proposals, he said to ask Flanagan. Flanagan's office did not respond to a Gotham Gazette request for reaction to Heastie's announcement of the Assembly's budget-based ethics reforms.
Heastie told Gotham Gazette that no "detailed" budget discussions have taken place yet because neither house has fully issued its one-house budget proposals. "There hasn't been any real discussion except overall of what we think we need to see happen through the budget," said Heastie. A budget deal is due by April 1, when the next fiscal year begins. If ethics reforms are not accomplished in a budget package, they could be hashed out in the legislative session to follow, though there is reason to be skeptical that significant reform would be agreed upon between April and the end of session in June.
Meanwhile, Assembly Democrats have faced major criticism from the Republican minority for a drawn out rules reform process whereby the chamber will change its practices in an effort to become more democratic. Last year, after replacing Silver, Heastie put together a commission to look at altering the rules of the chamber to increase transparency and participation. That group has had almost a year to work on the issue and has held no public hearings. The group's two chairs have given Gotham Gazette and other media outlets conflicting timelines for the release of what they said is a 49-point reform plan. On Friday, Heastie told Gotham Gazette, as the chairs have in the past, that the reforms should be released soon.
"They're being brought out in three different forms," Heastie told Gotham Gazette. "Some we can draft up in rules, some I can do administratively, and then there's some technology things. We'll probably put things out in the next week or so."