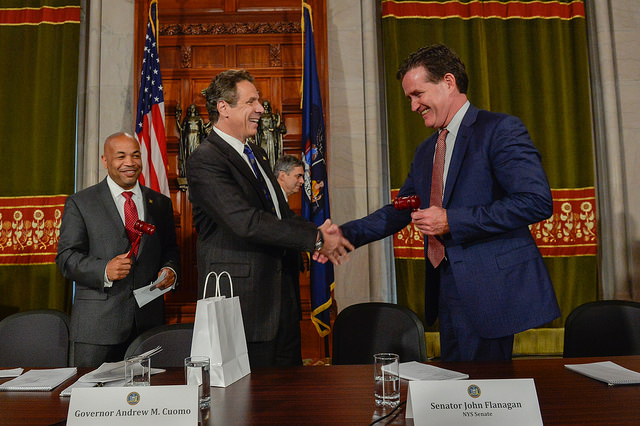 Heastie, Cuomo, Flanagan (l-r), June 2015 (photo via The Governor's Office)
---
As negotiations over the state's $150 billion budget sputtered on Thursday, Gov. Andrew Cuomo ramped up pressure on legislators to accept a deal. Speaking with reporters, Cuomo implied legislators could jeopardize a potential pay raise if they can't deliver an on-time budget.
"So they're gonna need to be able to make that case not just to the pay commission but to the people of the State of New York in November when they go to seek re-election," Cuomo said. "So performance matters - if they don't pass a budget on time obviously that is a failure of performance."
Cuomo has made better state government function, including on-time budgets, a signature of his time as governor. Legislators and good government groups dismiss the governor's insistence that an on-time budget is paramount, especially when negotiations come so close to the April 1 start of the new fiscal year.
In Albany it has practically become tradition for rank-and-file lawmakers to be asked to vote on a budget with only a few hours time to review its contents. The state constitution requires bills to age three days before they are voted on in order to facilitate public review, but Cuomo, like many governors before him, has taken to issuing "messages of necessity" to bypass the otherwise-mandated waiting period. Final budget votes - with debate that is often only for show or to get comment on the record - have stretched late into the night with rank-and-file members discussing measures they discover in the budget almost in real time.
With no budget deal reached as of Wednesday evening, it is all but certain that this year will see the governor again issue messages of necessity and a very short window between budget bills printed and voted on.
Meanwhile, a seven-member commission has begun meeting to determine pay raises for legislators and other state officials. Three of the members of the commission were appointed by the governor, two by the chief judge of the Court of Appeals, and one each by the legislative majority leaders. Legislators haven't had a pay raise since 1999, currently earning a base salary of $79,500.
Contrary to Cuomo's statement Wednesday, the language creating the pay commission does not explicitly mention "performance" as something to be factored into deliberations. The commission is scheduled to make its recommendations in November, right around Election Day when every state Senate and Assembly seat is on the ballot. The recommendations would then automatically take effect in 2017, unless the Legislature votes to oppose them.
A number of legislators told Gotham Gazette pay raises wouldn't factor into the time it takes them to consider the budget.
"Our conference is going to go over and deliberate what's in there, we are going to know what we're voting on," said Senate Deputy Minority Leader Michael Gianaris, a Democrat from Queens. "That review is going to be done at the pace that it takes. We are not going to go out there ignorant to what's in the budget. If those negotiating the budget wanted to ensure timeliness they should have concluded negotiations earlier."
Gianaris' sentiments were echoed by a number of Assembly Republicans and Senate Democrats. The groups represent their chamber's minority, though, and not driving negotiations, which are largely taking place among Gov. Cuomo, Assembly Speaker Carl Heastie, and Senate Majority Leader John Flanagan.
"Cuomo should look in the mirror if budget is late," tweeted Republican Assembly Member Steve McLaughlin. "Absurd argument to pin it on the legislators who haven't seen it."
John Kaehny, executive director of Reinvent Albany, pointed out that budgets have passed with fairly controversial measures tucked in at the last minute by lobbyists and their government allies thanks to the lack of thorough review.
"Does anyone really want their state legislator voting on a $150 billion, 10,000 page budget they haven't had time to look at?" Kaehny asked rhetorically. "Does anyone other than the governor really think it is more important to pass a budget on time and unscrutinized, than a few days late and fully examined? Do people want their state representative voting for a budget that could be stuffed full of things like tax breaks for yachts and private jets - like last year?"
Dick Dadey, executive director for Citizens Union, said that a budget that is "a few days late but ages for the requisite three days for public review is far preferable to an on-time budget when the public has no time to review the $150 billion that taxpayers are funding."
In stark contrast to his predecessors Cuomo has successfully delivered on-time budgets each year he has held office. It was typical for budgets to go weeks and even months over deadline before Cuomo became governor. Cuomo has actually used messages of necessity considerably less than his predecessors, but he has used them to pass the budget three times since taking office in 2011.
"As a practical financial matter it won't amount to much if they are a few days late," said Blair Horner of the New York Public Interest Research Group. "It will shake what little confidence the public has left in state government. The last reasonable claim the governor can make that he brought order to chaos in Albany is in on-time state budgets," said Horner.
This year's final budget negotiations appear to be difficult for both legislative majorities for different reasons. The Assembly majority is fighting a Cuomo proposal to force New York City to take on $250 million in Medicaid funding. The Senate majority is grappling with Cuomo's push to raise the minimum wage to $15 across the state. Some see the wage increase as a winner with voters and admit Cuomo was very successful in pushing the issue, but others are adamant an increase will hurt the economy and hurt them at the polls in November.
Sen. Joseph Addabbo of Queens, who is in favor of the concept of both the minimum wage increase and the paid family leave proposal that appears to be close to finalized, said it is critically important to him to see exactly how those measures are actually implemented. "It's not about beating the clock. I'm not voting on a $150 billion budget without getting every detail," Addabbo, a Democrat, told Gotham Gazette.
Many good government advocates see this year's budget negotiation as one of the least transparent in modern history. Coming on the heels of the convictions of former Assembly Speaker Sheldon Silver and former Senate Majority Leader Dean Skelos, Cuomo and legislators have held clandestine meetings at the Governor's Mansion and routinely dodged the press. They have been more open about the process in the last few days, but after dealing with two press scrums on Thursday Flanagan dodged the press by exiting a back door of Cuomo's office.
Legislative leaders have rejected discussion of ethics reform and adding transparency to stashes of cash the governor and the Legislature insert into the budget without any particular use given.
Both Assembly Minority Leader Brian Kolb and Senate Minority Leader Andrea Stewart-Cousins have decried being left out of negotiations and assailed this budget season as the least transparent in memory. Representatives for Cuomo, Heastie, and Flanagan did not return requests for comment on the use of messages of necessity and concerns over budget transparency.
Gianaris said that while he agrees that rank-and-file legislators need time to examine the budget, "The real issue is that had this process been open and transparent along the way we wouldn't be sitting here at the eleventh hour with nothing. If all conferences had been included we could have wrapped this up a long time ago."
Gotham Gazette is an independent publication of Citizens Union Foundation, sister organization of Citizens Union.