Food policy, nutrition and public health have played a central and often contentious role in the Bloomberg administration's agenda for the city. Achieving the goal of a healthier New York City has led the mayor to employ both legislation and executive order. Now Manhattan Borough President Scott Stringer has joined the push to increase the availability of healthy foods such as fruits and vegetables in an effort to improve public health.
"We need a paradigm shift in the way New York thinks about food. For too long, decisions about food have been made on the federal level or by private parties," Stringer said.
The city's food and public health policy has had three major parts: increasing the availability of healthy food, reducing the prevalence of unhealthy food and adjusting the public's behavior so people eat a better diet. Stringer's proposal takes a larger scope than previous initiatives and offers a comprehensive plan for the city. The report focuses on using tools such as zoning and tax abatements to ensure the city's "food security" and eradicating its "food deserts."
Neighborhood Food Shortages
In April 2008 the Department of City Planning issued a report detailing the intersection of demographics, geography, food policy and public health. It concluded areas underserved by retailers selling fresh food, such as the Bronx, central and eastern Brooklyn, far eastern Queens and Harlem, have above average rates of diet related diseases.
Currently, an estimated 3 million New Yorkers live in "high-need neighborhoods," defined by a lack of supermarkets and a prevalence of diet-related health problems. These areas lack food security, meaning that people who live in them have difficulty getting "nutritious and affordable food." An estimated 750,000 city residents live in "food deserts" -- areas more than five blocks from a supermarket. Often food deserts are located in low-income and minority communities with a prevalence of diet-related disease, such as obesity and diabetes.
Increasing rents and tight profit margins have led to a wave of supermarket closings across the city, exacerbating existing problems. Many of the supermarkets have been replaced with drug stores, which sell the unhealthy foods at the root of weight-related health problems as well as the medications used to treat them. Pharmacies, convenience stores and discount stores, which sell processed foods, have become the primary food retailers in some neighborhoods.
The city has taken several steps to reverse this trend, including the healthy bodegas initiative, which tries to encourage the small neighborhood stores to stock low and reduced fat milk as well as fruits and vegetables. In February 2008, City Council passed the Green Carts bill to allow more mobile fruit and vegetable vendors in low-income neighborhoods. Bloomberg and City Council Speaker Christine Quinn put forward the bill as part of the effort to make New York City healthier.
Stringer would build on these efforts. Under his report's recommendations, the city would continue to look at approaches to making fresh produce available outside of the traditional grocery stores and supermarkets, but also would take a more active approach to increasing the availability of healthy foods. He recommends the city create "food enterprise zones" to attract food retailers to underserved areas through zoning and tax incentives. The plan calls for public financing or micro loans to community food partnerships, allowing food vendors tax abatements under the Industrial and Commercial Abatement Program and exempting vendors from business taxes. It also suggested the New York City Housing Authority make provisions for food retailers in public projects.
Zoning for Food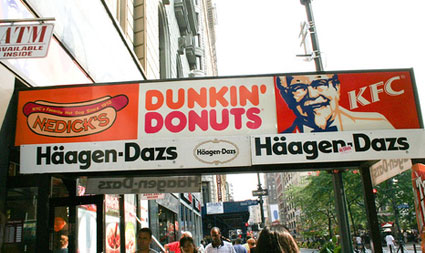 Zoning regulations offer another policy option to increase the number of retailers selling healthy foods and stem the tide of closing supermarkets. The report suggests government agencies develop an integrated plan for city support of supermarkets, adjust land-use regulations influencing supermarkets, consider supermarkets' need during future rezoning and evaluate the possibility of supermarkets on city owned property. For example, the city might categorize retailers selling fresh fruits and differently from general food stores and so provide them with a density bonus or a permit for additional floor area exemption, according to Stringer.
Other officials have proposed ideas to discourage less nutritious fare. Bloomberg ordered that city restaurants stop selling food containing transfats and now reportedly is considering ways to reduce the sodium content in prepared and processed foods. In his budget for the coming year, Gov. David Paterson called for an 18 percent tax on sugary drinks, although the idea appears unlikely to pass.
City Councilmember Joel Rivera had suggested capping the number of fast-food restaurants through changed zoning laws. The idea did not go anywhere here, but last year, the Los Angeles City Council unanimously passed a bill to place a one-year moratorium on the development of new fast-food restaurants in South Los Angeles, a low-income minority area that has double the obesity rate of the city's wealthier areas. The legislation is intended to allow for the development of restaurants that serve healthier food and is confined to an area of the city with high instances diet related problems.
While the borough president's office indicated it would be open to explore restricting the proliferation of fast food restaurants, people there point out that any effort to limit fast food outlets must be supplemented with a drive to increase the number of healthy food outlets. Instead, Stringer's report emphasizes more market-oriented approaches to improve the city's food options.
For one, the borough president's office proposes eliminating tax subsidies for fast food restaurants. "We'll give you a tax abatement if your store sells Big Macs but not if you just sell the lettuce and tomato. It's time for government to step up to change how we approach the city's dinner plate," Stringer said.
The Industrial and Commercial Incentive Program was intended to keep businesses in New York City by offering a tax abatement or tax exemption for increased property value, which would gradually be incorporated over time.
In October 2008 the Industrial and Commercial Incentive Program was replaced by the Industrial and Commercial Abatement Program, which puts more restrictions on the incentives. It limits the areas in which businesses can receive benefits -- firms in a large part of Manhattan can no longer qualify -- but it does not go far enough for some who believe the incentives tip the commercial playing field toward big corporations who sell unhealthy food.
"It was great that in midtown Manhattan it was basically eliminated," said Allison Lack of Good Jobs New York, a public interest group. But, she continued, retail projects, including national fast-food restaurants, are still eligible for tax abatements in Harlem, the South Bronx and Central Brooklyn, areas that are low-income, minority and afflicted with above average rates of diet-related health problems. Stringer would like to see the programs updated to prevent national fast food chains, such as McDonald's and Dunkin' Donuts, from benefiting.
Supermarkets and grocery stores also are eligible for tax abatements, but despite this many have not applied. "Some have and some haven't," said Lack. Good Jobs New York has not yet been able to determine why more retailers have not taken advantage of the program. "We really don't know. It's something we're looking into," said Lack.
Any effort to limit, restrict or inhibit the fast-food industry would meet resistance. Fast food restaurants constitute a powerful lobby. Subsidies given to producers of unhealthy food have increased the amount these companies spend on advertising and lobbying, giving them an even more outsized influence on food choices. But as obesity and diabetes rates rise -- and the costs placed on government increase -- a number of city offices are looking to end the Big Mad attack.