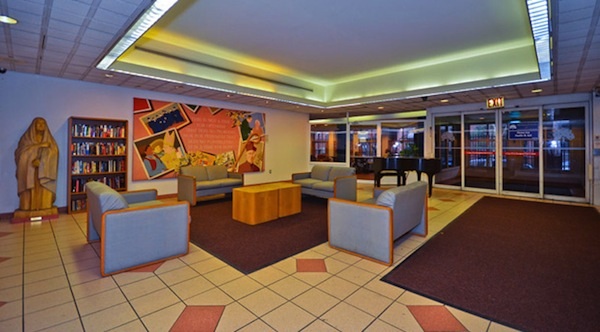 The Gotham Gazette examined inspection reports, complaints and court records to take a close look at five of the city's lowest-rated nursing homes. This is the fourth of five parts.
As a college student working as a part-time security guard at the Hopkins Center for Rehabilitation and Healthcare, Victor Ayala formed some disturbing impressions of repressive administrators and dour residents.
"The majority of the residents who could walk and talk on their own would tell me, 'Help me escape. Help me leave,'" recalled Ayala, who worked at the home in Brooklyn for six months in 2012. "It broke my heart."
One resident said he chain-smoked because he saw death as his only escape from Hopkins, Ayala said.
"I would never put anyone in a nursing home after that," he said.
Hopkins is rated as a one-star facility by the federal Centers for Medicare and Medicaid Services (CMS), which evaluates nursing homes nationwide. A single star means the nursing home performs "much below average."
Low-quality care afflicts nursing homes across the city. Of the 175 nursing homes in the five boroughs, 61 percent are rated by the CMS as below average or much below average.
Hopkins Director Susan Rice didn't respond to an interview request. But Director of Admissions Janet Cikana said the facility's one-star rating is undeserved.
"I've seen bad nursing homes," she said. "There are some I wouldn't put my dog in."
Cikana suggested that Hopkins' one-star rating is a residual effect of a 2011 incident in which an 85-year-old female resident with dementia walked out of the 288-bed nursing home and was missing for four hours.
A state Department of Health investigation at the time determined that security guards and a receptionist failed to respond to an alarm triggered by a "wander guard" worn on the woman's wrist. A family member found the missing woman in her former home and returned her to Hopkins.
Hopkins has fared better in federal inspections since the incident. Inspectors found no deficiencies during a 2012 certification survey and minor deficiencies cited last year have since been corrected.
Still, the CMS gave Hopkins the lowest possible rating in a staffing category, which is largely based on the amount of time that nurses spend with residents. CMS records show that:
A Hopkins registered nurse (RN) spends an average of 26 minutes a day with a resident. The state average is 42 minutes.

A nurse aide, who performs such tasks as feeding, bathing and dressing residents, spends an average of one hour and 51 minutes a day with a Hopkins resident. The state average is two hours and 22 minutes.

On average, a Hopkins resident receives care from all certified nurses, which includes RNs, licensed practical nurses, and licensed vocational nurses, for one hour and four minutes each day. The state average is one hour and 32 minutes.
An apparent shortage of staff at Hopkins led to another unsettling experience for Ayala. During an overnight shift, nurses summoned Ayala, though he wasn't supposed to leave his security desk. They needed his help. He went upstairs and found them wrapping blankets around a resident who had died. Ayala carried the resident to the basement morgue. He had never seen a dead body before.
A few weeks later, the night nurses again asked Ayala to carry a deceased resident to the morgue.
Sometime after Ayala left in September 2012, it dawned on him that a part-time guard was probably not supposed to leave the entrance unmanned to transport dead residents.
He was right. State law stipulates that qualified nursing staff members are responsible for all direct care, which includes dealing with residents' bodies after death.
St. Vincent's Hospital operated the nursing home under the name Bishop Mugavero Center for Geriatric Care until the hospital filed for bankruptcy. KFG Operating, a trio of businessmen who own other nursing homes, bought the facility in 2011. Staffing has been an issue since the ownership change.
Cikana, the Hopkins' admissions director, acknowledged that the new owners changed the business model, but said she regarded the changes as improvements. Rather than hire in-house physical therapists, for example, Hopkins uses contractors. Some of the nurses are contract employees as well, she said.
Advocates for the elderly oppose the employment of outside contractors in nursing homes. Furthermore, Medicare and Medicaid will pull funding from facility that use independent contractors for patient care, according to accountants and nursing experts.
Deborah Truhowsky, an attorney whose firm practices in the area of elder neglect and abuse, suggests that administrators understaff nursing homes for business purposes.
"They're not hiring more people, but still taking in new residents," she said. "It's difficult to imagine, what with the low number of staff members, how they could do what they need to do—take care of patients and train staff properly."
State regulations require facilities to have "adequate" staffing but set no specific standard for adequacy. Though seven states have passed laws that define staffing standards, the New York legislature has repeatedly struck down similar bills.
Nursing homes with staffing problems identified by the CMS frequently fail to ensure the health of their residents. A high incidence of pressure ulcers, commonly called bedsores, is often noted in such facilities .
Nearly 14 percent of long-term residents at Hopkins developed the painful and unsightly wounds. The state average is 8 percent and the national average is 6 percent.
Hopkins also is home to an above-average number of residents who exhibit signs of depression. Medicare records show that 23.7 percent of Hopkins long-term residents exhibit symptoms of depression—twice the state average and more than three times the national average.
Security measures taken after the 85-year-old resident went missing in 2011 might be contributing to some residents' depression. To prevent confused residents from straying, Hopkins erected an enclosure around the building's patio, the only outdoor space. Some residents and their families complained that the patio took on a jail-like atmosphere.
A former recreation leader at Hopkins, who asked that his name be withheld because he doesn't want to jeopardize his future employment, said he felt conditions worsened at the nursing home under the new owners.
"The people that are now running it are very much not in the interest of having it be something other than to make them money. Period. End of Story," he said.
The recreation leader, who had organized activities and musical performances, has worked at other nursing homes in the city, but said the environment at Hopkins was palpably different than anywhere else.
"Anyone who walked in there could tell that everyone was on edge," he said. "I don't remember anybody—staff or visitors, or family members or whoever—feeling as good about it as they did before the changeover, in terms of care, general feeling of the place, and every possible permutation of the business."
Theresa Fisher filed this report while attending the CUNY Graduate School of Journalism.