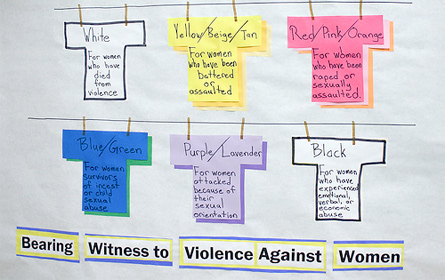 Emergency response to domestic violence survivors and their children has, over the past two decades, come a long way. Those who work in the field can point to a partnership of shelters and advocacy organizations, government offices, legal experts and police precincts that now provide assistance to protect women and their children from dangerous and abusive partners.
Despite these significant advances, the city still has not come close to meeting the need for shelter beds and for transitional and permanent housing. This forces many survivors to choose among street homelessness, the revolving doors of the city's homeless shelter system or returning, with their children, to their violent abuser.
Even with a 35 percent increase in emergency shelter beds for survivors and children over the past year, emergency shelters report they turn away hundreds of callers away everyday. Many of those they do shelter fail to secure follow-up transitional and permanent housing.
The Epidemic of Abuse
Advocates say one in four women experience a domestic violence incident. The New York City Domestic Violence Hotline answered more than 134,000 calls in 2008, an average of 370 calls per day. (The hotline, which provides help in many languages, operates 24 hours a day, seven days a week, and can be accessed by calling 911, 311 or 1-800-621 HOPE.)
City police responded to more than 234,000 domestic violence incidents in 2008 -- an average of more than 600 incidents per day.
The Role of Law Enforcement
This level of police involvement represents a huge change in just a few decades. Thirty years ago, police often did not respond to domestic violence complaints. Many thought such violence was a private family matter and that a woman was her husband's property. Officers essentially blamed the victim.
Now, the New York City police respond and "respond skillfully", said Maureen Curtis, associate vice president of Bronx Criminal Justice and Community Programs for Safe Horizon, one of the largest providers of services to survivors of domestic violence in the country. Advocates credit some of this to the state's Mandatory Arrest Law, enacted in 1984, which requires police to arrest the abuser under certain conditions.
Training in domestic violence intervention has also improved. Safe Horizon advocates can be found in 13 of the city's 84 police precincts, concentrating on those with the highest crime rates. High crime districts are also the districts with the most reported domestic violence incidents, according to Curtis.
Getting Help
Most survivors have called the police and the domestic violence hotline many times before they try to break free from their abusive partner and seek emergency shelter.
Once they make that decision, though, there is no guarantee they will find the shelter they need, according to Sanctuary for Families, the largest nonprofit agency in New York aiding victims of domestic violence and their children. But only "several hundred" get emergency shelter.
While many victims can stay with friends or relatives, hundreds of women seeking shelter are turned away from Sanctuary every day for lack of available beds, said Shugrue dos Santos, deputy clinical director of Economic Empowerment Programs for Sanctuary for Families. "All our services are overextended and we are asking the city for more shelter beds," Shugrue dos Santos said.
The Human Resources Administration administers some 50 emergency shelters for 700 families with approximately 2,500 emergency shelter beds citywide. The maximum stay for emergency shelter is 135 days.
As soon as the victim enters the emergency shelter, counselors try to determine her safety risk. The survivor and her children will be assessed for trauma by a psychiatrist and a psychologist.
"The children need crisis intervention services not only because of the devastating impact of watching their father beat their mother but because in 60 percent of the cases we get, the father is also battering the kids," Shugrue dos Santos said. She added that survivors arriving at the shelter are suffering from post traumatic stress disorder, anxiety, depression or bi-polar illness, and often have medical problems like asthma and high blood pressure that are exacerbated by the stresses of abuse.
"Sanctuary's roots are feminist, rooted in the belief that gender oppression and inequality is at the root of domestic violence. Violence occurs when one person uses their power to control another person," Shugrue dos Santos said.
Not all victims of domestic violence are women and not all perpetrators are men. Also, men are abused in both heterosexual and gay relationships. However, statistics indicate that these forms of domestic violence are much less frequent than men abusing their female partner.
"Shelter is a last resort, a place to hide. It's reserved for families in acute safety risk, and only after all other options fail. …These women come with their kids and a garbage bag of clothes," Shugrue dos Santos said. "They have tried to get away from the abuser many times before. It's a choice between … a full refrigerator and hunger. Many survivors choose the full refrigerator for their kids over their own personal physical safety."
Different Women, Different Needs
Not every victim of violence falls under the stereotype of a badly bruised victim "fleeing in the middle of the night," said says Barbara Brancaccio, spokesperson for the city Human Resources Administration. "Every client comes in at a different place in her life, with her own set of options, her own individual needs, her own unique scenario. Some can find a job on her own, while others need employment training and placement. In some cases, the woman must get public assistance, but others have money and income of their own."
The New York City Family Justice Center, a partnership of government and nonprofit domestic violence agencies all under one roof, is an example of the evolution in domestic violence services. While the centers -- one in Brooklyn and one in the Bronx -- doesn't offer anyone a bed, it is a multi-faceted, all in one stop, emergency intervention, needs assessment and resolution center. In one visit, the victim can get help finding emergency shelter, documenting and filing a police report, and applying for public assistance. She can be examined by a forensic medical practitioner, get legal help, meet with advocates from non-profit agencies, and, if she wants it, get spiritual counseling. Help comes in 150 languages.
According to the mayor's Office to Combat Domestic Violence, 96 percent of victims who used the services of the Family Justice Center did not report subsequent harm from their abusers. And there was a 36 percent decline in domestic violence homicides in 2007, which the office credits to the work of the Family Justice Center.
After the Shelter
Following their time in emergency shelter, survivors need permanent housing. The Human Resources Administration tries to find transitional homes for shelter clients who need a place to stay for an extended period while they wait for permanent housing or other services to come through.
According to Shugrue dos Santos, approximately 20 to 25 percent of Sanctuary emergency shelter clients move directly into permanent housing. Of those who need to go into transitional housing first, about 50 to 60 percent then find permanent homes.
Some survivors choose homelessness over returning to a dangerous home. "These women don't have the option of moving out of state to stay with a friend or relative. They've already tried that and their husband has tracked them down, putting their extended family members at risk as well," Shugrue dos Santos said.
Women coming out of shelters confront the general scarcity of affordable housing in New York City. "While domestic violence cuts across all socio-economic lines, race, and ethnicity, 98 percent of our clients are, at or below, poverty level," says Shugrue dos Santos. About 70 percent of Sanctuary clients are immigrants and about 30 percent are not legally documented, making it difficult to secure work or get public assistance.
The women Sanctuary serves, Shugrue dos Santos said, "are not poor as a consequence of domestic violence. Generally, they have always been poor."
Sanctuary's "My Door" after-shelter program helps women who are unemployed, or underpaid, to find jobs. However, clients need recovery time before they can take steps to start working. "They are women, people of color. They are facing classism, anti-immigrationism. …They suffer self-esteem problems: No one ever asked these women what they wanted to do when they grew up, what they were good at," Shugrue dos Santos said.
Approximately 46 percent of the survivors who complete the My Door program are currently employed, Shugrue dos Santos says.
Despite the advances, advocates say that society still needs to confront the magnitude of domestic violence. "Domestic violence is not a private family matter. It is a global human rights violation," said Marcia Pappas, president of the National Organization for Women -New York State.
According to state law, domestic violence is a "family offense," but Pappas believes it should be treated as a "hate crime." "Misogynism, sexism is no different from other isms, like racism and anti-Semitism. It is ingrained in society."
Society still does not take it seriously enough, Pappas said. She said she had recently read in the Albany Times Union, about a man that was sentenced to three and a half to seven and a half years in prison for stabbing a horse. That's more time than men get who do the same thing to their wives."