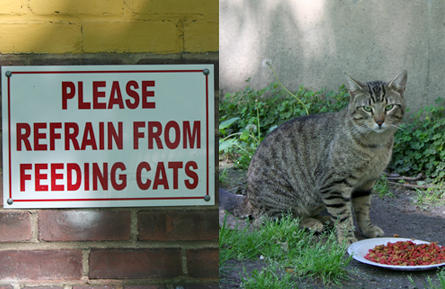 Photos by Adelia Honeywood Harrison
At the Ravenswood public housesin Astoria, a cat munches on dry food underneath a sign reading "Please Refrain From Feeding The Cats." Plates of dry food and empty cat-food cans dot the projects. Cats squeeze in and out of VCR-sized rectangular slots in the bases of the buildings to enter crawl spaces. Residents complain about the mess left by people feeding the cats, about the smell of the male cats' spraying, and infestations of ticks and fleas. But most tenants say they do not want the cats harmed.
"I don't want to see any cats killed," said Carol Wilkins, a resident for over 50 years and president of the Ravenswood Resident Association. "Housing is not in the job of killing cats."
"If they euthanize the cats, will they euthanize the rats?" said Gregg Berry, 41, a lifelong resident who claims he hardly ever sees a rat at Ravenswood and gives the cats credit for that.
A coalition of animal welfare organizations has offered to take care of the problem. Through a process known as trap-neuter-return, or TNR, they propose to trap, spay and neuter the cats, vaccinate them for rabies and treat them for fleas -- at no cost to New York City Housing Authority, which runs Ravenswood. Kittens and people-friendly adult cats would be removed for adoption. But the unadoptable, feral cats, after being sterilized and vaccinated, would be brought back to live outdoors at Ravenswood. And this is where residents and animal groups say that the housing authority has repeatedly balked. They don't want cats brought back.
"Unfortunately NYCHA does not want the cats brought back at all," said Wilkins. "That's always been their stance from the very beginning. Who's gonna take care of them? Housing is not responsible for taking care of these cats."
"NYCHA says they're in the business of housing people, not cats," said Debi Romano, president of SaveKitty Foundation, repeating what a housing authority official said at a tenant meeting in February. "We tried to explain that it's the people's fault that they [the cats] are there. They were dumped by the tenants and are still being dumped."
Ravenswood is the largest public housing development in Queens. Its 31 buildings occupying 12 city blocks are home to over 4,000 people -- and possibly 600 cats, according to estimates by the animal welfare organizations. Any plan the housing authority adopts to deal with the cats could set a precedent for other public housing developments and city-owned facilities.
"I think if NYCHA, one of the largest housing authorities in the country," adopted trap-neuter-return "everybody else would eventually follow," said Jane Hoffman, president of the Mayor's Alliance for NYC's Animals. "It could have wonderful ramifications for the whole concept."
The Cats That Come Back
The trap-neuter-return proposal, spearheaded by SaveKitty foundation and backed by the Mayor's Alliance for NYC's Animals, the ASPCA, Best Friends Animal Society and the Humane Society of the United States, is intended to remove a significant number of cats and kittens for adoption. Romano said that number could be as high as 450, but others doubt this.
An important component of any trap-neuter-return project, though, is long-term feeding and care of the returned cats. SaveKitty has pledged to manage the colonies that remain at Ravenswood forever and to remove any newly abandoned cats. And the animal groups promise to provide ongoing spay/neuter services and pet care education to residents.
"I'm always against neutering," resident Berry told Romano with a grimace after learning the plans for male cats. When Romano explained that neutering curbs not only reproduction, but the smell and noise of spraying and fighting, he offered to help.
SaveKitty also proposes setting up well-maintained feeding stations to eliminate the mess of individual tenants' haphazard feeding.
"Signs are up saying 'please do not feed cats,'" said Patrick Kwan, New York State director of the Humane Society of the United States. "We all know that's not going to work. People are concerned and feeding the animals. The best way of doing it is letting them know the cats are being taken care of and will only be in one area."
But who will maintain the feeding stations remains a question for Wilkins who says she still needs to do a formal survey of how the residents feel about the cats and whether or not they would want to help.
"There are residents here that like the cats, and there are residents here that do not like the cats," said Wilkins. "There are some that don't want them here in the community at all."
Cat Colonies
Feral cats are not socialized to humans and therefore not suitable for adoption. Any of them trapped and brought to the city-contracted shelter Animal Care and Control would be euthanized. Advocates argue that trap-neuter-return is not only more humane, but more effective and less costly than eradication programs. Neighborhood Cats, a New York City TNR organization, posts a lists of studies in support of these arguments on its website. The group also contends that eradication programs ultimately fail because of the "vacuum effect" -- when cats are removed, new ones come in to occupy their space -- whereas returned cats will keep new cats out and slowly die off naturally.
"People [ask why] when the population goes down over time, it doesn't repopulate?" said Bryan Kortis, executive director of Neighborhood Cats. "And the answer to that is you've got somebody there who is keeping up with the new cats."
In 2002, the Department of Corrections collaborated with Neighborhood Cats, the ASPCA, Animal Care and Control and the Humane Society on a large trap-neuter-return operation on Riker's Island. Over several months, the program trapped more than 300 cats and spayed and neutered them. The ASPCA estimates the island's cat population is now half of what it was before the program.
Gloria Murli, a retired captain for the Department of Corrections, has looked after feral cats on Riker's for over 20 years. Murli and four corrections officers monitor about a dozen feeding stations on the island. She said they use between 800 and 1,000 pounds of food per month, provided mainly through donations of cat food or money.
In 2004, the Urban Cat League ran a small trap-neuter-return project at the Marble Hill houses, a New York City Housing Authority development in the Bronx. The authority gave its blessing for the ongoing management of the returned cats. An estimated 16 cats remain.
Trap-neuter-return does have its critics. Among the fiercest opponents are wildlife conservationists. In a 2009 resolution, Audubon New York stated that free-roaming cats -- be they pets or feral -- kill millions of endangered birds and billions of small mammals each year and spread diseases to wildlife. Colonies, the group said, encourage further abandonment of cats. Conservation biologists also refute claims that trap-neuter-return helps to reduce feral cat populations and dispute the "vacuum effect."
People for the Ethical Treatment of Animals believes that even in managed colonies, feral cats are prone to fatal diseases, abuse and serious injury. The group has said, it "cannot in good conscience oppose euthanasia as a humane alternative to dealing with cat overpopulation."
NYCHA Vs. the Cats
Earlier this year, the housing authority tried to seal entrances to the crawlspaces where the cats live. Romano managed to stop these efforts, saying they would trap nursing kittens. Sealing live animals inside a closed space is against New York State anti-cruelty laws. In early April, the ASPCA's Humane Enforcement division came in. Assistant Director Joe Pentangelo said no cats were found inside but the ASPCA issued a notice that all cats must be removed before areas could be sealed.
On April 30, housing officials and Ravenswood staff met with the animal welfare groups and Animal Care and Control. In an email from its press office, the authority said the parties agreed to let the crawlspaces be sealed after clearing out the cats, and that any cats captured would be turned over to SaveKitty. In a previous statement the authority had said it would turn adult cats over to Animal Care and Control -- almost certainly for euthanasia -- but when SaveKitty protested that that was not the original agreement, the housing agency revised its statement to affirm that cats would be turned over to Romano.
The animal welfare groups also say that they convinced housing authority representatives at the meeting that trap-neuter-return is the only sensible solution to Ravenswood's cat problem and that the housing officials agreed to convey that message to authority Chairman John Rhea.
"The next step certainly will be to go higher up the ladder to get their buy-in on the program," said Kwan of the Humane Society, who attended the meeting. "We're really hoping we can have another sit-down meeting."
State Sen. George Onorato, whose district includes Ravenswood and for whom Romano worked as a housecleaner, supports SaveKitty's proposal and wrote a letter to Rhea "strongly urging" him to meet with the foundation. In a statement, Onorato called the proposal a "well thought out and forward-thinking plan, which will be both humane, cost-effective and, in the long-term, most beneficial to the Ravenswood tenants."
A spokesperson for Onorato said he had not yet received a response.
Limited Options
Currently, the housing authority's only known plan is to flush the cats out of the crawlspaces and seal them. In an email statement, the agency said it has four cat traps and that "NYCHA staff will go into the crawl spaces and first try to get the cats to leave using the existing openings."
"They're not going to get anything," said Romano. "Any animal outside the crawl spaces they're not going to bother with, so why not let me fix them and put them back on the property?"
When the crawlspaces are sealed the cats won't have access to them for shelter.
"There's no place for them to stay, especially when it comes to winter," said Wilkins of the residents association. "What are they going to do?
If the housing authority does not accept the trap-neuter-return program, its other options would be to do nothing or to eradicate the cats itself. Best Friends Animal Society estimates it would cost the authority $300 per cat to trap and eradicate the animals, not including staff time. The authority did not respond to repeated requests for further comment.
Marshalling their Resources
A trap-neuter-return project of the scale advocates foresee, like the Riker's Island project, would require a massive coordination of resources. The ASPCA has committed its mobile spay/neuter vans and hopes to do a MASH-style clinic on the site. The Mayor's Alliance would provide transportation and says "trap banks" throughout the city may be able to provide traps. Holding space would be required for pre-and post surgical care.
"If NYCHA could open spaces in their buildings that would be huge," said Hoffman.
Volunteers will have to be mobilized for trapping and to care for the animals before and after surgery. Shelter space will need to be found for the adoptable cats. The Mayor's Alliance says it could ask their 160 partner organizations, most of them adoptions groups, to take cats. Best Friends Animal Society said it would also work to find placement.
"If NYCHA allowed the project to go forward, we'd have an enormous amount of assistance," said Hoffman. "I can't imagine people would not want to help -- it would be such an important milestone."
Beyond Ravenswood
Although it's impossible to know the actual number of feral cats in the city, estimates range from 500,000 to 800,000. The average female can have two litters of four to six kittens a year. In the face of these numbers, the Mayor's Alliance's seeks to end euthanasia of healthy, unwanted animals in New York City by 2015.
"The only way we'll become a no-kill city is to focus both on feral cats and owned pets," said Hoffman.
Nearly 3,000 volunteers in the city have been trained in trap-neuter-return in three-hour introductory workshops offered by the New York City Feral Cat Initiative. Graduates can borrow traps and access free spay/neuter services and rabies vaccinations at ASPCA mobile clinics. However, volunteers must provide transportation and space to hold the cats before and after surgery, and often must pay for supplies, additional veterinary care and ongoing costs of food for colonies.
Councilmember Letitia James, who supports the Ravenswood project, plans to reintroduce a resolution calling for a city-wide trap-neuter-return program conducted by Animal Care and Control. Meanwhile, if the housing authority were to accept trap-neuter-return at Ravenswood, advocates think it would have a huge impact in the city and across the nation.
"We share their goal of not having any cats there," said Kwan of the Humane Society of NYCHA and Ravenswood, "but there's no magic light switch we can flip and have them disappear."