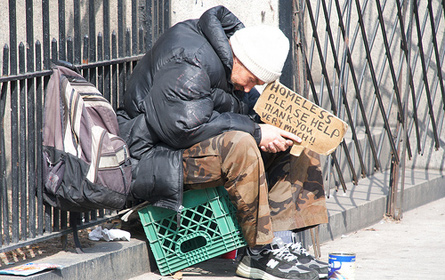 Though there was great fanfare at its introduction in 2004, Mayor Michael Bloomberg's audacious plan to cut homelessness by two thirds within five years and end chronic homelessness in the long term has been something of a failure. This past year saw the highest level of homelessness since the city began recording such numbers in its history.
In its 2010 State of the Homeless report, the Coalition for the Homeless described "a record breaking 39,000 homeless New Yorkers sleeping in municipal shelters each night ... This year, city also saw over 10,000 homeless families in shelters each night for the first time ever."
Despite the swelling ranks, the city's Department of Homeless Services is slated for substantial funding and service reductions in the FY11 budget. The administration and homeless advocates, though, differ sharply on just how severe the cuts are and what effect they will have on services.
In recent testimony before the City Council, new homeless services commissioner Seth Diamond said the agency's "budget reduction target is $24.5 million" and in part to meet this target, homeless services proposes to "reduce headcount by 57 through attrition."
Commissioner Diamond told Gotham Gazette he believes that, the department, by working in conjunction with the Human Resources Administration, should have "sufficient resources to provide to their clients. There will be no impact on services."
The Coalition for the Homeless, one of the administration's staunchest critics on homelessness, sees the situation very differently.
"The proposed cutbacks are the most severe in New York since modern homelessness began, and would lead to further increases in New York City's homeless population," the group says on its website.
What's Being Cut
As specified in the Office of Management and Budget's Executive Budget Agency Gap Closing Programs (PEG) report issued earlier this month, the department plans to:
--Eliminate 40 Safe Haven and 50 "stabilization" beds for chronically homeless single adults, saving $970,000;
--Close Open Door, a 24-hour street drop-in center based in Manhattan, saving almost $2.5 million;
--Reduce medical services at 12 shelters saving more than $1.7 million;
--Cut a relocation and assistance contract helping 1,000 families transition to permanent housing to save more than $1 million.
The department had been looking to charge fees to working families staying in shelters, an issue arising from a never-enforced state law and a policy with which the city flirted last year. But during his council testimony, the commissioner reported negotiations with the state offered the city some flexibility so that now working families will be required to deposit money into a savings account.
The reductions also come after the New York City Housing Authority canceled thousands of Section 8 federal housing vouchers for low-income families, making it even harder for people to find permanent homes.
Dramatic changes to the city's HomeBase also are in the works. This would shift the emphasis away from prevention and anti-eviction services for all families at risk of becoming homeless toward case management and re-housing services for homeless families who live in hotels.
Working for a Home
Perhaps the most controversial of all the cuts from homeless services is the proposed elimination of employment specialists at 13 facilities serving 2,404 families. This would save $372,000.
The cornerstone of the Bloomberg administration's fight against homelessness has been some form of work program, though the configurations have changed over time. Currently, it is reflected in the updated Work Advantage, which provides rental assistance for up to two years -- but only if at least one family member is working before they receive the subsidy.
Diamond is no stranger to this approach. He was a deputy commissioner at the city's Human Resources Administration and is an advocate of welfare reform -- and work requirements -- on which he worked during the Giuliani administration. Patrick Markee, senior analyst at the Coalition for the Homeless, described Diamond as one of the architects of the city's "work-as-the-answer-to-poverty" philosophy that was so dominant during the Giuliani years and was later adopted by Bloomberg administrations.
"Firing more employment specialists when you claim the centerpiece of your new policies will be placing more people in employment makes as little sense as a community about to host the Winter Olympics dismantling all its ice making and snow making machines," said NYC Coalition Against Hunger executive director Joel Berg in an email.
Public Advocate Bill de Blasio, who chaired the City Council's Committee on General Welfare before moving on to this current post, agreed in an email. "Cutting crucial services for homeless New Yorkers just when our city faces record unemployment will cost taxpayers more money in the long term, and runs contrary to the new 'back to work' theme regularly emphasized by Commissioner Diamond," he said.
The proposed reductions aren't necessarily what they appear to be, according to a spokesperson for homeless services. In an email, she said the shelter-based employment program is not being cut. "We are restoring it with stimulus funding," she wrote. "Furthermore, we work closely with our sister agency HRA to provide many employment training and job placement options for those in shelter. Employment will remain a priority at DHS both in shelter, and as clients leave shelter to return to the community through our new Advantage program."
Independent Budget Office budget and policy analyst Kerry Spitzer said shifting money does not always result in service cuts. In this instance, she said, some cuts will be offset by the use of different funding, including money from other city agencies. "We don't know exactly how it will play out but it will interesting to see," Spitzer said. For example, the Relocation and Employment Assistance Program is slated for more than $ 1 million in cuts in the mayor's executive budget but in the end will be covered by federal stimulus money.
But Markee cautioned, "It's not a one-to-one ratio, city to stimulus money" and the change ultimately will result in a net loss.
Assessing Work Advantage
The reduction in employment counseling comes amid debate about whether Work Advantage has been successful--even before the cuts.
On its blog, the coalition states that based on the city's own research, the average participant in Work Advantage "earns $9 an hour and works 32 hours an week. That translates to monthly pre-tax income of around $1,150, or an annual pre-tax income of around $15,000." The quandary for homeless families is underscored, they write, because these families are regularly housed in apartments that cost about $1,100 per month leaving just a few dollars for all other expenses. Despite this, the blog continues, "DHS cuts off rental assistance even if the family does not have the income to afford their apartment."
Markee testified in April before the council's General Welfare Committee that "more than 7,000 families are at risk of returning to shelter" this year.
Diamond defended his agency, reporting, "less than 5 percent [of Work Advantage families] returned ... meaning a 95 percent success rate. If they come back we'll work with them to try and get them out quickly. It doesn't mean the program is a failure."
There's some support for the coalition's concern. A fall 2009 analysis issued by the Institute for Children and Poverty concluded, "Those who will find success are the minority of homeless families who are most able to help themselves; however, the majority of younger, less skilled, and more burdened families will not. The prospects for these families remain bleak, and the city's Work Advantage Program provides little hope of relief. It appears that these families are in need of education and employment skills prior to any rental subsidies."
To Cut or Not to Cut?
As to the other cuts, Commissioner Diamond said that in the last fiscal year the city has added money resulting in a net gain of 136 Safe Haven and stabilization beds available to the single adult population at city or faith-based shelters and drop-in centers. This comes despite the elimination of 40 and 50 listed in the budget.
Spitzer also said the damage could be far worse. "The overall gap in DHS' budget doesn't come near to the amount proposed to be slashed by state aid," she said. (The state has not yet passed its budget so these numbers remain hypothetical.) The amount of city tax levies going to these programs is $412 million for the coming fiscal year, Spitzer said, down from the level of last year but up substantially when compared to what was in the plan in January.
Technically, Markee said, that's accurate. A 1979 state Supreme Court ruling established the the legal right to shelter and mandates the city to fund homeless entitlement programs -- since homelessness increased, so did the correlating spending. "It's the discretionary funding that will see the biggest hits, like the drop-in center, and medical and employment services," he said.
A Need for More Services
Rather than cut programs, Markee wants the administration to step up its efforts, particularly in helping people afford places to live. For him, the very basis of its homeless philosophy is all wrong. "Jobs are not the only answer to homelessness. ... It's also rental assistance. ... Rents are out of reach ...even doubling the minimum wage."
Earlier this year, Bloomberg introduced a revision to his New Housing Marketplace Plan, which in 2003 targeted the creation or maintenance of 165,000 affordable housing units by 2014. The updated version places greater emphasis on "strengthening neighborhoods, expanding the supply of affordable and sustainable housing, and stabilizing families by keeping them in their homes." But in any version, Markee said, the city has still "lost more affordable housing than it created."
There's also been a significant lag in the creation of supportive housing units, a fact reinforced by the Independent Budget Office, which found "about 1,200 units less than expected after four years had been created." Supportive units are traditionally used to permanently house people with HIV/AIDS, mental health or addiction issues while providing them with social services.
"The city is overwhelmed with new homeless families," Markee said. "There is rising need and fewer resources that are already overwhelmed in other agencies."
Public Advocate de Blasio wrote, "Our city faces a record number of New Yorkers living on the streets and in shelter; eliminating vital support services will only make it more difficult for them to get back on their feet and out of the cycle of poverty."
Jillian Jonas is a freelance journalist focusing on local and national politics, government and public policy. She is a former national political analyst for U.P.I.