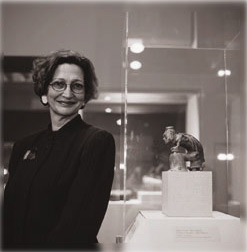 Susana Torruella Leval
For 19 months after its creation, the Panel for Educational Policy worked in relative obscurity. The state legislature established the unpaid 13-member group in 2002 when it gave the New York City mayor control of the school system and abolished the Board of Education. In contrast with its more powerful predecessor, the new panel, the law said, "shall exercise no executive power and perform no executive or administrative functions." And Mayor Michael Bloomberg said of his appointees, "Their job is to give advice to the chancellor, not advice to the press. I do not expect to see their names, ever, in the press, answering a question either on the record or off the record."
But the panel garnered attention last week as it prepared to vote on Bloomberg's plan to leave back third graders who score poorly on a standardized test. Fearing he would lose the vote, Bloomberg requested the resignation of two members who had indicated they would vote against the policy.
The ousters came after a week of turmoil at the Department of Education. Only days before, Deputy Chancellor Diana Lam, the department's top educator, had to resign in the wake of nepotism charges. The department's top lawyer also stepped down.
Susana Torruella Leval, a former director of the Museo del Barrio, was one of the Bloomberg appointees dismissed from the Panel for Educational Policy. In an interview with Gotham Gazette, Leval describes what led up to the ouster of the panel members and spoke about the role of the group and the state of educational reform in New York City:
Advisors, Not Rubberstampers
It was a great honor to be on the panel. When the mayor appointed me I remember saying, "You know Mr. Mayor, I'm not an education expert so are you sure that I should be taking the place of an educator on this panel?" He said, "Oh certainly, because what we want are people from other worlds, other perspectives. What we want is a different point of view."
I'm a private citizen. I have no agenda. I'm a person from the art world, and I'm an ex museum director. Perhaps because I was not from the world of education, I took great pains to educate myself on all the issues that were coming up before us.
We were not hired to rubberstamp the mayor. Who would go on a panel if that were the purpose? The panel's role was advisory, and perhaps it was naĂŻve that we took this to be real. We worked very closely for a year and half with the chancellor sometimes but mostly with the staff that does the day-to-day work.
I was privileged to be on the inside looking at this extraordinary team of people, a team that in my mind included the work of former Deputy Chancellor Diana Lam, which was excellent work no matter what happened later. It was a privilege to observe the team and to have an interaction with them as advisors. They took us very seriously. We were refining and tinkering with proposals that came up and in some cases even challenging them, but we always got to the other side. I am very sad to not be able to continue to serve with the wonderful colleagues on the panel and with the great staff.
Whether the panel can continue to do good work if what the mayor wants is simply approval and not advice, I don't know. The members of the panel all felt that they were on a real advisory panel. No one would have signed on to be on a rubber stamp panel. If you look at the people on the panel, they are people of weight, intelligence and experience. And there was immense passion and belief in this reform.
Confusion and Complaints
It's extraordinarily courageous of the mayor to take on educational reform as a test of his mayoralty. I thought that, in the past, the system has been in such shambles that, of course this is going to be good.
Change is very painful, and change makes people unhappy, and change takes time. We have not seen any statistics yet because the school year isn't even finished. But most of the comments that the panel has gotten from parents and teachers have not been very positive. On the administrative side, there seems to be great confusion and on the curriculum side there's a lot of complaining too.
The reform could still turn out to be very good news in the end. It's just how can you expect to turn a whole system upside down and get immediate good results? You can't. Maybe you can do that in a corporation. In the real world, it doesn't work that way.
Objections To The Third-Grade Promotion Policy
Promotion was one of the first issues that people on the panel were seriously and intellectually divided on.
Absolutely no one in the panel is for social promotion. So, I'm puzzled and actually sad that there are descriptions of the members who were going to vote against this as "foes of the mayor" or people who are against reforms. I wasn't voting in defiance of the mayor. I was voting because my brain of 60 years has taught me to look at things and analyze both sides.
What most of us were listening to and reading about were the very serious objections from the expert professional educational and scholarly community. Those objections were mainly twofold. They were against high-stakes testing. There seems to be immense proof that high-stakes testing is a very bad practice, and even the test makers have said that they don't agree that it should be used as a sole measure. No one is against tests, and no one is against standards. What we are against is using one test -- and exclusively that test -- as the marker of what should retain a child.
The second issue that expert opinion seemed to not be divided on is on retention. They do not see retention as a solution. That does not mean that social promotion is the answer. Neither retention nor promotion are solutions.
There are a lot of very serious and good educators on the panel. Led by them, we had proposed a whole host of interventions and programs for reading remediation -- including smaller classes, of course -- that would prevent the problem of having a third grader not knowing how to read.
There was a mayoral mandate in January for immediate implementation. The test is in April. We were all arguing for more time. We felt that if we had one year more -- in other words if whatever initiative to end social promotion was implemented in 2005 -- that we would have the next year to work with the chancellor's staff. What we were arguing for was a well-thought-through educational plan that could take a year to put in place; maybe it would have taken less than a year.
The resolution looked totally different on March 15 than it had even one week before. Thinking how much the resolution had changed in one week, I really feel that if we had had another year, even another month, we would have ended up in a better place. We have a new vice chancellor, Carmen Fariña. It would have been very interesting to see if she could have helped come up with new aspects that would have made most of the panel comfortable with the resolution.
Slowing Down; Leaving
Over the last year and a half, the haste of some reforms have caused a lot of criticism. If you slow down, you can think things through.
I am sad to say that Diana Lam's leaving contributed to the atmosphere of chaos. She was in favor of the promotion policy, but she had expressed the ability to listen to taking more time, to slowing down. Despite her public persona, I always found her to be thoughtful and willing to listen.
I had been in conversation with the mayor and people close to him. We had been having what I thought was a real debate. That debate continued until noon on Monday. Then I got home at two on Monday and had a call from a mayor's representative who said, "If you cannot vote for this resolution, then the mayor would like your resignation." And that was it.