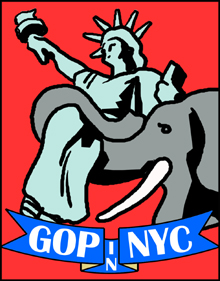 Related:
A Brief History of N.Y. Republicans
by John Marchi
Republican Policies: An Insult and an Injury
by Ed Sullivan
New York City Conventions
While this year will mark the first time the Republican Party has held its national convention in New York Democrats have gathered here five times since the first national party nominating convention in American took place in 1832
1868
The party gathered in Tammany Hall and on the 22nd ballot selected former New York Governor Horatio Seymour as its nominee. He carried only eight states in losing to Ulysses Grant.
1924
After a 76-year absence, the Democrats returned to New York for what many historians consider one of the most disastrous political conventions ever. Delegates split sharply between Former Treasury Secretary William Gibbs McAdoo of California, who favored Prohibition and drew most of his support from the south and west where the Ku Klux Klan was popular, and Al Smith of New York City, a Catholic who oppose the Klan and Prohibition. After 14 days and 103 ballots, neither had won the nomination and the Democrats nominated John W. Davis. Republican incumbent Calvin Coolidge defeated him in November in an election that marked the last time a Republican presidential candidate won New York City.
1976
Perhaps feeling cursed by New York, Democrats stayed away for another 52 years. They returned to nominate former George Governor Jimmy Carter. But the convention's high point may well have belonged to Representative Barbara Jordan of Texas who became the first African-American to deliver a major party's convention keynote address. Carter defeated Gerald Ford in November.
1980
Carter returned to New York four years later but by this time the party was sharply split between him and supporters of Senator Edward Kennedy of Massachusetts. Kennedy gave a rousing speech at the convention, but Carter won the nomination. Hurt by the challenge from Kennedy and the Iranian hostage crisis, Carter was defeated by former California Governor Ronald Reagan in November.
1992
Democrats gathered in Madison Square Garden to nominate Arkansas Governor Bill Clinton. The night he won the nomination, Clinton walked a few blocks along city streets and triumphantly entered Madison Square Garden to wild cheers. Overall the convention gave Clinton a huge boost in the polls and propelled him to victory in November.
It seemed like a good idea at the time.
For the first time in its 150-year history, the Republican Party agreed, in January 2003, to hold its national convention in New York City.
From the party's perspective, a meeting less than four miles from Ground Zero could subtly remind the nation of President George W. Bush's leadership in a time of crisis. The Republicans could also wrap themselves up in the diversity of the city.
From the city's viewpoint, the convention would bring tens of millions of dollars into the economy and tell the nation that New York was back in business after the September 11, 2001, attacks. "This is an incredible boost to New York," Republican Mayor Michael Bloomberg said in announcing the party's decision.
Some people still think it is a good idea. But, as the convention approaches and details are being announced, others on both sides may be asking whether having the GOP in NYC will wind up having more costs than benefits.
THE UNUSUAL CHOICE
Democrats have had their national political convention in New York City five times (see column, right), while Republicans never have. This should not be too surprising: Even though we are now in our 10th straight year of Republican mayors, no Republican presidential candidate has carried the city since 1924, only one of the city's 13 members of Congress is a Republican, and Democrats outnumber Republicans in the city by a five-to-one margin.
To overcome such obstacles, Republican Bloomberg launched an energetic campaign lobbying the national Republicans, along with concrete inducements. He treated members of the selection committee to breakfast at Tiffany's, arranged for them to receive notes from Broadway stars and enlisted Republican hero and former Mayor Giuliani in the campaign. To a party wary of government spending, the city held out the promise of a convention financed by rich donors - not taxpayers.
They said they would construct a temporary media center in the James A. Farley Post Office linked to Madison Square Garden by a pedestrian bridge, thereby creating another irony since Farley was chair of the Democratic Party. City Hall noted the city could offer 22,000 hotel rooms, thousands of them renting at an average of $156 a night. Labor unions promised they would not strike.
The campaign worked. But some Republicans clearly have never felt comfortable about the prospect of being in alien territory. "Most of the people I deal with are Democrats," said William D. Harris, an Alabaman who serves as chief executive officer of the convention. "No question - we are in New York City. But the people here want this convention to be a success - maybe not for the same reason that I do."
"I just hope the lights will be turned on at Madison Square Garden," another party activist told Christian News Service.
Last fall, House Majority leader Tom DeLay announced plans for 2,200 delegates to stay, not in city hotels, but on a cruise ship in the harbor - far from the streets (and the people) of New York City. Following protest from Bloomberg and general uproar, he backed down.
The rifts between New York and the Republicans deepened earlier this year when Bush announced his support for a constitutional amendment that would ban gay marriage. Most New York Republicans, including Giuliani and Governor George Pataki, denounced the move.
At the same time, testimony before the 9/11 commission and unrelenting bad news from Iraq have tarnished Bush's image as a courageous fighter against terrorism.
THE BENEFITS
But the Bloomberg administration says this Republican Party in a Democratic town will not be about politics, but about money. And apparently many New Yorkers agree. In Quinnipiac University poll conducted in January and February of this year 67 percent of New Yorkers - and even 62 percent of Democrats - said that playing host to the convention would be good for New York.
The budget for this year's Republican convention is expected to total some $91 million. Of that, about $15 million will come from the federal government, which will also give money to the Democrats for their convention in Boston. The delegates pay their own housing and meal costs, according to Rori Patrise Smith, spokesperson for the convention.
A host committee has raised about $70 million to cover such expenses as space rental and the podium where Bush will probably make his acceptance speech. The committee includes some Republican fund-raisers, but Bloomberg also selected Jonathan Tisch, chief executive of Loews Hotels, a registered independent who reportedly has contributed $425,000 to various Democratic Party campaigns. "This is not about politics, it's about jobs,'' Tisch told Bloomberg News Service. Bloomberg himself has given $5 million.
According to NYC and Company, the city's official tourism agency, the convention will bring about 50,000 people - including 15,000 members of the media -- to New York City and generate more than $150 million in economic activity for the city in late August, when most tourists prefer cool beaches to hot city sidewalks. In addition, the convention could create 1,800 temporary jobs, and produce $10 million in tax revenues.
Dan Pisark, vice president for retail services of the 34th Street Partnership, said his members expect the convention to boost business. The delegates and the media "need batteries and film and they need to have lunch," he said. I would hope they might go shopping."
Businesses and institutions across the city hope to cash in. The Metropolitan Museum of Art is rented out for several evenings, while the Edison Electric Institute, a trade group, has reportedly booked the Central Park boathouse for a cocktail party. The general manager of 21 expects his 10 private rooms to be rented that week.
To pull in more money, the city has launched a "Come Early, Stay Late" drive aimed at getting conventioneers to extend their stays. It will include discounts at hotels, other businesses and museums.
And the city could help sell New York City to the rest of the nation and the world. "I personally believe that the 1992 convention helped turn the city's fortunes around," Deputy Mayor for Economic Development Daniel Doctoroff told the New York Observer. "After years of bad news, people began seeing it as an exciting and interesting place."
And now, Bloomberg said, the 2004 Republican convention could show "that if you want to promote your ideas and visions for the country, there is no better way to do it than New York."
THE COSTS
But some experts express skepticism. In predicting convention dollars, most cities do only half the calculation, says Fred Carstensen of the Connecticut Center for Economic Analysis at the University of Connecticut. They add up the money that will come in but do not consider how much the city would have gotten anyway - how many hotel rooms would be occupied without the convention, for example. They also do not calculate expenses, such as the loss of productivity from workers who cannot get to their jobs during the convention.
A study by the Beacon Hill Institute at Suffolk University in Boston concluded that the Democratic convention will cost that city $12.8 million. Even though the gathering from July 26 to 29 will bring in about $113 million, it will force the cancellation of other events, such as a tall ships extravaganza that was supposed to bring 500,000 visitors to the waterfront. The closings of Interstate 93, the city's major north-south highway, and of North Station, a hub for commuter rail and subway service, will also prove costly.
Doing an off-the-cuff analysis, Carstensen expects the Republican convention could be a net loss for New York in purely financial terms. It could have value in demonstrating "that New York City is functioning and thriving and you should come," he said. "But I'm not sure that's much of an issue anymore."
And of course, one only has to recall the chaos in the streets and the police rampage at the Democratic convention in Chicago in 1968, to see that a convention has the potential to damage, as well as boost, a city's reputation.
SECURITY
The biggest concerns about this convention center around safety. Although the FBI has not reported any specific threat to the convention, the bombings of commuter trains in Madrid a few days before Spain's elections heightened fears that terrorists might target this year's U.S. presidential campaign.
This presents police and other security agencies with a daunting challenge. They must keep conventioneers safe and allow them to go about their business, while protecting the rights of political protesters and of New Yorkers who need to go about their daily lives.
Police Commissioner Raymond Kelly says it is nothing that the city cannot handle. "There are 600 events of significant size in Manhattan below 59th Street every year; we handle these things all the time," he said in a recent speech. (See Counterterrorism, Crime Prevention and Community Relations)
And the convention organizers express confidence too. "New York is used to hosting high profile events," said convention director of communications Mark Pfeifle said.
City officials have offered widely varying estimates of how much security for the convention will cost, ranging to a high of $65 million. Of that, the federal government will pick up about $25 million. The city had anticipated that it would then need to cover about $22 million, but the number could go higher. Some 10,000 police will work the convention.
The federal government has declared the convention a National Security event, meaning the Secret Service will coordinate the activities of various law enforcement and security agencies. But disputes have arisen over who is in charge of what and how much of the city to shut down during the convention.
Convention officials - and reportedly the Secret Service as well – tend to favor sweeping restrictions. City officials, including Bloomberg and the police department, want to minimize disruptions that could antagonize city residents and cost city businesses money.
So, for example, the Secret Service apparently wanted Penn Station shut down during Bush's acceptance speech on September 2. The police department did not.
Penn Station will remain open. But all trains entering the facility – which serves seven subway lines, commuter trains from Long Island and New Jersey and Amtrak – will be stopped and searched by police and bomb sniffing dogs.
A similar dispute arose earlier this month over the so-called outer perimeter, a security zone around the convention site. At a recent briefing for the press, Mark Miller, chief of operations for the convention, said access to sections of Eighth Avenue and perhaps Seventh Avenue could be closed during the convention. The perimeter, he said, "won't be measured in terms of feet or yards but in blocks."
The mayor quickly responded that no such decision had been made. "The police department is the one that is deciding how we go about ensuring safety, as well as minimizing the impact, nobody else," Bloomberg said at a press conference the next day. He added that anyone else commenting on security arrangements was speaking "without knowledge."
PROTESTS
Concerns about security will inevitably come up against demands by tens of thousands of people seeking to demonstrate during the convention. It has become a magnet for groups (see box): opponents of the war in Iraq and New York City police and firefighters upset about federal security funds and their contracts with the city. Not in Our Name, a group formed to protest the government's response to 9/11, wants to see "more than a million in the streets when the Bush team meets" to protest many administration policies, and the Still We Rise coalition of AIDS, housing and other groups has set a poor people's march and rally for August 30.
Some protestors want to go beyond rallies and marches to so-called direct action. "If past actions are any indication, New Yorkers can expect to see people sitting down in the middle of the street, blocking corporate entrances or bridges or making the lives of visiting Republican delegates a living hell," Matthew Leisings writes in indymedia newswire.
Others take a more unusual approach. World War 3 Arts in Action hopes to paint murals to "bring attention to the arrival of Republicans in NYC and their intentions to capitalize on the tragedy of September 11th."
Billionaires for Bush will promote an agenda of "Blood for Oil," "Leave no Billionaire Behind," and "Small Government – Big Wars." And Tom Harker -a.k.a. Ukulele Man is coordinating "a ukulele action against the RNC."
By the end of April at least 12 groups had requested permits for marches or rallies on city streets from the Police Department. The department does not expect to rule on any of them until next month.
But late last month, the parks department denied United for Peace and Justice, a national group opposed to the war in Iraq, a permit to hold a rally on Central Park's Great Lawn the day before the convention. The department said it wants to protect the grass from 250,000 pairs of marching feet, but even many who oppose the rally's goals criticized the city. "'Keep Off The Grass' appears nowhere in the First Amendment," the New York Post said in an editorial. "If the lawn is harshly used, the solution seems clear enough: Plant a new lawn. Grass seed is cheap."
While the parks department has offered Flushing Meadows Park for the rally, United for Peace and Justice has asked the mayor to step in and allow the rally on the Great Lawn.
In general, protest organizers profess skepticism of the city, citing repeated problems in obtaining protest permits from the Bloomberg administration. There has been "a long-term tightening of the screws," said William Dobbs, spokesperson for United for Peace and Justice.
The involvement of various law enforcement agencies further complicates the picture, according to Jeff Fogel of the Center for Constitutional Rights, which helps groups get protest permits. "The Secret Service is supposed to be involved but they won't talk to anyone," Fogel said.
For its part, the city has reiterated that it will allow protests.
JUDGING THE CONVENTION
To prove that a Democratic city can welcome a Republican convention, party officials like to point to Philadelphia Mayor (and now Pennsylvaniua Governor) Ed Rendell, a Democrat, who, they say, enthusiastically boosted the Republican convention in that city in 2000 and helped make it a success.
But they neglect to add one thing: When the Republicans left town, Rendell helped spark a successful get out the vote drive that played a major role in delivering Pennsylvania to the Democrats in November.
As a Republican, Bloomberg cannot have it both ways. A successful convention for Republicans may not strike many Bush-bashing New Yorkers as a success - particularly if they cannot get to work on August 30 or are hassled by police at a protest.
"The mayor is starting to get the reality of how much people hate Bush in this city," former Clinton administration member Sarah Kovner told the Times. "I think they will be sorry they asked for this convention."
Bloomberg does seem to be putting some distance between himself and the festivities in Madison Square Garden.
When asked on National Public Radio about his plans for those three days, he said, "I am not a particularly political guy. I will be spending the convention outside, with the police, to make sure the protesters have their ability to protest but they don't disrupt the lives of others."
---
Sites For and Against the Convention
---
Republican Sites
2004 Republican Nation Convention:
The convention's official web site, it includes information for the media and for delegates to the convention.
Bush Cheney '04:
The official re-election campaign web site. It gives New Yorkers the opportunity to see ads that will be not aired here.
Republican National Committee:
The party's web site offer the latest campaign comments by President George W. Bush and a Kerry vs. Kerry 'boxing' match, featuring Don King as announcer.
NYC Host Committee:
The non-partisan group raises money for the convention and serves as a link between New York businesses and organizations and the convention. Visitors to the site can sign up to volunteers at the convention.
---
Democratic Sites:
Democratic National Committee:
The official web site, featuring critiques of Bush policies and explanations of what Democrats support.
John Kerry for President:
His official campaign web site, with information about the Democratic candidate's life and his statements on issues. Like Bush's site, it gives New Yorkers a chance to see the ads that will not be aired here.
---
Activists and Protestors
(a partial list):
Billionaires for Bush:
A satirical street theater campaign designed to draw attention to the Bush administration's economic policies.
Counter Convention:
A collective of city activists interested in helping people protest the convention. The site includes logistical information, a calendar of events and boards to post housing and ride requests.
Not in Our Name :
A national network of people and organizations opposed to U.S. military actions overseas, detention of immigrants and what it sees as assaults on civil liberties, such as the Patriot Act. It wants a million people to take to the streets of New York during the Republican convention to protest "trying to use the grief of 9-11 to advance an agenda of horrors."
RNC Not Welcome:
A group of New Yorkers opposed to having the convention in New York. A collective, it operates a list serve that members use to exchange information and ideas about protesting the convention, from tactics to how to find a place to stay.
RNC Watch:
Produced in conjunction with the NYC Indymedia, this website features news about the convention, including Republican plans and reports on security and protests.
Shadow Protest:
This web site, the brain child of computer consultant and former Democratic committeeperson David Lynn, encourages people to sign up as volunteers for the Democratic and Republican conventions - and then not show up for their assignments. "The intent is to cause chaos for the convention planners," Lynn says.
Still We Rise:
A coalition of groups working on AIDS, housing and income issues. It plans a Poor People's March and Rally for Justice on Aug. 30, the first day of the convention.
United for Peace and Justice:
The group, a coalition of local and national groups opposed to the Bush administration's foreign and domestic policies, has scheduled a march followed by a rally in Central Park on Aug. 29, the day before the convention. The park department rejected the request for a permit for the Great Lawn, but the group plans to appeal.