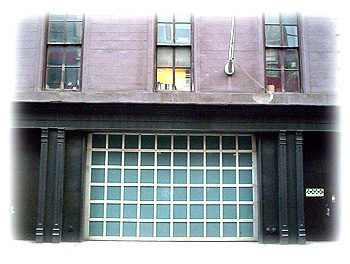 Joyce Soho, in an old firehouse at 155 Mercer Street, began in 1996, 14 years after the original Joyce Theater in Chelsea
Photo by Sava B. Martin
Most New Yorkers identify the Joyce Theater as their favorite place to see dance. It is a comfortable and intimate space, the sightlines are ideal, and the programming is varied and compelling. And we are almost never dark!
After more than two decades of bringing outstanding national and international dance companies to our audiences, we are on the brink of a major and tremendously exciting expansion. The story of how we got here is not long, but it is long-standing.
Before The Joyce existed, dance companies struggled to find suitable venues where they could hold their New York seasons. I think most people know that Eliot Feld and Cora Cahan with the help of a handful of key supporters renovated the old Elgin movie house and launched the Joyce in 1982. It has been constantly in demand ever since.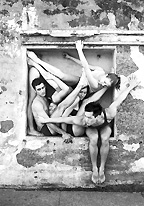 LEVYdance
Photo by Weiferd Watts
The season now consists of about one third companies that the Joyce presents, and we have launched many other programs to support and educate the dance community and audiences.
The Joyce has helped the dance world to thrive. However, a gap remains between the Joyce at 472 seats and other New York theaters where dance companies perform.
Leaders in the field began looking at this situation in the mid-1990s. There were preliminary reports, and the New York State Commission on the Arts asked the Joyce to undertake a feasibility study to examine the need for and viability of a new theater for dance that would offer somewhere between 800 and 1,200 seats.
The study was completed in July 2001, and it clearly demonstrated that a 900-seat to 1,000-seat theater devoted to dance would be filled for much of the year and would attract many dance companies that are too big for the Joyce but might not want to jump to a bigger theater.
There was a question about whether this new theater would require a completely separate organization to run and support it. After two decades of responsible fiscal management and successful fund raising, the Joyce Board of Trustees embraced this new project to expand the operations of the Joyce Theater Foundation to include a third venue.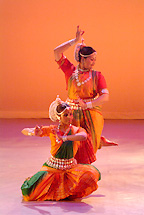 The Trinayan Collective
Photo by Bjorg Magnea
We had already begun to look for an appropriate site to build when the tragic events of September 11 occurred. As with so many things in this city, our exploration was suspended for a time. Then out of tragedy came hope - everyone involved in rebuilding the site of the World Trade Center agreed that there needed to be a strong cultural component of the redevelopment.
We are deeply grateful to Governor George Pataki, Mayor Michael Bloomberg, the Lower Manhattan Development Corporation, and the many other individuals and organizations who shared the vision of including the arts in the rebirth of downtown.
The selection process was careful and lengthy, and it was only in June of this year that we had the final word that the Joyce would be included. That exciting news was followed by the inspiring selection of Frank Gehry as the architect who will design the performing arts center, which the Joyce will share with the Signature Theatre Company. Now we are at the brink of creating one of the most visible and important performing arts centers in the world.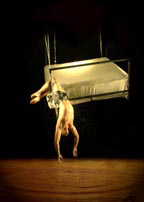 Cedar Lake Ensemble
Photo by David Morgan
This is an incredible moment for dance, in New York and across the country. Dance is a universal language, reflecting our common humanity. It embodies the spirit of life, of creation and renewal, and it touches us all.
Of course, we have balanced budgets and even in these past couple of years of a tough economy, the Joyce has run a very successful endowment campaign. Careful management and a devoted board have allowed us to expand programs, such as commissioning new dance works. When we acquired Joyce Soho in 1996, we successfully raised a large amount of capital in a short time for the purchase and renovation of the building, and expanded our fundraising efforts to meet the increased annual operating budget of our organization.
When we launched The Joyce over 20 years ago, it was an experimental model placed in a desolate neighborhood. Today, it is a thriving, world-class institution in an exciting and completely revitalized community. We are committed to making the new Joyce International Dance Center an equally successful venture.
For The Joyce, the new venue emerges quite logically from our work to meet our mission of advancing the art of dance. New York clearly needs this theater, and we are certain that current and new supporters will enthusiastically embrace it.
Linda Shelton is executive director and a trustee of the Joyce Theater Foundation. She previously served as general manager of the Joffrey Ballet
Related Stories:
• Barry Grove: The Manhattan Theater Club Revamps a Legendary Theater
• Paul Kellogg: Seeking a New Space for the New York City Opera
• Glenn Lowry: The Museum of Modern Arts' New Home
• Linda Shelton: Creating a Center for Dance in Lower Manhattan