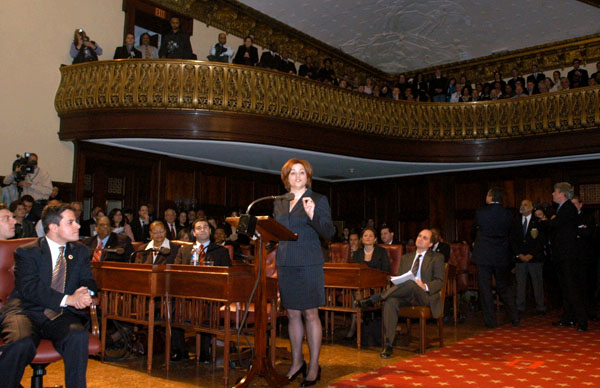 In an emotional speech in a crowded chamber, Councilmember Christine Quinn accepted her selection as the new Speaker of the City Council. Quinn is only the third person to hold the position since it was created and the council was overhauled by a 1989 charter revision. She is the first woman and first openly gay person to be named as speaker.
Quinn's voice cracked as she thanked her father Lawrence and partner Kim. "I am incredibly proud that in the most diverse city in the world, diversity is seen as a strength – not an impediment," she said as she she wiped tears from her eyes with a tissue and council members gave her a standing ovation.
Councilmember Leroy Comrie, who had been a candidate for the speaker position, hailed Quinn as a "tireless fighter for our most needy." He cited her work on homelessness, services for senior citizens and pediatric health care.
"You have made us the tallest, proudest women in the City of New York, the State of New York," said Councilmember Diana Reyna, referring to the 15 female council members besides Quinn.
The vote was largely a formality. Over the past couple of days, council members and Democratic county leaders from Queens, the Bronx and Brooklyn negotiated behind the scenes before pledging support for Quinn and ensuring her victory.
The council approved Quinn by a vote of 50 to 0, with one absention. Councilmember Charles Barron disagreed, he said, not with the nomination of Quinn, but with what he saw as outside interference by county political organizations, businesses, organized labor and special interest groups.
"Speaker Quinn is a hard working, progressive council member who I intend to work productively with to meet the needs of the most vulnerable people of New York City," Barron said. "Having said that, the process by which one becomes a speaker is flawed… It can not continue to be all about who gets what chairs and assignments to what committees... I hope that this is the last time the county chooses our leader."
New Council Agenda
In her acceptance speech, Quinn did not present a detailed agenda for the next four years, but she did mention some broad issues that will be important in her term as speaker.
For recent immigrants, "we are a critical lifeline to needed services," she said.
To address constituents' problems, she suggested "using technology to find patterns of problems across the city," which could help "direct economic development money to those communities that need it most."
Quinn also said the council should focus on "a more rational budget process," and commit to working on issues of public safety, education and housing.
And she pledged her support of Mayor Michael Bloomberg's new war on guns in the city, which reportedly often stream in from other states.
"Mr. Mayor, I will go anywhere you need to stop the flow of illegal guns into this city," said Quinn.
New Members, Minority Leader and Other Appointments
Eight new members of the council were also officially sworn in: Rosie Mendez (district 2), Dan Garodnick (district 4), Jessica Lappin (district 5), Melissa Mark Viverito (district 8), Inez Dickens (district 9), James Vacca (district 13), Thomas White (district 28), and Darlene Mealy (district 41).
Councilmember James Oddo was once again named to the position of Minority Leader and will represent the three Republican members of the City Council.
"Give us a chance and you might be pleasantly surprised," said Oddo, who recalled how he and Quinn began working as staff members at the council at the same time in 1992. "You may have distain for Republicans in Albany and Washington, but I think you will find we aren't your enemy, and many times, we can be your ally."
The only committee assignments named at the meeting were for the Rules, Privileges, and Elections committee, which will be charged with making any changes to the rules and procedures that govern the council. Some members have called for more openness in the budget and legislative process, urging the new speaker to give up some power in order to create a more "democratic" legislative body.
The Rules, Privileges and Elections committee will be chaired by Leroy Comrie. Its members are: Christine Quinn, Joel Rivera, Lewis Fidler, Bill deBlasio, Inez Dickens, Melinda Katz, David Weprin, Maria Baez, Michael McMahon, James Oddo, Daniel Garodnick, and Diana Reyna.
Rule changes and other new committees will be announced and voted on at the next meeting, scheduled for January 18, 2005.