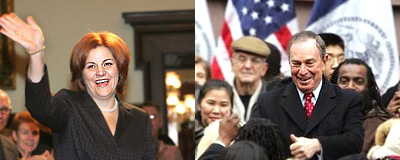 All in the same week, Governor George Pataki delivered his final State of the State address; Assembly Speaker Sheldon Silver issued a scathing response a few minutes later; New York City Mayor Michael Bloomberg gave his inaugural address; and Christine Quinn spoke after she was elected the new Speaker of the City Council. The re-elected public advocate and city comptroller also presented their inaugural addresses. What's more, eight new council members were sworn into office -- four of whom (so far) have written essays specifically for Gotham Gazette.
The political convergence gave elected officials at all levels of government an opportunity to put forth at least initial agendas for 2006 (both Bloomberg and Quinn plan more detailed State of the City addresses soon) -- and a chance for their constituents to discern both common concerns and differing approaches:
CRIME
With the shooting deaths of two New York City police officers coming within two weeks of one another at the end of last year, crime seems to have been put back as topic number one for New York's elected officials. It was the subject on which Bloomberg spoke at the most length in his inaugural address, focusing on guns: "Our most urgent challenge is ending the threat of guns and the violence they do," he said. "Now we have a duty…, one that rises above all partisan politics and one we will pursue relentlessly. And that is to rid our streets of guns and punish those who possess and traffic in these instruments of death."
"We will take our message to Albany, to Washington, and to every capital of every state that permits guns to flow freely across its borders," he said. Demanding tougher gun laws in states other than the one in which he serves has already earned the mayor new critics across the country.
But at home, there seems near unanimity in favor of a tough stance against gun trafficking. "Mr. Mayor," said newly elected Speaker Quinn in her speech, "I will go anywhere you need to stop the flow of illegal guns into this city."
The state assembly is on board, too, and Silver called on his partners in state government to do more: "When it comes to halting gun violence, the governor and the legislature have much more work to do. We must remove illegal guns from our neighborhoods. We must prohibit the sale of assault weapons. And we must ban armor-piercing bullets once and for all."
Even Pataki seemed to approve the effort against guns, with a passing reference to state laws just passed.
Pataki's primary focus on crime, however, involved tough talk about sex offenders. He promised to push for longer sentences, a stronger Megan's Law and the elimination of the statute of limitations for sexual assault. He also proposed to re-introduce legislation to keep some sex offenders confined after they've served their prison sentences.
Despite Silver's criticisms of Pataki on other issues, he backed the governor's move to crack down on sex offenders, as he has in the past.
EDUCATION
Education remains a subject on which all office-holders express concern, though here there is less consensus. Assembly Speaker Sheldon Silver's harshest attack on Pataki's tenure involved the governor's handling of education, specifically his treatment of the lawsuit by the nonprofit group Campaign for Fiscal Equity, which claimed the state was shortchanging kids in New York City schools. The courts agreed, ordering the state to increase funding for the city's schools, but the Pataki administration is appealing the rulings.
For his part, Pataki's only reference to the lawsuit or the court decision was indirect: "Let's start out by renewing our commitment to providing additional funding to high-needs schools -- in New York City and across the state."
Then again, Mayor Bloomberg did not mention the lawsuit either.
Instead, Bloomberg touted arts education and otherwise promised to stay the course of his controversial school reform. For her part, Quinn hinted that middle schools need to show the same improvement that grade schools have seen since the overhaul of the system.
One of the new council members addressed the Campaign for Fiscal Equity case in his essay. James Vacca calls on the city council to monitor how funding from the lawsuit is distributed. That's because council member involvement can help ensure accountability, he writes. What's more, he says, "I intend to visit all the schools in my district and use my knowledge to assess school tone and learning environment." He also stressed a need to restore adult and continuing education programs.
HOUSING
Not much gets a New York City politician more fired up than the need for affordable housing. "We face a housing crisis that is pricing too many tenants and homeowners out of their neighborhoods," said Chris Quinn in her acceptance speech. Bloomberg promised to push forward on "the most ambitious affordable housing initiative in New York's history."
All of the new council members mention affordable housing as a need in their districts. Councilmember Jessica Lappin says that as two middle-income developments on Roosevelt Island prepare to exit the Mitchell-Lama program, and as other buildings consider privatization, residents on the island face a housing crisis and "are questioning the future and fate of the place they call home."
"[C]onversions, buyouts, and gradual elimination of rent regulations" threaten affordable housing for residents in Rosie Mendez's district, which includes parts of the Lower East Side and Gramercy. She says neighborhoods "must develop community-planning guidelines that balance development pressures with the rights of existing residents and the need to preserve economic diversity."
City Comptroller William Thompson weighed in, too: "We will ensure that the innovative Battery Park City Housing Trust Fund we established with Mayor Bloomberg and housing advocates honors the decades old commitment to create affordable housing units."
The topic seemed off the radar of the much wider constituencies of Pataki and Silver, despite affordable housing needs throughout the state. Pataki didn't mention it at all, and Silver made only a passing reference to it when he blamed Pataki for providing inadequate funding for housing.
LOCAL ISSUES
Pataki's address, packed as it was with specifics, included several promises for New York City, such as the creation of an Empire Zone in Lower Manhattan, and "an unprecedented bio-tech research challenge grant initiative that will leverage $600 million in public/private matching funds" for the city's medical research institutions.
But it was the city council members who largely focused on specific economic development and land use issues in their communities.
"One of the biggest challenges facing the area is the future of a plot of land where the Con Edison Waterside Plant currently sits," writes Dan Garodnick, new council member for Manhattan's District 4, which includes parts of mid-town along the East River and the Upper East Side at the edge of Central Park.
Lappin is concerned about a plan from the city's Department of Environmental Protection to dig a new water supply shaft in her district, which runs along the waterfront of Upper East Side. The proposed Shaft 33B would link the area with the city's No. 3 water tunnel, the biggest capital construction project in the history of the city.
James Vacca, who represents Pelham Bay, Throgs Neck and other parts of northeastern Bronx, proposes a big-picture fix for problems he says stem from land use processes. He lays out tactics to reform and professionalize the city's Department of Buildings in order to ease overdevelopment in his and other neighborhoods.
Speeches and Essays On The 2006 Agenda
•Governor George Pataki's State of the State Address
•Assembly Speaker Sheldon Silver's Response To Pataki's Speech
• Mayor Michael Bloomberg's Inaugural Address
• Comptroller Bill Thompson's Inaugural Address
• Public Advocate Betsy Gotbaum's Inaugural Address
• District 2: Planning for a Better - And Quieter - Community by Rosie Mendez
• District 4: Creating Open Space and Solving Transportation Woes on the East Side by Dan Garodnick
• District 5: Garbage Stations, Water Tunnel Shaft, and Affordable Housing by Jessica Lappin
• District 13: Improving Education and Reforming the Department of
Buildings by James Vacca
Â