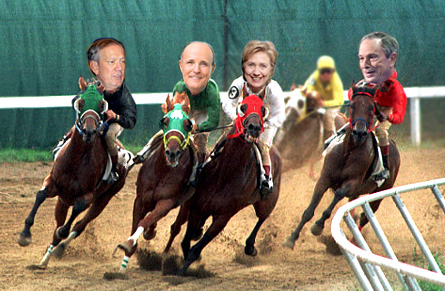 After jumping onto the subway tracks to save a stranger, hero construction worker Wesley Autrey was lavished with gifts and acclaim, including a ceremony at City Hall at which Mayor Michael Bloomberg presented him with a Bronze Medallion – the city's highest honor for civic achievement – and some advice.
Aim for the White House, Bloomberg said; "we need another presidential candidate."
Bloomberg was joking, of course. It has been hard not to hear about the four New Yorkers who are already crowding the field in next year's presidential race (five if you count Al Sharpton, which few people seem ready to do). Senator Hillary Clinton, former mayor Rudolph Giuliani, former governor George Pataki, and Mayor Bloomberg himself are all coyly considering campaigns, though it's not certain how many of them will pull together serious efforts. The Democrats announced last week that they won't hold their 2008 convention in New York City, but you would have to forgive someone for thinking that, as New York magazine put it, "the road to the White House is an extension of Park Avenue."
It has been awhile since the days when Franklin Delano Roosevelt was in the White House, eager to hear new ideas about how he could help his fellow New Yorkers. The last New Yorkers to head a major party ticket was Thomas Dewey in 1948. Since his near-miss, no New Yorker has even gotten close. Perhaps the closest was Senator Bobby Kennedy's 1968 campaign – a bid that ended in assassination.
Not coincidental to this dry spell, say many experts, is the persistent anti-urban bent of the federal government over the last several decades, which has drained New York of resources and made being from the Northeast a political liability for political aspirants. When former president Gerald Ford died last month, it brought up memories of the most famous headline in New York newspaper history: FORD TO CITY: DROP DEAD. Ford never actually said those words, but in the eyes of many New Yorkers, that hostility has barely faded over the last thirty years.
Suddenly, though, New Yorkers are banging at the doors of the White House - and, perhaps just as significantly, are in control of some of the most powerful positions in Congress.
Is this simply a coincidence, the confluence of several oversized personalities at the same time and place? Or does it reflect New York's return to prominence in national politics? Either way, what would New York get out of having one of its own in the White House?
THE FOUR HORSEMEN
Among political circles it is considered a bad strategy for a candidate to announce that he is running for president until he has spent several months - or years - campaigning, seeing how it feels and deciding whether he really has a shot. No New Yorker, then, is officially running yet for president in 2008. But at least four are "considering it":
Michael Bloomberg: Democrat-turned-Republican Mayor Michael Bloomberg says he is not running for president, but his name is always included on the list of New York candidates as an independent who will appeal to voters looking for competence over party affiliation. This is partially because the mayor and his senior staff seem to go out of their way to encourage such talk. Bloomberg has said he would make a great president as long ago as 1997, and his close advisors openly discuss him as a viable candidate. Bloomberg himself recently pointed out that he could spend more of his own money in a presidential run than many major party candidates could raise, shortly before he dressed up like Bruce Springsteen at a staff holiday party and sung his own version of "Born to Run." But when asked about his intentions, Bloomberg just smiles and asks what he has to do to convince people that he's not interested.
Hillary Clinton: Polls show Senator Hillary Clinton as the favorite for the Democratic Party's presidential nomination in 2008. She hasn't officially announced her candidacy,

but cynics say it started in 2000, when Clinton moved to New York, switched loyalties from the Cubs to the Yankees, and was elected senator. Since then, she has amassed a huge pool of money, and is enlisting the help of well-respected consultants for her undeclared campaign. Hers is one of the most-recognized names in American politics. One of Clinton's most cited political liabilities is that her reputation as an angry liberal is off-putting to important moderate Republican voters - so she spent $36 million on her 2006 Senate reelection campaign, making sure to win over upstate Republicans.
Rudolph Giuliani: After September 11, 2001, former New York Mayor Rudolph Giuliani became a national star, his troubled legacy lost among the accolades as a hero and big city crime fighter. He may be hampered in the Republican primary, however, by his New York-like views on abortion, gay rights, and gun control, the public turmoil in his personal life, or his reluctance to abandon a lucrative career in the private sector. Giuliani's own concerns about these political liabilities were dragged through the press recently when private campaign documents were leaked to the Daily News. Giuliani's ability to inspire strong feelings is reflected in one high profile endorsement he has already received for next year's primary: Congressman Charlie Rangel said that he would love for the former mayor to be the Republican candidate so he could attack Giuliani's record as mayor. As a running mate for Giuliani, Rangel suggested his disgraced former police commissioner, Bernard Kerik.
George Pataki: Former Governor George Pataki is not officially running for president just yet; his spokesperson says that he's "weighing the options with his family." But the former governor has quit his job; visited Baghdad and then gone on national television to discuss what he learned; and lavished attention on the states where success in presidential primaries can light a fire under a campaign (he visited Iowa no less than nine times in 2006, and raised money for Republican candidates in New Hampshire). Pataki's efforts have been met with near-universal mockery. Conservatives attack his record on taxes as governor, and his 12-year term in Albany is widely described as a time of gridlock and dysfunction. The best chance most political observers give him is a shot at latching onto a more viable candidate's ticket as the vice presidential candidate.
It is considered very unlikely that all of these candidates will make a serious attempt at the White House. In December, Newsday actually printed the odds that it gave to each candidate lasting until the presidential nominating committees next summer. Clinton was given the best odds (one in three), followed by Giuliani (one in 10), Pataki (one in 50), and Bloomberg (one in 150).
In theory, at least, the 2008 presidential race could come down to a contest between three New Yorkers - a Republican, a Democrat, and an independent. But, to play with Newsday's numbers, the chances of that happening are 0.07 percent at best.
NEW YORK AND THE PRESIDENCY
New York formed a special relationship with the office of the president immediately, when George Washington was sworn in as the first person to hold the office at Federal Hall on Wall Street in 1789. Of course, the first president also advocated burning the city to the ground during the Revolutionary War. The city on the Potomic that took his name, some New Yorkers would argue, has adopted that proposal as the basis for its attitude in dealing with the city on the Hudson in recent decades.

Four presidents were actually born in New York State - Martin Van Buren, Millard Fillmore, Teddy Roosevelt, and Franklin Delano Roosevelt - and at least one more was elected as a New Yorker (Grover Cleveland, who was born in New Jersey, but was raised in Buffalo and eventually became governor). The city was the site of Abraham Lincoln's famous 1860 speech that helped propel him into office, as well as six national conventions. Fourteen presidents have lived in New York City at some point. Two are around today: Bill Clinton, who opened an office in Harlem after leaving office, and Ulysses S. Grant, who is buried on Riverside Drive.
The City's Declining Political Fortunes
Since Franklin Delano Roosevelt died in office in 1945, New Yorkers have been kept out of the White House - and have seen their clout in national politics diminish significantly. In part this is a function of population - both the city and the state make up a relatively smaller proportion of the country's population than they did during the Roosevelt years. Most older cities face the same dilemma. While this does reflect population shifts that began after World War II when the creation of the national highway system led to the birth of the suburbs, there are other causes as well. Politicians see vying for the votes of suburban swing voters as a better use of their energy, knowing that urban areas are full of predictably Democratic voters. There has also been a shift in the prevailing ideology of American politics away from the liberalism associated with New York. Few national politicians want to be tarred as a "Northeastern Liberal."
New York does remain central, however, in the national fundraising scene. New York City-area residents gave more money to national political candidates in 2004 than any other metropolitan area; only the District of Columbia gave more in 2006.
IS NEW YORK BACK?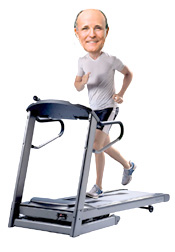 With New York looking to contribute more than just funding in the 2008 presidential election, politicos and policy wonks are discussing whether the city and the state are regaining central roles in national politics.
"There's no question that New York has come back from the political wilderness," said political consultant Hank Sheinkopf. He argues that the stereotype that New York is out of step with the rest of the country is inaccurate, but believes that 9/11 - not a realization that New York is not a "bastion of left-wing insanity" - is the driving force behind the city's improving political fortunes.
Presidential hopefuls aside, New York's voice in Washington has recently gotten much louder. Senator Charles Schumer is credited as one of the masterminds of the Democratic takeover in both houses of Congress, making him an incredibly influential member of the newly empowered Democratic Party. With Democratic control over chairmanships of committees - one of the most important markers of congressional clout - New Yorkers have gained immensely. Perhaps most notable is Representative Charles Rangel's rise to the top of the House Ways and Means committee, arguably the most important committee in the house. Other key committee assignments are:
• Nydia Velazquez's new role as head of the house's Small Business Committee;
• Schumer's place on the senate's Banking, Housing and Urban Affairs Committee;
• Senator Clinton's assignment on the Health, Education Labor and Pensions Commitee
• Representatives Gary Ackerman, Gregory Meeks, Joe Crowley, Vito Fosella, Carolyn Maloney and Velazquez's seats on the the Financial Services Committee.
• and Jerrold Nadler and Anthony Weiner's positions on the house Transportation Committee.
If the shift in power from Republicans to Democrats has made New York much more powerful, the factors that have reduced its power have hardly disappeared. New York State is now the country's third most populous behind California and Texas. By the time of the next census, it is expected to fall behind Florida as well. Doug Muzzio, a professor of public affairs at Baruch College, believes that "the sun has set" on the era when big cities drove the country's political agenda.
But what about all those presidential candidates? Muzzio doesn't see them as evidence of any shift.
"I think it has more to do with the particular people rather than some larger contextual change about New York and its place in American politics," he said. "I don't want to sound like a professor, but it's not systemic. It's idiosyncratic."
WHAT'S IN IT FOR US?
New York enjoyed its best relationship with Washington in the 1930s and 1940s, when Mayor Fiorello LaGuardia joked that Roosevelt's White House was "no further than the Bronx." The president acknowledged his soft spot for the mayor and the city. "[LaGuardia] comes to Washington and tells me a sad story. The tears run down my cheeks and tears run down his cheeks and the first thing I know, he Has wangled another fifty million dollars," he is quoted as saying in Thomas Kessner's definitive biography of LaGuardia.
Most political observers acknowledge that the city will not see another era like that, when federal money was used to build the Triborough Bridge, LaGuardia Airport, and the Lincoln Tunnel.
But the federal government's affects New York City on every issue from education to mass transit to health care to housing to immigration.
Bringing a uniquely New York perspective to these issues would almost certainly benefit the city, said Gerald Benjamin, dean of liberal arts and sciences at SUNY New Paltz.
"It would be a convergence of a New York presidency with the placement of New York congressional leaders in key positions that would be critically important," he said. "We've already begun to see that happening."
As New York's representatives grab more influential committee posts, they are eying pet projects and issues that have not gained traction to this point. On her first day as chair of the small business committee, Nydia Velazquez introduced a bill that would encourage bodegas to carry healthier foods in low-income neighborhoods. Jerrold Nadler, who sits on the transportation committee, will likely step up his decades-long pursuit of a freight tunnel under New York Harbor.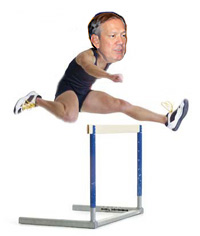 The main area where New York seems to be able to swing its political clout immediately is on homeland security funding. Since 9/11, New York officials have complained that this money has been used as political pork, " spread across the country like peanut butter," as Mayor Bloomberg put it in testimony before Congress last week. There have been indications that changes are in the works, though. The Department of Homeland Security announced recently that New York and other major urban areas will get 55 percent of the $747 million pool of homeland security grants, and that New York and New Jersey will get the lion's share of a separate pool of grants for port and rail security.
New York's congressmen feel more confident about getting things done in Washington after November's elections. But Congressman Nadler says the delegation's efforts have limits if they don't have an ally in the White House.
"We have more power. We have more influence. But we don't control," he recently told the New York Sun.
While some changes in Washington could be tracked through hard numbers, experts also predict that having a president from New York would inspire a major change in the attitude of the federal government. This would not necessarily be quantifiable, but would be reflected in the overall approach that the federal government took on all domestic issues. "Simply a recognition of the problems that New York City and other urban jurisdictions face, whether it's transportation, infrastructure, schools, etc., any one of those issues would be salient to any of the four" presumed candidates, said Muzzio.
Muzzio and others have pointed out that a Democratic president would be more likely to form a close alliance with the city's overwhelmingly Democratic congressional delegation. But in at least one way it wouldn't matter which party the president came from.
"You won't have a national government run by people who question whether New York is part of the United States," said Benjamin.
Â