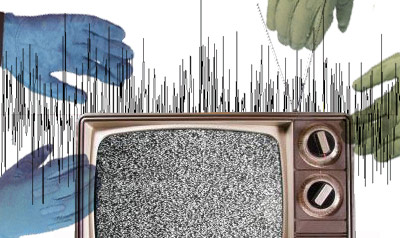 Gotham Gazette image by Ya-Hsuan Huang
While tens of millions of Americans were waiting in line to vote on Nov. 4, the Federal Communications Commission was making its own historic decision. In a unanimous vote, the FCC approved public access to the unused part of the television band known as white spaces.
Analog television signals require a substantial buffer between channels to prevent interference. That's what channels 3, 6, 8, 10, and 12 were for in New York. With the transition to more efficient digital broadcasting in February, a lot of spectrum will become available. In New York City, according to an analysis conducted by Free Press, a non-partisan group that supports public access to the white spaces, one fifth of our potential television channels will be unused. (For a brief animation on what white spaces are, go here.)
The issue of what to do with this newfound digital treasure had been the subject of a nearly five-year review at the FCC, including 18 months of engineering tests. The 5-to-0 vote on the issue belies the contentiousness of the measure.
"White spaces is an issue that pits those who have spectrum access and want to keep it for themselves against those who want spectrum to be used and serve other purposes as well," explained Timothy Karr of Free Press.
The primary "other purpose" will be faster, cheaper wireless broadband access - faster because the frequencies in the television band are more robust than other wireless signals and cheaper because users will not have to pay license fees. The spectrum is unlicensed.
Public interest organizations, like Free Press and People's Production House (where the author works), supported the FCC's move, as do with tech companies like Google, Microsoft and Motorola. Corporate television broadcasters, represented by the National Association of Broadcasters, and wireless microphone companies, like Shure, lobbied, joined by their friends in the entertainment industry, lobbied against public access.
New York City has been very active in the debate over white spaces. Legislators at all levels weighed in, industry representatives lobbied heavily, and local public interest advocates and community-based organizations sent letters and signed petitions. Now that the FCC has moved the process forward, it's a good time to assess where everyone stands and look at how this technology will impact our city.
A Contentious Debate
Musicals and other live performances now use wireless microphones that operate in the white spaces. Producers and performers worry that other devices operating in those frequencies could cause interference.
In February, after hearing from the theater industry, Rep. Jerrold Nadler contributed an op-ed to the New York Times that claimed, "Unlicensed devices, like wireless laptops and remote-controlled toys, operating in the white spaces will probably cause havoc to TV viewers, theater goers and sports fans. They could potentially render digital television sets and the government-subsidized converter boxes inoperable."
Rep. Yvette Clarke from Brooklyn and Rep. Gregory Meeks from Queens, whose constituents are rather less privileged financially and technologically than Nadler's, joined six other members of Congress in signing a letter to the FCC supporting access to the white spaces. "The FCC has an opportunity to unleash new, innovative broadband devices and services into the marketplace, while at the same time protecting broadcasters and wireless microphones from harmful interference," the eight Congress members wrote.
Over the summer, New York City Council Speaker Christine Quinn, responding to the Broadway League, introduced a resolution stating unlicensed use of white spaces would mean that "live theater, the performing arts, film and television production companies will be unable to prevent constant interference with microphone systems, devastating those industries within the City of New York."
The draft resolution urged the FCC "to refrain from implementing proposed regulatory amendments that would allow portable devices to operate on the 'white space' radio spectrum without ensuring that such amendments will not negatively impact television broadcasters, performing artists, professional sports leagues and all incumbent wireless microphone users."
Only film and television productions are authorized to use the devices under current regulations, though. This put the theater groups lobbying against public access in the paradoxical position of asking the FCC to protect the theaters' illegal, if longstanding activity.
The council resolution eventually passed without opposition (on the same day the council OK'd an extension to term limits), but at a Sept. 29 hearing on the measure, a slew of New Yorkers showed up to explain how unlicensed access to the white spaces would benefit the city.
Such a move would open "the possibility of enabling larger scale Internet broadcast, providing inexpensive or free access to whole neighborhoods from the central anchor of a park. More buildings will be able to be retrofitted with Internet access. ... Schools and libraries will become Internet hubs for their neighbors. In short, the amazing things we've done with Wi-Fi will be amplified with the availability of white space devices," Dana Spiegel, executive director of the non-profit NYCwireless, said. (People's Production House submitted testimony, as well.)
"While New York City has no shortage of pro-white space activists, "Matt Lasar concluded in an article for Ars Technica, "politically, it is starting to build a reputation as an anti-white space town."
Following the council hearing, the FCC released the results of its last round of tests of prototype devices, including field tests at a Broadway show and at a professional football game in Maryland. The devices weren't anything like what might come to market. They were designed simply to demonstrate the concept of finding and using available spectrum without causing interference. While the prototypes did not work perfectly, the FCC engineers determined they had met the proof-of-concept threshold and the commission could proceed with opening the white spaces.
Opponents of public attacked the FCC's conclusions. In an Oct. 16 press release, the National Association of Broadcasters called on the FCC "to seek public comment on the report before moving forward."
Less than 48 hours before the council was set to vote on the draft resolution, the City Council Committee on Technology in Government rewrote it to match this shift in rhetoric. The new resolution urged the FCC, "to open a formal comment period on the commission's TV white space test report to enable all stakeholders to thoroughly review the data and offer policy proposals in the spirit of those findings, and to set aside a sufficient number of broadcast channels for the exclusive use of wireless microphone in order to protect all incumbent wireless microphone users."
Sen. Hillary Clinton sent a letter to the FCC on Oct. 28 that, while even-handed in tone, gave primacy to the theater owners and other who use wireless microphones. She wrote, "Given the indispensable role that wireless technologies have for New York's industries - whether they are wireless microphones for our Broadway performers or for the players and coaches of the Buffalo Bills, New York Jets and Super Bowl Champion New York Giants - I believe that these interference questions should be addressed first."
Industry watchers interpreted Clinton's letter and the council resolution as straight opposition to white space access. However, neither stopped the FCC from approving the order at its Nov. 4 meeting.
The Order
The FCC order (technically a "second report and order and memorandum opinion and order") is 130 pages long. All sides still are sorting through its implications.
While wireless microphone manufacturers and users did not manage to maintain the status quo, they won numerous protections. All devices will need to be able to listen to the airwaves to detect and avoid signals in operation. This is called "spectrum sensing." In addition, the FCC determined that spectrum sensing alone would not keep devices from interfering with the signal - at least for now.
The order requires the establishment of a radio frequency database to document what channels are in use in specific areas around the country. All white space devices will need to be able to geolocate (through GPS, for example) and access this database over the Internet. Venues where wireless microphones are in use can be registered in the database, limiting white space devices in those areas. This makes the devices "network dependent" - the devices cannot connect with other devices in the area until they access the Internet and geolocation system.
Also, the FCC will contract with a third party to manage the database. It is not clear if that company will be allowed to charge for devices to access the database. Under the plan the database is a chokepoint, a single point that everyone must pass through. The owner of the database can throttle the whole system. The owner also could have a profit motive to prevent progress toward devices that can function with spectrum sensing alone.
The order prevents portable devices from operating on about 40 percent of the band. While fixed devices will be able to use available channels in that block, critics still think this seems excessive. "I'm not sure how many wireless mics are being used in rural farm towns. I'd bet very few," Sascha Meinrath, research director for the New America Foundations Wireless Future Program, said, "but now they'll have set-asides that prevent other uses, regardless of how inefficient that might be."
In 13 big cities, including New York, where public safety radios utilize channels 14 to 20, the FCC will block unlicensed devices from an additional two channels between 21 and 51. Channel 37 has long been set aside for use by astronomers. And the FCC doesn't want white space devices operating on channel 3 or 4, in case they might interfere with DVD players and video game consoles that connect to the TV on those channels.
There is a gaping hole in the order: It does not address the issue of rampant unauthorized use of the television band. The future of those illegal wireless microphone operators - Broadway shows, music venues, and houses of worship - remains in doubt.
Despite any shortcomings, the order paves the way for a new generation of portable, wireless devices. Initially, their range will be limited. Portable devices will only be able to operate at a maximum of 100 milliwatts (mW) and will be restricted to 40 mW when operating on a channel adjacent to a television signal.
The order lays down some initial ground rules for spectrum-sensing-only devices. These devices would have some very powerful, dynamic capabilities since they would be able to form communication networks on the fly, in any location, whether or not there was an existing connection to the Internet - or even electricity, if the devices can operate on battery, solar, or crank power. First generation devices of this sort will have to meet some pretty stringent standards before the FCC will certify them, though.
What does this mean for New York?
The primary beneficiaries of this order will be people living in rural parts of the country. Some 62 percent of households in rural areas lack meaningful access to the Internet, many because they have no available broadband connection. These same areas have the fewest television signals and the most available white space. Fixed wireless devices using the white spaces will be a quick, cheap and effective way to connect rural Americans to the Internet.
New York stands to gain less. Proponents of white space devices who hoped this order would allow them to replace expensive, unreliable, and slow cell phones have a long wait ahead of them. The limited signal strength is an issue, as are the extra channel set-asides in New York. We can assume, too, that every sports venue, television studio, film studio, and even temporary film shoot location will seek protection in the database. Unauthorized users in music and theater venues likely will, too, and they may receive it. This could make huge sections of Manhattan a black hole for white space devices.
Based on the City Council testimony, the order offers some benefits to New York. Low power devices (100 mW or 40 mW) will probably be able to do some really cool things. They could stream high definition video to television receivers around the house from a single source, for example, the way Wi-Fi might currently spread Internet service around the house. Anyone interested in sharing Internet service with neighbors or installing a hotspot in a park will find white space signals an improvement over Wi-Fi. The white space signal can go through walls and trees, while Wi-Fi signals get absorbed by leaves and drops of water.
This technology remains in its very early stages. Once it advances and devices become cheaper, and more and more devices include white space antennas, we will start to see the really big effects. A portable device that can listen for available signals could function as a roaming wireless router, passing along whatever traffic happens to be in the area, the way a router on the Internet does with traffic that comes along on the wires. So, if your mobile phone signal is spotty because you can't connect to the phone tower, you could connect to a device between you and the tower that would then route your signal on to the tower. The more devices, the more robust the infrastructure. Small boxes on cars could provide the same function, passing along signals from nearby buildings or portable handsets, turning traffic into infrastructure that goes where it's needed - in the city center during the workday, then back to residential areas in the evening. And it doesn't have to be a voice call, of course; it could be a high-speed Internet signal, even video potentially.
From a consumer perspective, white space devices will probably start out fairly expensive with limited functionality. Over time, though, especially if the FCC increases the maximum signal strength of the devices and begins certifying devices that rely solely on spectrum sensing, the potential usefulness of white space technology will go through the roof.
What's next?
Despite the length of the FCC order, it is not the last word on the subject. The commission will issue a Notice of Inquiry to examine the potential of higher-powered transmissions in rural areas. And it will need to determine who will maintain the database of existing television broadcasters and protected geographic areas.
Unauthorized microphone users will need to seek further clarification of their status. White space proponents have called for a general amnesty for these users but want to see the manufacturers that engaged in deceptive advertising - selling microphone systems without ever mentioning the need for a license - held to account.
Meanwhile, the television broadcasters will certainly seek to thwart any further expansion of unlicensed access to the white spaces. They may even try to roll back this order through action in Congress or the courts. All they need to win is delay, since that keeps the spectrum in their hands.
Access to the white spaces is only a start. It is a powerful platform for innovation, but it is only a platform. We need devices and applications that utilize this wireless treasure. Perhaps most importantly, we need to set our imaginations free so we can envision the future that we want - and use this new technology to help make it a reality.
Joshua Breitbart is policy director for People's Production House.Â