(c) 2008 Lenore Costello for Gotham Gazette
Some call it a menace and an eyesore; others consider it an expression of their first amendment rights. Some of it has deep political meaning, while some is a word or two scribbled in permanent marker. And it can be found all over the city: on rooftops, bridges, the walls of dilapidated buildings.
Graffiti and street art have been highly controversial forms of expression in New York for decades, disdained by art snobs and building superintendents alike. The people who disparage it the most, however, are the city officials who clash with artists and taggers over their creations. Interestingly, this battle has done nothing to diminish street art's popularity. And now, some experts say, that popularity could do what city official couldn't: threaten the very essence of this ephemeral work.
The Eye of the Beholder
What exactly are street art and graffiti? For the graffiti artist, the goal is to "tag" the most places. Extra respect goes to those who manage to emblazon their trademarks on hard-to-reach spots, like billboards and the tops of high buildings. "If there are two graffiti artists, they will compete for fame. They might never meet, but they compete because they see each others names so much," said graffiti artist BG 183 of Tats Cru, a group of Bronx-based professional muralists.
Street art, on the other hand, usually has a political or social message and aims to encourage the viewer to think. Although like graffiti, street art is usually illegal, many consider it an alternative art form, valuable to the community at large.
"Street art will only hit certain areas - rich areas-- next to museums or galleries where people with money will see and notice it. They don't go to tunnels, or the side of a highway. They won't risk getting caught," said BG 183.
"Graffiti is used in the broader sense, and street art is sometimes classified as a subset of graffiti," said Dave Combs, co-creator of the street art "Peel Magazine." But, he continued, "some people who do graffiti have an element of their motive being destruction or vandalism. For the most part, people who do street art do it to create something new and meaningful and beautiful for the person viewing it."
The Official View
City Council, though, does not share that view or distinguish much between street art and graffiti. Some members claim both are a "public nuisance that degrades the quality of life in neighborhoods and communities across the city." To fight it, the council passed legislation in July, 2007, forbidding anyone under 21 years old to carry materials that might be construed as graffiti instruments. These include aerosol spray paint and broad-tipped indelible markers.
Some saw this as blatant age discrimination. The council rejected that claim, citing studies that show most people believes those aged 18 to 21 are disproportionately responsible for graffiti. Further, council members noted, there are other restrictions placed on those under 21, including not allowing them to purchase and consume alcohol.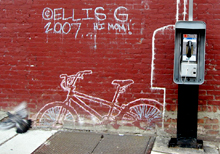 The legislation is not the only movement toward a crackdown on graffiti. In October, Ellis Gallagher, a Brooklyn-based chalk artist, was arrested for drawing on the sidewalk in chalk, something he had been doing for years. Gallagher's arrest came only days after a summons was sent to a family in Park Slope, demanding that they remove the graffiti from their sidewalk or pay a fine of $300. The graffiti in question was also a chalk drawing, and the culprit was their six year-old daughter.
According to New York State penal law, graffiti is the "etching, painting, covering, drawing or otherwise placing of a mark upon public or private property with intent to damage such property," a police department spokesman told a Brooklyn Paper reporter. Given the impermanence of chalk drawings, they are a gray area in graffiti law but can still qualify as criminal mischief.
Into the Mainstream
While the city's effort to combat street continue, its acceptance seems to be growing in the cultural world -- perhaps to the detriment of "real street art. As its acceptance has grown, so has its proliferation.
There are books about the topic, and it is the main focus of magazines like "Overspray" and "Peel Magazine." Blogs, like The Wooster Collective and Streetsy display daily photos of street art from places all over the world.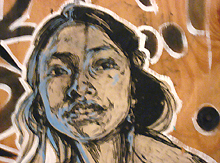 Some artists have stopped limiting themselves using the streets as a canvas and begun using actual canvases, which then sell in galleries for thousands of dollars. Artists, such as Swoon, have been featured in world-renowned museums like the Museum of Modern Art and the Brooklyn Museum.
Certain major companies even commission graffiti artists to do advertisements for them. Tats Cru has been commissioned by several name-brand companies, including Snapple and Nike, to create advertisements. One of the artists, BG 183, stated "For us, the way I look at it, we're getting our name where regular artists can't go. We've been [featured] in museums, given lectures in college and traveled the world because of what we do. I can teach other graffiti artists, but I don't have to get caught and arrested. How many people can say that they're graffiti artists and make money from it?"
James Cade (professionally known as James Top), a former graffiti artist, currently teaches a 19 -week seminar at Hostos Community College in the Bronx entitled "Graffiti: The Art of Hip Hop." While many students were excited at the prospect of learning more about the taboo art form, Councilmember Peter Vallone claimed such a class would encourage vandalism. Vallone, a leading opponent of graffiti, has introduced various bills concerning street crime and vandalism, including one to double the penalties for anyone convicted of graffiti. Nonetheless, the class proceeded.
Artists vs. Street Art
As street art move more into the mainstream, some critics fear it will lose its essential edginess. "The Splasher," an unidentified person or group of people, splashed paint on a number of works by famous street artists from late 2006 to 2007. Next to the obliterated art they posted a wheat-pasted manifesto, whose awkward wording proclaimed street art to be a "fetishized action of banality" and that "representation is the most elemental form of alienation. Art by representation is no exception." Believing that street art had become too commercial and mainstream, the Splasher felt the only way to counter it was through destruction.
Although no one is certain of the Splasher's identity, 24-year-old James Cooper was arrested for lighting a stink bomb at the gallery opening of well-known street artist Shepard Fairey on June 27, 2007. The police and many street art enthusiasts suspect Cooper of taking part in the Splasher's doings. Two days after his arrest, a group gathered at another gallery opening and handed out 16-page booklets, entitled "If we did it, this is how it would've happened," which indirectly claimed responsibility for the stink bomb. The booklet's wording was similar to that of the Splasher and included the various manifestos that the Splasher had posted. There has been no sign of the group since.
"Street Art Blows" chooses pieces of street art it deems unworthy and places a sticker over them. It states in bold red letters "Keep Your Art to Yourself Next Time." The group's Web site elaborates on this idea, claiming that street art and graffiti have great potential that is being squandered by the masses. The site states: "Street art should be outside because it is necessary. Street art shouldn't be important because it is outside."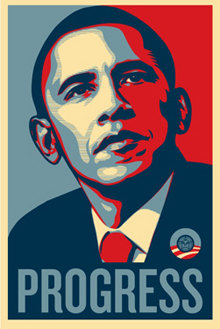 One of two Shepherd Fairey posters
commissioned by the Obama Campaign
But Street Art's movement toward the mainstream shows no sign of abating. Consider the following: Shepard Fairey, one of the world's most influential street artists, was recently commissioned by presidential candidate Barack Obama to design campaign posters. The posters were sold at Barack Obama's online store and quickly sold out. In a letter to Fairey, Obama wrote: "I would like to thank you for the use of your talent in my campaign. The political messages involved in your work and encouraged Americans to believe that they can help change the status-quo."
As Combs stated, in reference to the poster: "There's a kind of validation in that."
Â