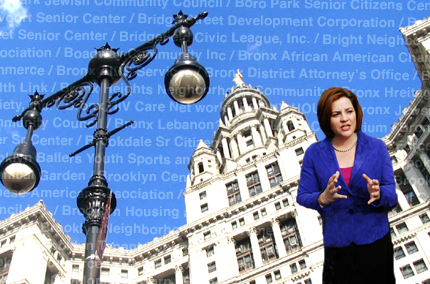 The feeling of déjà vu might overwhelm some observers.
Almost four weeks after City Council Speaker Christine Quinn's hastily organized press conference announcing several "reform" proposals aimed at addressing the now-infamous council slush fund scandal, good government groups and the press returned to City Hall for an encore presentation.
These latest proposals -- which have been scaled back in some ways and broadened in others since Quinn's first effort-- could be a quick fix to the speaker's crippled political reputation.
Or maybe not.
Polls show her constituents think something is amiss (52 percent of respondents to a Quinnipiac University poll released last week think Quinn knew the city's budget was riddled with allocations to non-existent organizations). Practically every day another story plastered across front pages alleges misconduct on the part of council members or their staffs or associates.
We have seen two indictments and two sets of reforms, and we still have two ongoing investigations into the council's distribution of its discretionary funding -- the member items (also called pork barrel or, in Washington parlance, earmarks) requested by individual council members and the speaker. The allegations involve money going to nonexistent groups, fiscally defunct organizations and groups affiliated with council members' families, friends or staffers.
While Quinn's plan won praise, many officials and observers recognize that some areas of council spending were left off the agenda entirely. And some critics have said the problem will not end until council ends the practice of member items altogether.
The Reforms
The first time around, Quinn had nearly a dozen council members lined up behind her and representatives of good government groups flanked the podium. That show of support, as we now know, did not amount to much.
A council backlash -- one that included rumors of a coup d'Ă©tat -- had the speaker apologizing to her membership for acting without gauging their support first and sent her staff back to the drawing board.
The result was seen on Wednesday. Quinn, who the second time around had about 20 members with her and representatives from three good government groups sitting quietly in the corner, released a package of eight proposals that set out a process for the distribution of about $200 million of the council's $300-plus million discretionary funds.
For the most part, a majority of council members seemed satisfied with the reforms -- some suggested they were stronger than those governing most other legislative bodies in the country. Good government groups, including the New York Public Interest Research Group, Common Cause/NY and Citizens Union, the sister organization to Gotham Gazette's publisher, championed the proposals.
In a statement supporting the initiative, however, Gene Russianoff of the New York Public Interest Research Group made sure to put the efforts in context. "Are these reforms a strong enough response to recent revelations regarding spending by council members?" he asked. "These reforms are a serious effort. The coming budget season should give us an answer."
Under the new initiative, groups in line for more than $10,000 will have to meet several criteria including having a federal tax identification number, registering with the state Attorney General's Office of Charities and demonstrating they have experience in delivering services and the financial capacity to continue to do so.
Recipients of less than $10,000 will be subject to a council internal review.
Any group that acts as a fiscal conduit -- that distributes discretionary fund allocations to smaller, unregistered charities -- would be subject to the same requirements. Prior to fiscal year 2008, the council did not publicly list these conduits, whose existence enables some small groups to receive funding even though they are not publicly registered charities as required under city rules.
Quinn backtracked on her earlier request for proposal process -- a plan to send about $25 million from the speaker's discretionary pot to the Mayor's Office of Contract Services for distribution based on merit. Council members rallied against that idea, arguing it gave too much of their power to the executive branch. Instead Quinn has issued a series of recommendations requiring groups that receive council funding to be vetted prior to their inclusion in the budget.
"In some ways they are more significant than previous reforms," said Quinn of the latest plan. "It is a level of review that no other, I believe, legislative body in the country has as it relates to putting discretionary items into the budget."
While Quinn recognized she abandoned the pillar to her previous proposal -- the merit based selection of groups that would namely receive support from the speaker's discretionary fund -- she claimed the latest proposals were stronger than the former, because they would cover a much larger percentage of the council's discretionary funding.
The targeted funding will include: about $15 million of individual member discretionary funding, $20 to $25 million of the speaker's discretionary funding and about half of the council's initiative spending, which is about $174 million.
The other half of the initiative spending, the speaker said, goes to agencies for program restorations, such as upping the library budget after it has been slashed by the mayor. The whole council distributes these funds, said Quinn, not individual members.
The speaker confirmed the council would continue to release a list of its discretionary funding, otherwise known as Schedule C, which would include any conflicts of interest, the organization's tax number, and the amount and purpose of the funding, at least 24 hours before passing the budget. The council also intends to appoint an independent compliance office and create a searchable database that would include all of this information. These proposals were a part of the speaker's initial announcement in April.
Continuing Conflicts
What some former city officials have termed "slushwater" has morphed into a proposal that council officials are calling budget "best practices." Those new practices, though, skip over several key aspects that have flooded the press.
Concern has emerged over organizations that pose possible conflicts of interest for council members. More than a third of members have identified some conflict with groups that the council funds. These conflicts range from remote associations that offer no financial gain to a member to the distribution of funding to a group run by former and current staffers.
In both individual member items and larger council initiatives, the council allocated at least $4.6 million to groups identified in conflict of interest forms filed with the speaker's office for fiscal year 2008.
While some of those conflicts have proven to be extremely suspect -- note the indictment of two council staffers, one the former chief of staff to Councilmember Kendall Stewart, for embezzling discretionary funding -- some members argue they are so involved in their communities that it's difficult to not have connections with the groups they fund.
For instance, Councilmember Lewis Fidler identified eight groups last year that he had "conflicts" with -- the most of any member. In total, Fidler allocated $488,425 to them. Many are affiliated with the spouse of a council staffer and have independently contracted through a competitive bidding process with the city's Department for the Aging and the Department of Youth and Community Development. Those groups also provide the bulk of senior services for his district, Fidler said, and not funding them could shut down four senior centers.
Other conflicts he identified include a school district where his wife substitute teaches a handful of times annually and a youth organization that his son is active in.
Fidler said it is practically impossible to have no connections to nonprofits in the community one represents since these groups provide essential services in the district. "You're asking for the immaculate councilman," he said. "A good councilman has been involved in the community, has worked for non-for-profit institutions. That's how they become a councilman."
The city's Conflicts of Interest Board seems to agree. In the last two decades, the board has issued only two advisory opinions, both in the early 1990s, tangentially regarding whether the council can allocate funds to groups its members are affiliated with. As a result, the council is required to report only conflicts on the "record" that affect their interests, financial or otherwise. If members allocate funding to a group associated with a family member, then that funding cannot go directly to the relative's salary. Beyond that, the board is mute.
Among the council's members, there appears to be varying levels of disclosure with some voluntarily submitting to over scrupulous reporting. Many council members over-reported their interests when, for the first time, they signed conflict of interest disclosure reports on discretionary spending, making sure to reveal any possible connection -- no matter how distant -- to ensure there was no appearance of impropriety.
Noting she served on the advisory board of one group, Councilmember Gale Brewer wrote on her form, "I have no idea if this info is necessary to list -- just in case, I am listing it."
Councilmember Miguel Martinez, who gave more than $406,000 to a group where his sister serves as an unpaid board member, said he technically did not have to disclose that relationship but did for transparency's sake. This allocation raised questions from the press.
"I allocate funding based on the expertise of the organization," said Martinez. "We're public servants if we come from a family of public servants. What's wrong with a spouse of a councilmember sitting on a board and giving out and contributing?"
To a lot of members, nothing. In disclosure reports from fiscal year 2008, 12 members identified groups that were affiliated with a family member and received some sort of council funding.
Some members -- or their spouses -- have become particularly defensive over the practice. After a report revealed Councilmember Leroy Comrie's wife had volunteered at a museum he directed funding to, the councilman released a longwinded statement criticizing the report and defending his spouse.
"The back-handed insinuation that a noble community organization benefited financially because my wife chose to volunteer to help keep alive the history of the Underground Railroad through the King Manor Association was so beneath my critics," read the statement.
But questions persist about ties between some council members and the groups they allocate money to. Councilmember Hiram Monserrate, for example, has been linked to funding a group that has allegedly collected signatures for one of his political campaigns and that is run by his closest aides.
The speaker's proposals require members fill out disclosure forms before their member items can be processed, and the new Schedule C will include any conflict next to the allocation.
Councilmember Peter Vallone requested legislation that would ban members from giving funding to groups that employ family members or current and former staffers. That proposal, Quinn said, will get a fair hearing, though the speaker did not say she would support it. In the past, Quinn said she does not want to restrict funding to groups affiliated with members, since it is hard enough to get voluntary board members. Quinn's partner serves as an unpaid board member to a group, the Hetrick-Martin Institute, which received nearly $330,000 in council funding last year.
Capital Confidential
The speaker's proposals also do not cover the council's capital spending -- estimated to be more than $500 million or double the council's initiative and discretionary spending. Just like discretionary spending, the capital funding is doled out at the request of individual council members.
This year, Quinn said, the council would for the first time include members' names next to the capital items they propose. Beyond that, those millions are exempt from the new vetting process.
Whether or not the city's Conflicts of Interest Board's rulings apply to the council's capital spending also is unclear, though Quinn said conflicts of interests with capital spending would be listed in this year's budget documents.
Councilmember Alan Gerson listed the Friends of LaGuardia Place on his disclosure forms last year even though he sent it $45,000 in capital spending, not discretionary funds. Gerson said he is unaware of how much other members receive in capital spending, but he bets leaders receive more than some other members.
The council's capital spending is more complicated than its discretionary spending, because it is often combined with funding from executive agencies, said Gerson. But overall, he added, the council's part in the process could use some reforms.
"Whatever disclosure requirement we adopt for the expense budget, we should adopt for the capital budget as well," said Gerson.
Quinn said the council, in an agreement with the administration, has limited how the city can fund capital projects in non-city owned buildings. The council requires any capital funding for a group that does not operate on city property go to nonprofits that have a separate, pre-existing contract with the city for that fiscal year. The funding must also go to groups that provide services, which benefit the public, and the specific project must be a "city" purpose. Beyond that, Quinn said she would also be open to hearing other suggestions on how to better distribute capital spending.
Political Gain, Political Fallout
Whatever technicalities of the vetting processes and procedures, the controversy over the discretionary funds also has political implications. Quinn certainly would like to put all this behind her -- before the public begins to focus on the 2009 mayoral campaign.
Could the slush scandal ruin Quinn's prospects for becoming mayor? Some City Hall observers say it depends on how much longer this drags on and whether there are any more serious revelations.
The issue poses a particular challenge for Quinn because she has styled herself as reformer.
"It certainly damages her reputation as a budget reformer," said Douglas Muzzio, a professor of public affairs at Baruch College. "It doesn't have to be fatal even though it is going to be very damaging in the best of circumstances."
Beyond this speaker, Muzzio said, the council, which has been struggling to gain autonomy, power and respectability, also might feel the fallout.
Â